With modern technology, fleet managers no longer need to sort through spreadsheets to carry out maintenance. Work order software keeps fleet managers organized by tracking service work down to the line item and accurately analyzing operating costs.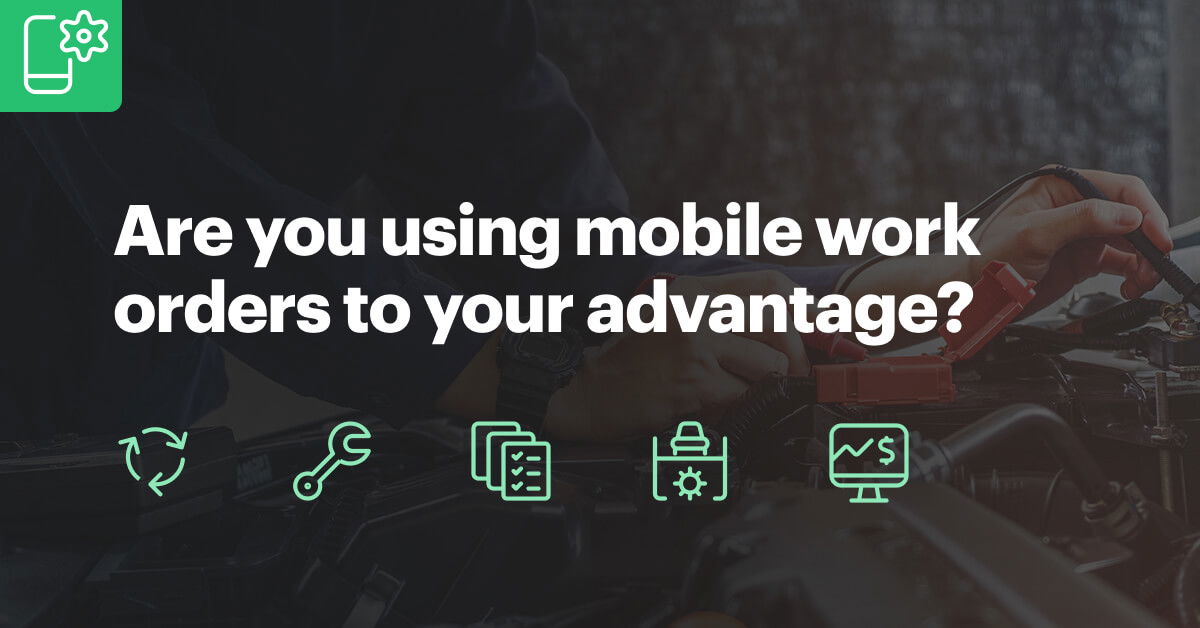 The Benefits of Work Order Software
When planning and executing fleet maintenance, it's important to have a well-thought-out work order process to track and manage service tasks and get vehicles out of the shop quickly.
Work order software allows you to plan, schedule and carry out fleet maintenance from start to finish, while consolidating data for accurate maintenance reporting and predictive insights. Furthermore, work order software automates the fleet maintenance process by generating work orders and tracking service, freeing up time spent on paperwork so you can spend more time tackling priority tasks.
Here are six ways work order software can improve your maintenance management process.
1. Implement Efficient Workflows
Staying on top of maintenance is crucial. If your fleet maintenance process is unorganized, you could be looking at unnecessary downtime and costly expenses.
By streamlining workflows through work order software, you can ensure your maintenance process is at optimal efficiency. Work orders can be created, assigned and tracked digitally, eliminating the chaos of paper work orders.
2. Conduct Routine Preventive Maintenance
You know how important it is to regularly service your assets, but without a proper schedule, oil changes and other preventive maintenance (PM) tasks can fall through the cracks.
Work order software simplifies PM scheduling, giving you the tools to set service schedules based on meter and time intervals. Fleet managers receive mobile reminders of upcoming work orders to best plan for when vehicles have to be in the shop.
Generating work orders based on PM schedules also enables you to track service progress, as well as parts and labor rates, providing a detailed view of maintenance shop productivity and total service costs.
Maximize in-house inventory control with our free Parts Inventory Management Template and, when you're ready, easily import all the data into Fleetio!
3. Leverage Inspection Results
The downtime clock starts ticking the moment an inspection item fails. In order to act quickly and minimize the risk of future problems, it's important to ensure your drivers have a way to communicate any vehicle issues.
Conducting digital inspections with work order software eliminates bottlenecks in the inspection process by allowing users to efficiently create work orders based on inspection item failures.
Having an efficient workflow — from inspection results to work order creation — allows you to take action immediately. Whether you conduct maintenance in-house or outsource to a third party, work orders are automatically created and sent, helping your vehicles get back on the road quickly.
Not ready to leverage software for inspections? Check out our free, DOT-compliant Inspection Template!
4. Track Maintenance by Detailed Line Item
To complete service tasks efficiently, a fleet manager must be able to fully track maintenance resources by line item. Digging through spreadsheets and receipts to find the right information is a poor use of time.
Work order software enables you to precisely track line items for each service task. Associate part costs to individual tasks and add labor rates to fully track resources, cost and time to improve maintenance operations.
Having a complete service of record for your fleet allows for linking issues and diagnostic trouble codes (DTC) to line items. This ensures you have the best understanding of asset health and can thoroughly track issues.
Improving your fleet begins with comprehensive fleet analysis. Keeping an organized log of service history provides insight into the health and cost of your assets, as well as how you can refine future maintenance practices.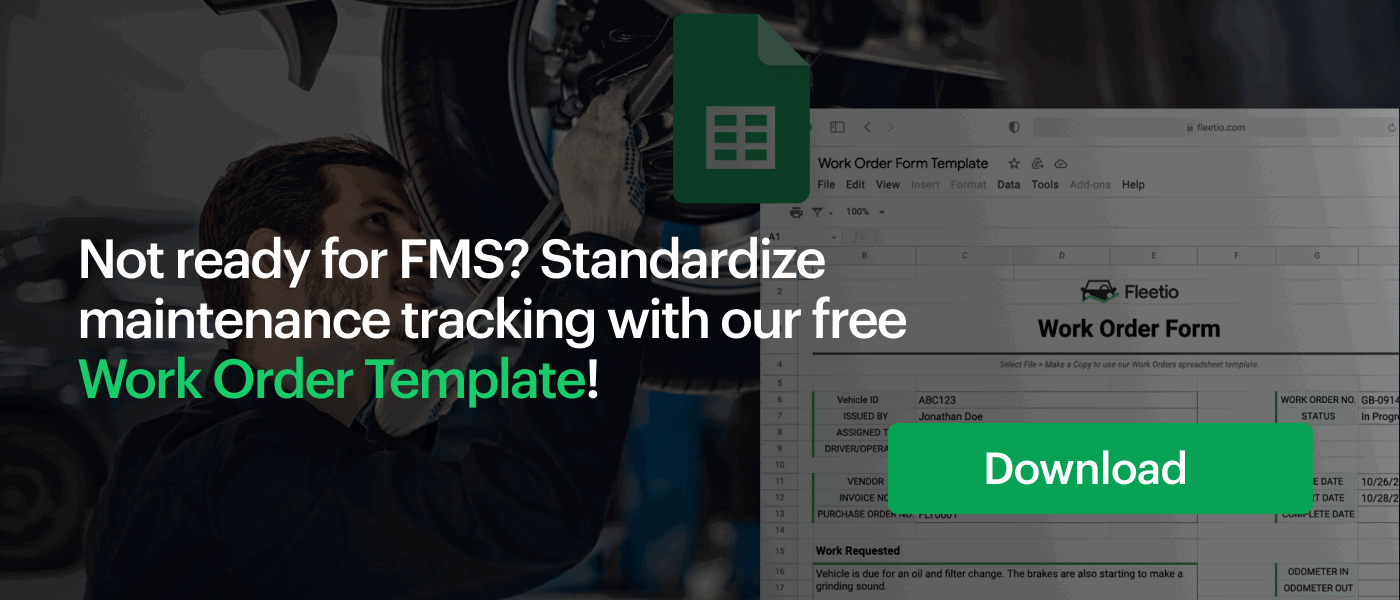 5. Automate Approvals for Outsourced Maintenance
Outsourcing maintenance and repairs to third-party vendors can be a cost-effective solution for most small to midsize fleets. When managing multiple assets, it's important to be able to keep work orders organized and promptly submit repair approvals.
Streamlining maintenance through work order software allows you to manage third-party vendors, repairs and approvals to reduce downtime and maximize savings.
Instead of playing phone tag with shop managers, work order software will notify you of repair order line items and allow you to reject or approve maintenance in real time. This ensures the technicians maintain momentum and get repairs completed quickly.
6. Calculate TCO to Make the Best Maintenance Decisions
Knowing your fleet's true total cost of ownership (TCO) — or total operating cost — enables you to easily measure resources and make the best decisions for your business.
Work order software automatically calculates TCO based on service line items to help benchmark costs across your fleet. Analyzing service as a part of your asset's operating cost gives you complete insight into the profitability of your fleet.
Fleet reports based on your TCO are compiled into easy-to-read reports to help you understand fleet trends and track repair expenses. Without this insight, many fleets face unnecessary expenses and have difficulty making data-driven decisions.
Check out how this municipal fleet manages their maintenance workflow and parts inventory in Fleetio to boost fleet-wide productivity and reduce unnecessary service spend.
Since maintenance is one of the largest fleet expenses, work orders provide excellent context into TCO and help improve fleet operations.
---
Build standardized maintenance data for insights into your fleet's overall health and return on investment with our free Work Order Template designed for easy importing into Fleetio. Want to see how Work Orders function in Fleetio? Request a demo or start your free trial today!