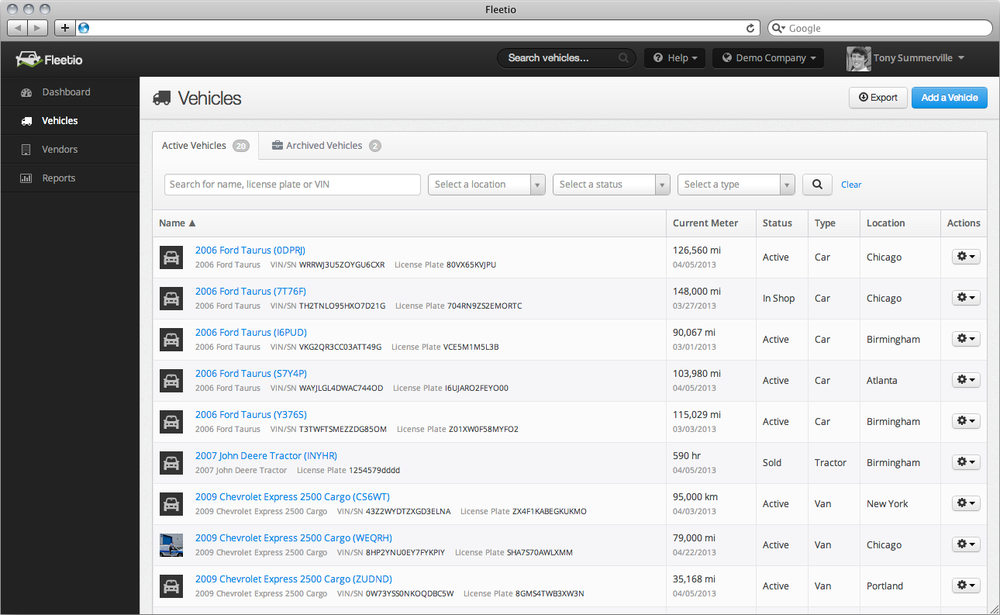 We're excited to announce the launch of the all new Fleetio. Our mission is to make it easy to manage a fleet of vehicles and equipment. We learned a ton by talking to countless customers and listening to feedback, then spent a lot of time thinking about how we can make Fleetio easier to use on a day-to-day basis.
We overhauled the design and user experience to make Fleetio better, and make way for whole host of new things to come. This major upgrade makes Fleetio more elegant, more delightful to use, without removing any features.
Here are some highlights of the new design:
Navigation
This is one of the biggest changes you'll notice. We moved the main navigation to a left sidebar, and added icons to make it easier to navigate.
This new navigation approach makes it easier to get around Fleetio today, and allows room for expansion for all the great features we have coming.
We also added a better secondary navigation for certain sections of Fleetio, like the Vehicle profile.
Cleaner interfaces
We polished all areas of Fleetio, making information easier to read so you can quickly find what's important.
Vehicle List
We redesigned the Vehicle list to make it faster and easier to find the vehicle you're looking for. You can now search by name, license plate, VIN, location, status or type.
Search
We added lightning-fast search in more places throughout Fleetio, like Vendors and lists within the Account Settings area.
Consolidated Reminders
Service and Renewal Reminders have been consolidated under the "Reminders" navigation item in the Vehicle profile. Now you can see what's due or due soon for a vehicle, all in one place.
Comments
We renamed "Notes" to "Comments" throughout Fleetio to promote communication around a fleet. We're putting a greater emphasis on collaboration and keeping everyone up-to-date about their fleet. More on this soon.
Reports
We added a Report title and Account name in printer-friendly version for all reports. Searching and filtering reports is even easier, so you can slice and dice your data as needed.
Mobile
Fleetio's mobile-specific version was not affected, but the new "main" design is mobile-friendly too and is especially useful on tablets. Menus and search are hidden by default but can easily be displayed via toggle buttons.
Looking forward
Soon we'll be adding more "account-wide" views, allowing you to easily browse things like fuel and service entries across the account.
Our goal is to improve the everyday experiences of using Fleetio, so watch closely for more updates and new features.
We hope you enjoy the new changes as much as we do.
Tony Summerville CEO