The term "cloud-based software" comes with a lot of assumptions and associations – some of which stem from valid concerns. Here's what you should be thinking about as you assess whether or not cloud-based fleet management software is right for you.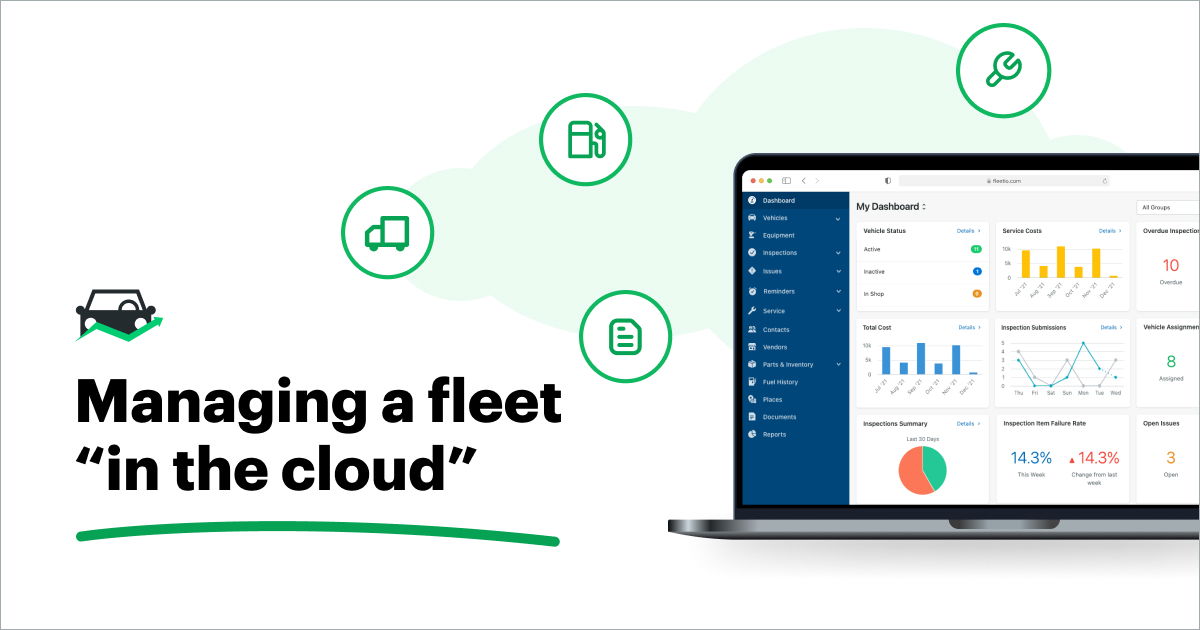 The world runs on software these days, and fleet is no exception – the options for integrating fleet-specific software into your business operations are constantly expanding and evolving so that you can solve your fleet management pain points with digital solutions. Cloud computing has been a cornerstone of that advancement over the years, allowing data to be stored and managed on a network of external remote servers on the internet, as opposed to having to host your own local servers or personal devices.
While cloud-based software has definitely taken its place as a mainstay approach to fleet management, many fleet managers still feel hesitant to put all their hopes in the cloud. There are certainly many trade-offs in switching from more manual or internal systems to cloud-based fleet management platforms, and it's worth weighing the pros and cons of relying on an external network to handle your fleet data.
1. Cost and Impact on ROI
Money is often at the core of any discussion around cloud-based software purchasing, and generally, the more robust the software, the more you're going to be paying for it. Budgeting is an incredibly important tenet of fleet management, and the price tag on some softwares can have fleet managers clutching their pearls if there's no way to guarantee that the expense will create a direct return on investment.
While most companies maintain that their software has the power to generate far more in operational savings than it costs to keep your license, so much of that benefit comes from effective implementation and consistent usage. In order to achieve that, you have to be careful to choose the correct software for your organization, so it goes without saying that you should properly vet and test any software that might be adding to your fixed costs.
You can also try to quantify exactly what kind of ROI you expect out of software and use that projection to decide whether or not it's right for you.
2. Information Security
IT can be a little bit of a sore subject for some fleet managers, but the truth is that information security is really important, especially if you're ever dealing with more sensitive data. Digital security is vital to maintaining data privacy, and anytime you add an internet-accessible touchpoint to your tech stack, you invite more opportunities for data breaches that can negatively impact your operations.
There are a lot of very specific IT questions any software company should be able to answer about their information security from the get-go: Is your data going to be stored in a third-party server? Who will have access to it? Is your data encrypted? Does the platform require two-factor authentication for access?
As long as you are asking the right questions – and the company you're working with is giving the right answers – you can generally rest assured that your data is safe. It's important to note, however, that despite any company's best efforts, breaches are bound to happen. The best cloud-based software providers will be heavily communicative when those issues arise and take every step possible before, during and after the breach to ensure that your data's integrity remains intact.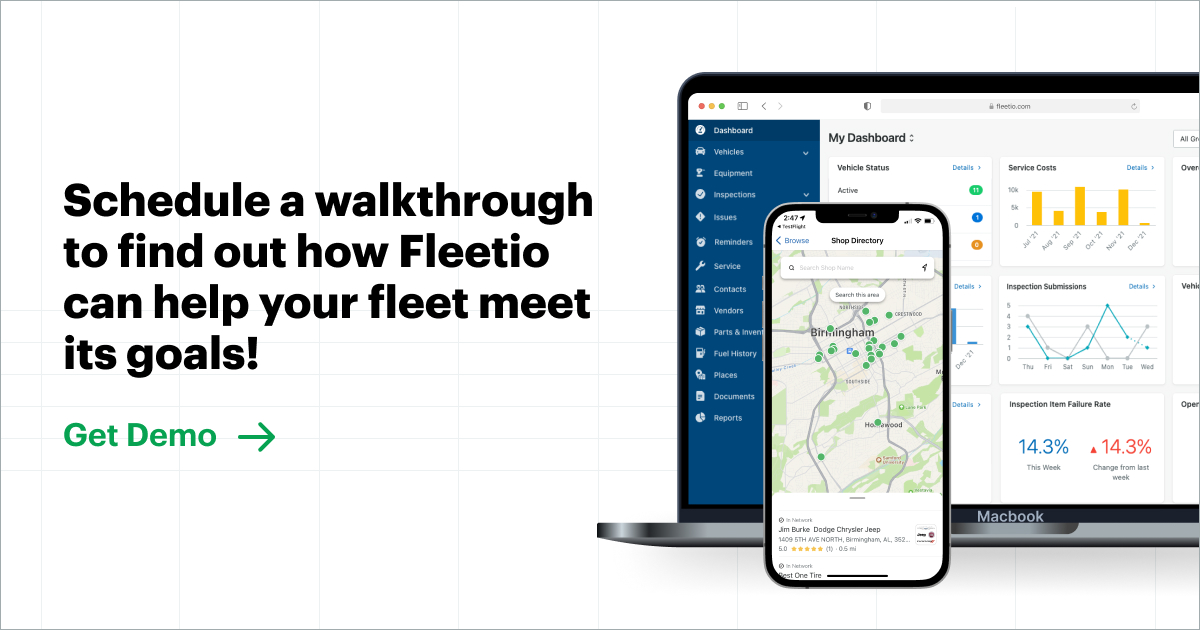 3. Access and Connectivity
While cellular coverage and wifi are pretty well guaranteed in most places, there are a lot of fleets whose drivers still face connectivity issues while out on the job. That can make the prospect of having to use an internet-reliant platform a lot trickier of a proposition. Couple that with the risks of outages and downtime, and you've got plenty of reason to doubt whether or not your software would even actually be available to you when you need it the most.
The good news is that while you're likely to experience some gaps in service here or there, many platforms like Fleetio offer accessible mobile platforms that can move with you wherever you need to go. Some apps can even be accessed offline so you don't lose data from things like inspections in areas with spottier coverage.
4. Control Over Presentation and Quality
If you're with the kind of company that has traditionally relied on internally managed tech solutions like an intranet, or even if you've just been tied to traditional paper-based systems for running your fleet, the idea of switching to a platform you can't design or alter can feel very limiting. What's the point of using an expensive software that can't accommodate your customizations or do what you need it to do right out of the metaphorical box?
Fleet software was a lot more rigid with capability back when it was first introduced, but the shift to more modern cloud-based platforms has also come with a lot more flexibility for users. Platforms like Fleetio offer custom fields that you can use to track more non-standard fleet data specific to your operation, as well third-party integrations and an open API so that all of your data can be synced and managed in one spot and compiled into customizable reports.
Be sure to really dig into the features of any software you explore to find its limitations, and try to find a provider that has a highly responsive support team and that utilizes customer feedback in their product updates. This means that not only will you get all the help you need to make the software you choose fit your needs, you'll also have a platform that can scale with you over time.
5. Compliance
All fleets experience some level of regulation, but some fleets exist within industries that have significantly more requirements for continued operations that extends to the softwares they choose to use. This is especially true for government fleets, and finding a cloud-based solution that can check all of your regulatory boxes can feel impossible.
It all comes down to finding fleet software that can track the things you need it to track, in a way that meets your compliance standards. For example, if you need to track vehicle emissions in order to stay compliant with environmental regulations, you'll need to find a provider that can sync up with your telematics devices and register diagnostics trouble codes, as well as track idle time and driver behavior.
You can also speed the sometimes lengthy process of purchasing and implementation by looking for a provider that's already a GSA contract holder, so you know that it's going to pass muster for government compliance from the outset.
There are a lot of cloud-based solutions for businesses out there, but when you don't look for the right fit for what you need, you could easily fall victim to these issues and more. If you're looking for a fleet management software that gives you everything the cloud has to offer without any of the pitfalls, Fleetio might be the platform for you.
---
Sign up for a 14-day free trial or schedule a guided demo today.