An Electric vehicle (EV) fleet can be a great benefit to your operation. Here's how your fleet and bottom line can benefit from electric vehicles.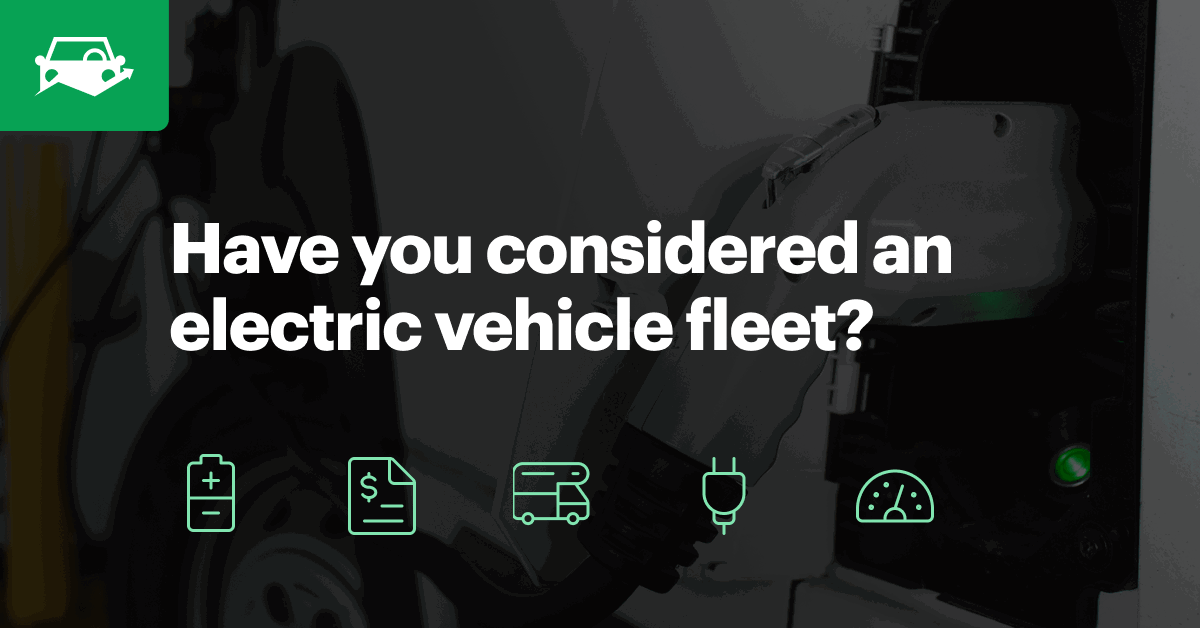 Electric Vehicle (EV) Fleet Overview
The first wave of all-electric vehicles lacked range capacity, towing power for delivery and logistics fleets, and storage capabilities for the service industries. Now, vehicle manufacturers plan to release larger and even heavy-duty electric vehicles for fleets capable of over 300 miles in range.
Anticipation has built for the expected launches of the Tesla Semi and Cybertruck. While Amazon-backed Rivian and other large automakers have outlined their EV initiatives.
According to the New York Times, Amazon has committed an initial order of 100,000 Rivian vans for its delivery fleet. Additionally, General Motors and Ford have both confirmed an all-electric truck release in 2021.
Could it be time for you to consider adding an electric vehicle or an entire EV fleet?
Benefits of an Electric Vehicle (EV) Fleet
When considering any changes to your fleet, you must weigh your options. This might seem obvious, but it's imperative to break down impact at a granular level. Fleet managers must find ways to maximize efficiencies across their entire operation.
That expectation shouldn't stop for fleet vehicle replacements. Some fleets may lease or purchase mobile assets outright. That decision will, in large part, be on a case-by-case basis. Nonetheless, considering electric vehicles for your fleet shouldn't be overlooked.
The benefits of adopting an EV fleet goes beyond reducing harmful emissions. It's a win-win to become an eco-friendly fleet while saving on your bottom line. But is it possible? Here are six benefits of an electric vehicle fleet.
1. Cut Fuel Costs
Fuel is one of the largest operating costs for fleets. Fuel spend will always be absorbed by fleets, regardless of the current price per gallon. However, that can be limited by transitioning to electric vehicles.
Fuel efficiency for combustion engines is measured by miles per gallon. Conversely, electric vehicles are measured in kilowatt-hours (kWh) per 100 miles. Therefore, the cost to charge your EV fleet will depend on your utility rates.
To calculate the potential fuel savings from electric vehicles, you'll need to identify your costs and usage. The best way to do this is with fleet management software that is capable of automating your fuel usage and cost per mile.
For this example, let's take a look at the state of Washington as an example. According to AAA, in January 2021, national fuel prices averaged $2.40 per gallon. Meanwhile, the national average cost of electricity was $0.138 kWh.
Let's breakdown the costs and compare which would spend less on fuel. For this example, we will use a standard vehicle that gets 20 miles per gallon, and a mid-range 100kWh powered electric vehicle with a 300 miles range.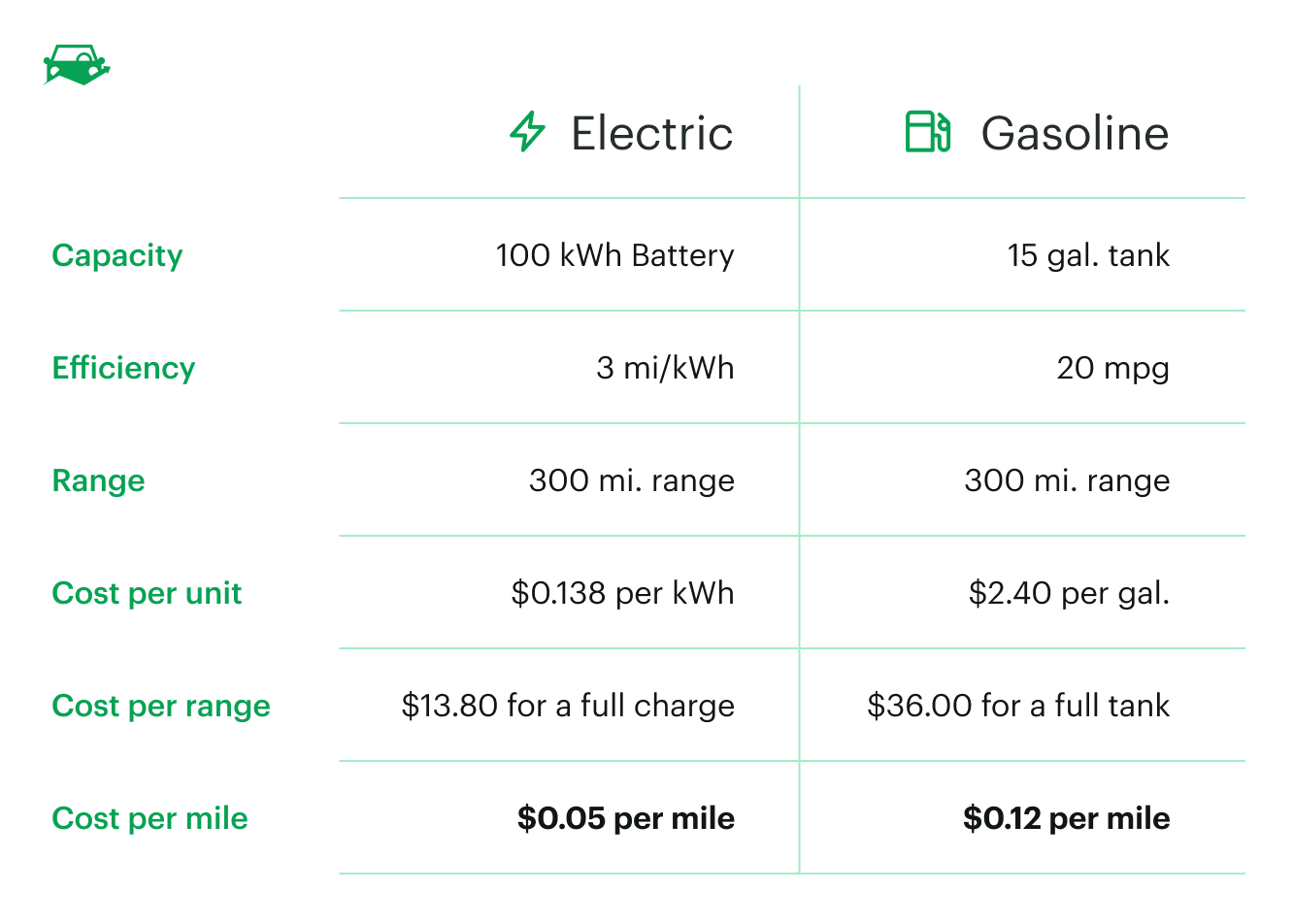 *Note: Electrical charge results are based on full charging efficiency, which can vary depending on circumstances.
Based on this example, you can see the drastic cost per mile savings electric vehicles can provide on fuel. This is a primary reason why fleets are considering the switch to electric vehicles.
2. Less Fleet Maintenance Required
Did you know electric vehicles only use three types of fluids? Coolant, windshield washer and brake fluids are the three fluids used by electric vehicles. That's all.
Your EV fleet wouldn't need oil changes, transmission fluid flushes or any other engine fluid replacements. Considering how maintenance is one of the other largest operating expenses for your fleet, the savings could be tremendous — and compound with a larger fleet.
One pitfall of electric vehicles is the potential need to replace the battery pack. However, electric vehicle warranties cover battery packs up to 100,000 miles. At that point in the life of the vehicle, you may consider replacing it for a newer version or paying for the battery replacement.
Whether it's through telematics devices or driver inspection data, you'll want visibility into the vehicle's odometer and set automatic notifications for certain thresholds using fleet maintenance software.
3. Vehicle Replacement Return on Investment
Anytime you consider replacing a vehicle, you must identify the costs and impact it can have on your budget. This is especially true for municipal and government fleets who adhere to strict financial allocations and mandates.
Though there could be an initial cost burden to retrofit charging units and EV specific maintenance parts inventory, the long term financial return on investment could pay dividends. Depending on the type of vehicle your fleet requires, the electric vehicle price might even be cheaper.
With the aforementioned savings on fleet operating expenses, you could start with a few EVs in your fleet to confirm the positive results. Once you're in a position to replace many vehicles or when a lease expires, the consideration for an all-electric vehicle fleet would have strong merit.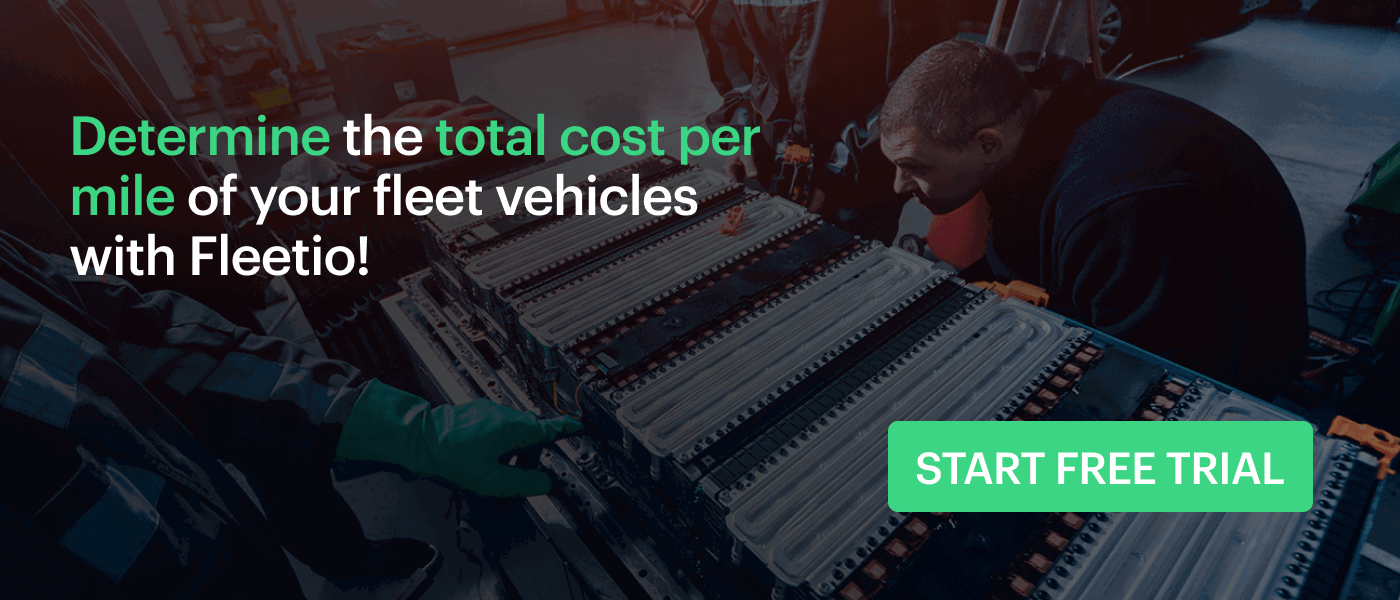 4. No Trips to the Gas Station
Another reason to avoid the pump is the loss in productivity. Having to take a vehicle to a gas station cuts into an operator's time that could otherwise be spent on tasks pertaining to their role. When you add the time up across all of your operators, the opportunity loss could have a detrimental impact on your operation.
There's also the lack of choosing the best fuel price. To avoid wasting time, your operators will probably find the nearest gas station to fill up. You can't fault them for it, but there is probably another station with fuel prices that could be up to 10 percent less.
If you were operating an electric vehicle fleet, you could charge vehicles overnight or when drivers aren't on the clock to maintain the full range. In the event, you run a 24-hour fleet, you'll want to leverage vehicle assignments to best plan your schedule, as it will help ensure drivers are charging and rotating vehicles properly.
5. Enhance Vehicle Performance and Efficiencies
There's no need to stir up a debate comparing electric and combustion engine vehicles in a drag race. Instead, focus on the vehicle's performance metrics that matter most to your fleet.
For transportation, logistics and trucking fleets, electric vehicles provide a distinct advantage over combustion engines — instant torque. Diesel engines have long been the solution for increased torque and power. However, their capabilities cannot match that of an electric vehicle.
Maximum instant torque in EVs propels vehicles from a standstill at much greater acceleration. (If you're interested in the mechanisms behind instant torque, check out CarThrottle's breakdown.)
When it comes to hauling passengers or freight, this is a tremendous advantage. Not only does instant torque allow larger trucks to get up to speed quicker, but it also requires less force to initiate speeds. The subsequent increase in the efficiency of power can produce huge savings on charging costs.
6. Draw From Your Fleet's Current Electric Equipment Use
Electric-powered mobile assets aren't limited to EVs. For years, fleet equipment has offered electric versions that have been used by a variety of fleets. Forklifts and other equipment have done away with propane and diesel in favor of electricity.
This makes refueling much easier and even more affordable. Traditionally, fleets with propane-powered equipment coordinate with a provider such as AmeriGas to deliver propane tanks on a set schedule.
Soliciting the help of a third party for fuel creates inefficiencies and runs the risk of overspending for such convenience. If your fleet has already made the switch to electric-powered equipment, you may already have a foundation for standardizing an electric vehicle fleet.
The popularity of EVs is more than an environmentally friendly fad. Electric vehicles can be more efficient, less costly and provide unique capabilities other mobile assets simply cannot.
---
See how Fleetio can help you save time and money regardless of the type of mobile asset in your fleet. Start your free trial or request a demo today!