Vehicle Inspection Form Template
If you're not utilizing a thorough, driver-friendly inspection form, you may be sacrificing important fleet data on a daily basis. Our inspection form template ensures your drivers know exactly what to look for on their pre-trip vehicle inspections and establishes a historical record of each asset's condition.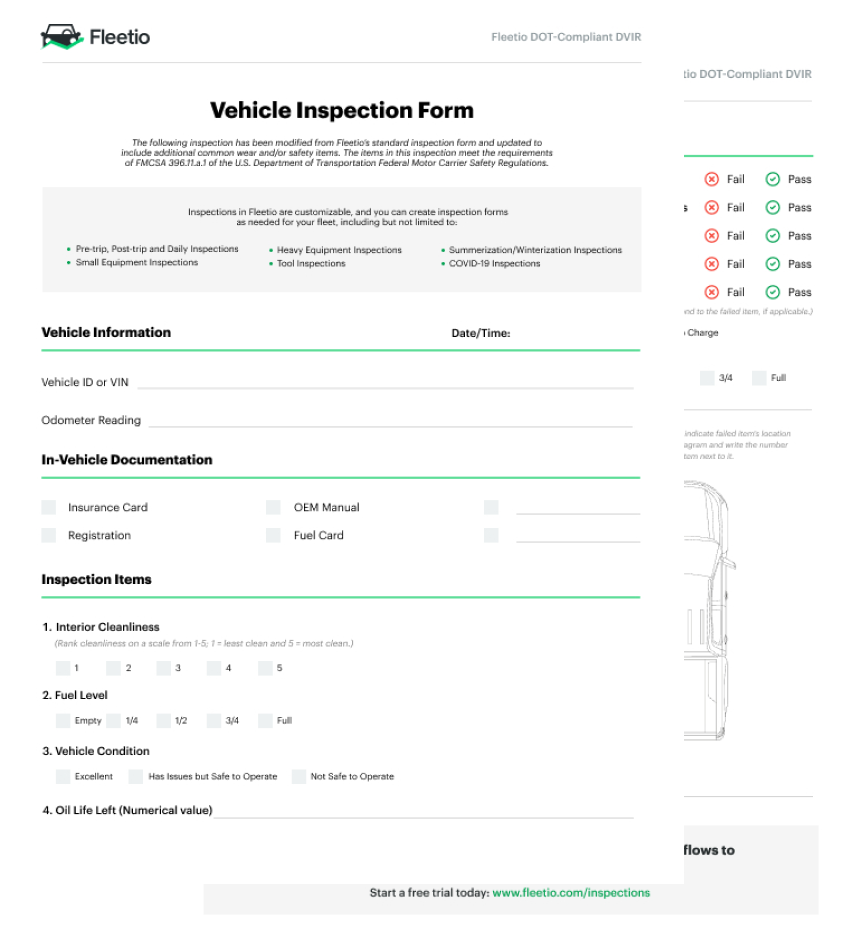 What is a DVIR?
---
A driver vehicle inspection report (DVIR) is an inspection form that a vehicle operator fills out at the end of a trip to let their fleet manager know of any defects, issues or faults with the vehicle. A thorough DVIR, when used effectively, allows fleets to surface potential issues before they lead to unsafe operating conditions or even vehicle failure.
What should be checked in a pre-trip inspection?
---
When performing a pre-trip inspection, it's best to have a set checklist that guides the operator on a thorough inspection of the entire vehicle. Your pre-trip inspection checklist should cover general vehicle information (odometer/date/time), interior elements (horn/brakes/documentation), exterior elements (lights/tires/body), and mechanical elements (oil level/battery/odd sounds). By inspecting every element of the vehicle, you're more likely to catch an issue and schedule service before the part fails.
How to use Fleetio's free vehicle inspection template
Our vehicle inspection form is a PDF with pre-filled inspection items, laid out in a standard pass/fail format for ease of use and efficiency. The items in this inspection meet the requirements of the DOT's FMCSA inspection regulations.
Print out copies of this sheet as needed or create a notepad from the form to provide your operators with a fleet-wide standard for inspections.
Log and track information
With this free pre-trip inspection form, you will be able to log and track information like:
FMCSA-compliant inspection criteria
This form was designed in compliance with FMCSA 396.11.a.1 of the U.S. Department of Transportation Federal Motor Carrier Safety Regulations.
Pass/fail checklists for common vehicle components
Ensure clarity and efficiency in your driver's responses with simple pass/fail checklists.
Vehicle condition, fuel level and odometer readings
Gather vehicle information outside of standard mechanical inspections to identify high-usage vehicles or upcoming service needs.
Location of failed items with vehicle diagram
Failed inspection items can be circled on a standard vehicle diagram to allow your technicians to quickly identify the issue and get the vehicle repaired.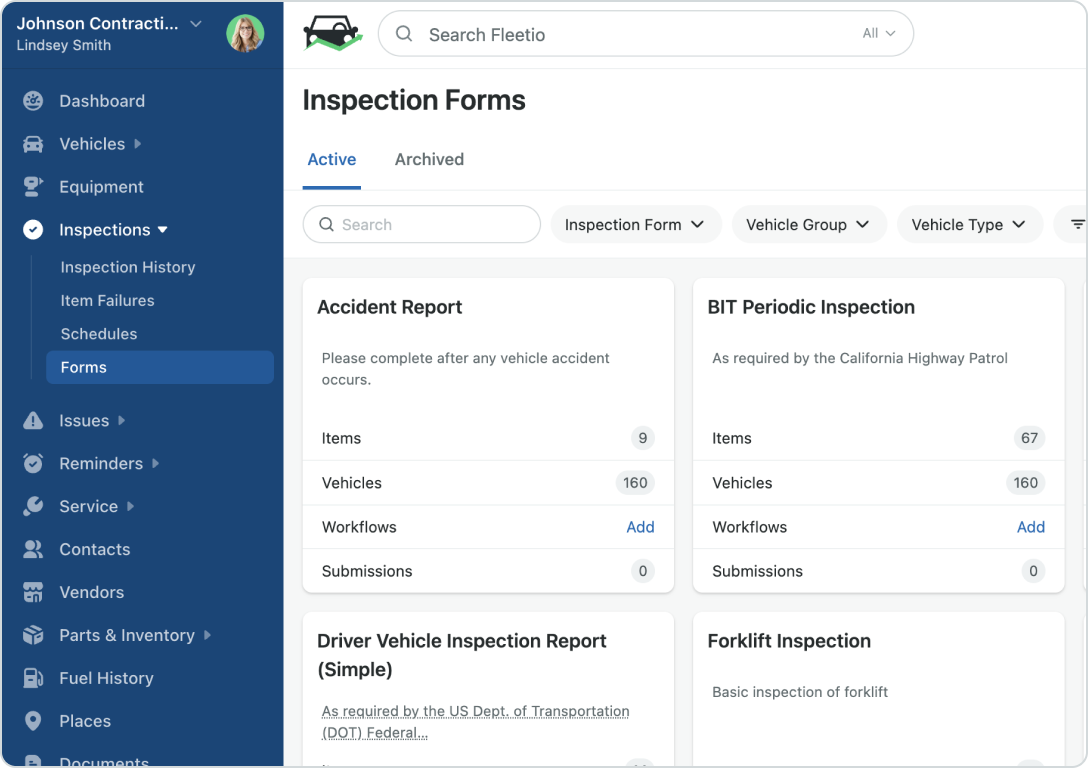 Manage your driver vehicle inspections with Fleetio
If you're tired of having to manually turn your driver's inspections into work orders, then it's time to automate your fleet's maintenance process. Fleet maintenance software allows your drivers to conduct their pre-trip inspections with a DVIR app. When an inspection item is marked as failed, you will immediately get a notification sent to your email, allowing you to create a work order and begin the maintenance process.
What customers are saying
I find this app saves me about 1.5 hours per day in the evening when I sit down to catch up all my files. If you use it as intended, it will be a huge benefit!

Mark D.
Mark Dominey Trucking
Fleetio is user friendly; I'm not the most technologically savvy individual but the training sessions provided were more than enough to help me feel comfortable using the software myself

Bringing in a tool that brings all the data into one centralized location to make informed decisions and help guide our business was critical.

We like being able to to add our landscaping assets as well as our vehicles to Fleetio.

Robert S.
Cape Fear Landscaping