Features
Fleet Driver Schedules
Assign assets and manage driver schedules based on vehicle availability, assignment history and utilization metrics. Track scheduled driver assignments in real time to improve accountability and surface unused assets.
Book a Demo
Improve asset assignment visibility and driver management
---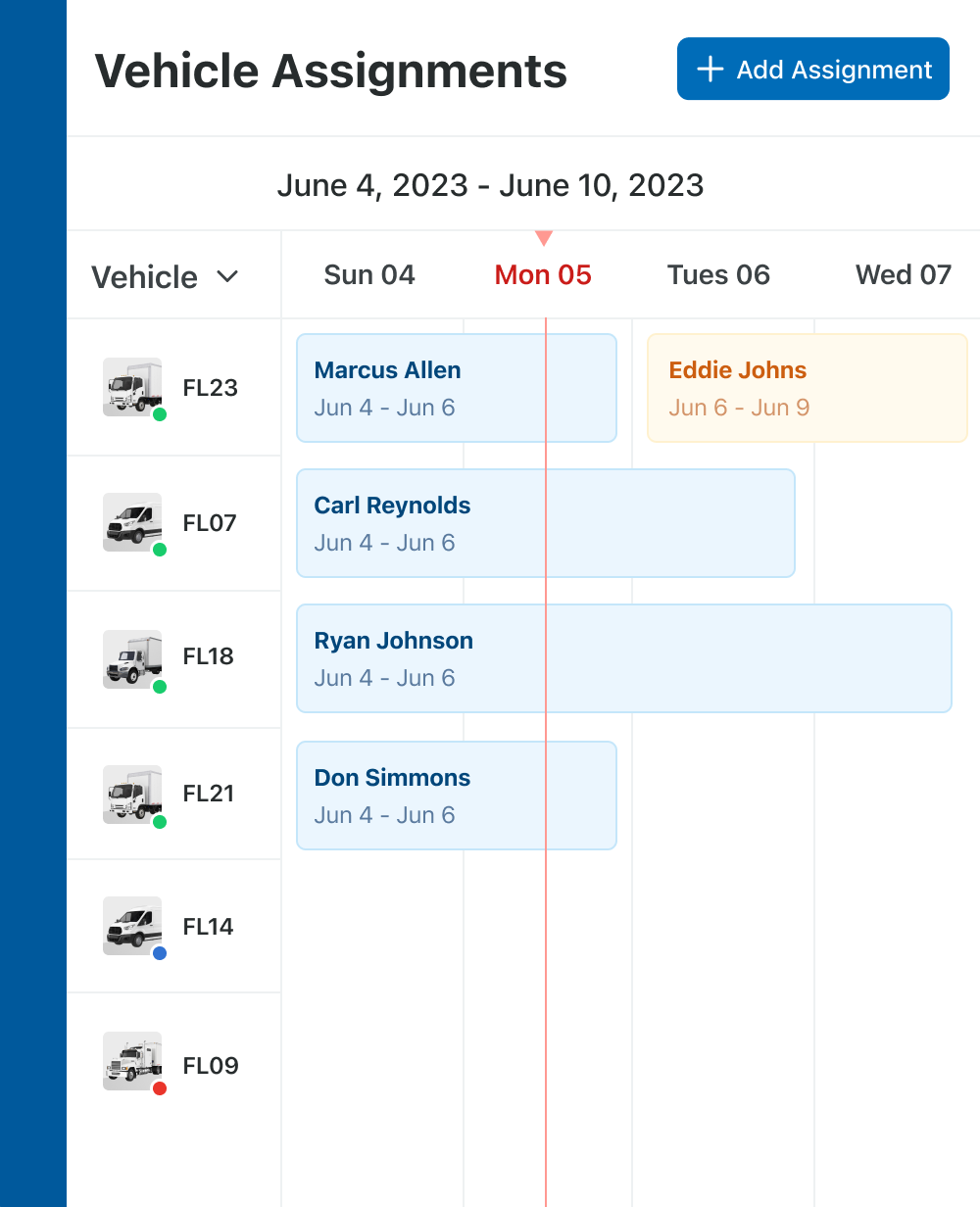 Ditch the whiteboard and spreadsheet methods of scheduling
With driver assignments in Fleetio, you can assign assets to your team with just a few clicks in a calendar view. Add, edit or move assignments easily, and link small equipment and tools to vehicles for improved visibility and management.
Empower your drivers with a simple mobile app
With Fleetio Go, your team can view and manage vehicle/equipment assignments from anywhere. Customize your permissions and workflow to allow drivers to assign themselves to an available vehicle or automatically notify drivers when they receive a new vehicle assignment. Attach documents (insurance, tolls, registration, etc.) to vehicles to ensure drivers have everything they need.
Take the guesswork out of asset availability and usage
Instead of spending time figuring out which vehicles are available, use driver assignments in Fleetio for instant insights into asset availability. Run assignment history and asset utilization reports to help determine when to rotate assets for balanced utilization, hone in on unnecessary assets that can be disposed of or repurposed, and track usage for accounting or rental reporting.
Book a Demo
Key features of our Driver Schedule App
Asset Assignments
Drag and Drop Calendar
Assignment Notifications
Asset Utilization Reports
Vehicle Availability Status
Equipment & Tool Assignments
Scheduling Insights
Drive Distance Calculation
Improve asset accountability within the entire fleet
---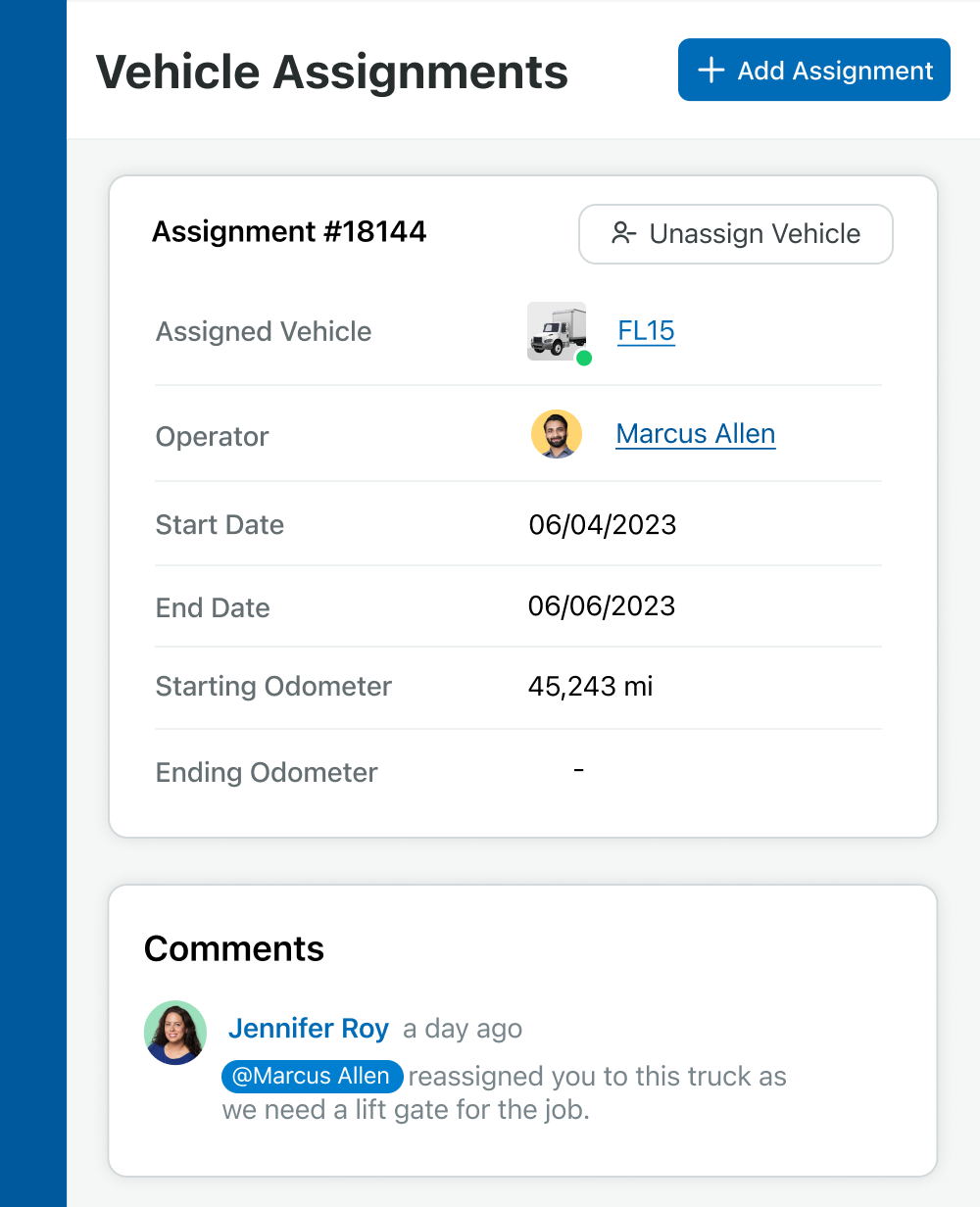 Track inspection compliance rates by asset to catch gaps in inspection submissions
Catching failed driver inspection items as soon as they arise can help fleets take quick action for proactive maintenance. Tracking inspection compliance rates by asset can help fleets determine whether any drivers need coaching around completing daily, pre- or post-trip inspections.
Monitor fuel use per asset to determine issues
An asset's fuel consumption can be greatly impacted by driver behavior. Driver assignment and fuel usage reports can shed light on inappropriate behavior behind the wheel and at the pump, while inspection and service histories can source mechanical issues related to decreased fuel efficiency.
Surface the source of lost or misplaced small equipment and tools
Keeping up with tools and equipment needed to perform daily tasks is crucial in avoiding excess purchasing spend. Because these items can be linked to the assets assigned to drivers, fleets are more likely to find misplaced items and reduce instances of items lost.
Start a Free Trial
Why our customers love Fleetio
From managing regular inspections and maintenance to member assignments and even external vendors, we use every single feature of Fleetio.

Everything. The inspection function is top notch and easily customized per vehicle. The fuel tracking is great and easy to use really helps to determine your cost for operating a asset in seconds

Morgan L.
Asset Solution Recovery
Like being able to add our landscaping assets as well as our vehicle.

Robert S.
Cape Fear Landscaping
With Fleetio, we are able to manage a remotely deployed fleet of vehicles with ease.

Bringing in a tool that brings all the data into one centralized location to make informed decisions and help guide our business was critical.

Frequently Asked Questions