Features
Fleet Asset Management
Track every aspect of your vehicles, equipment and tools. Leverage real-time reports to optimize asset utilization, budget planning and replacement decisions.
Book a Demo
Gain complete visibility over your assets
---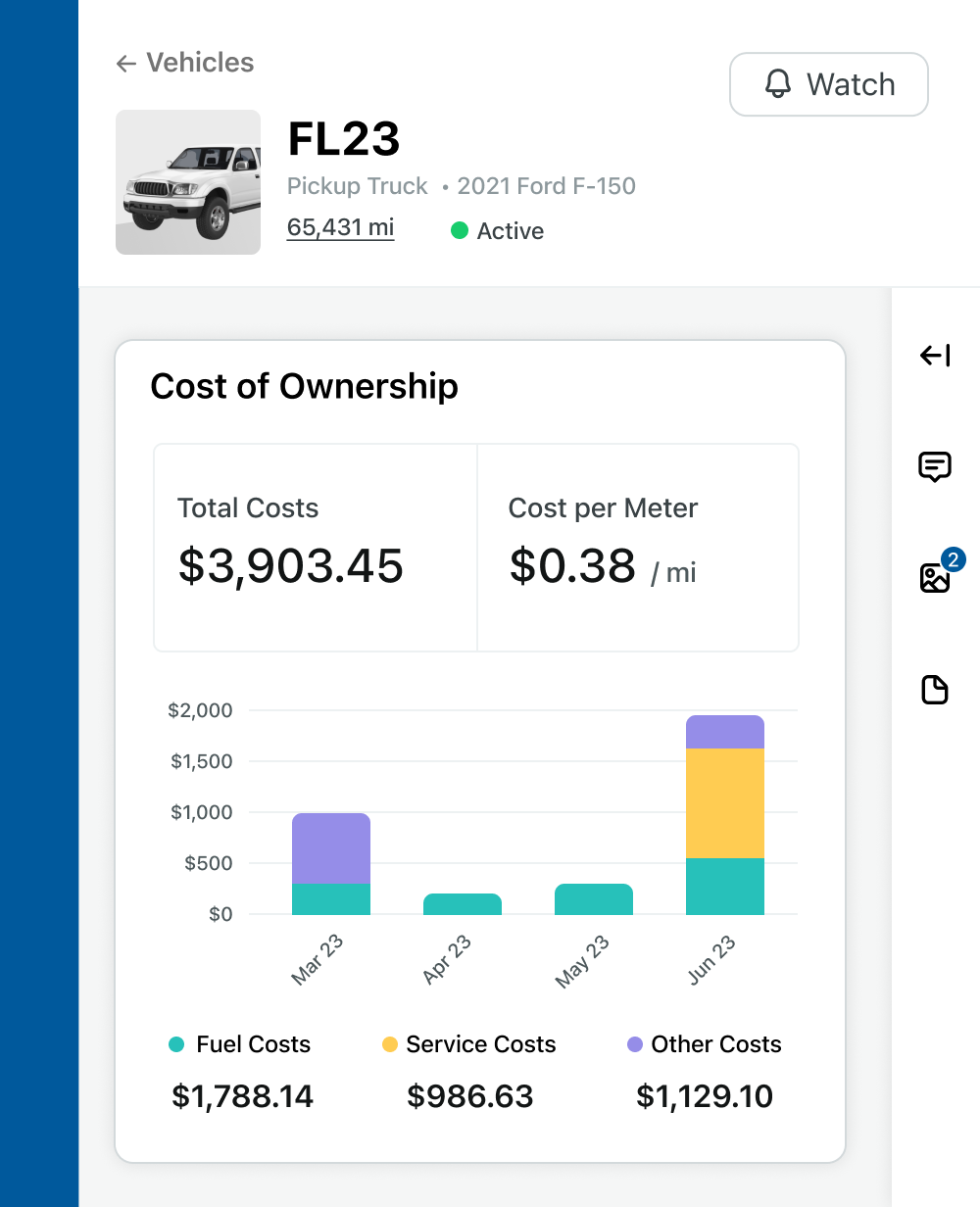 Record every detail of your fleet's assets
Add or access anything you might need to know about a particular asset. Assignment histories, meter readings, important dates, cost per mile trends and more can be imported and exported in bulk at any time.
Access important files and photos from anywhere
Upload any fleet-relevant file for future reference, from purchase documents and warranty agreements to asset photos and accident reports. You never need to waste time searching through file cabinets or the entire contents of your computer ever again.
Track fleet costs and performance data
Slice and dice your asset data to uncover valuable fleet insights with a suite of intuitive, highly customizable fleet management reports. Each report can be customized and shared internally or externally, and report scheduling lets you update anyone automatically by email.
Book a Demo
Key features of our Asset Management App
Add Custom Fields
Import/Export Data
Manage Driver Assignments
Store Document/Photos
Track TCO
Optimize Utilization
Forecast Replacements
Budget More Effectively
Inform your decisions with powerful intelligence
---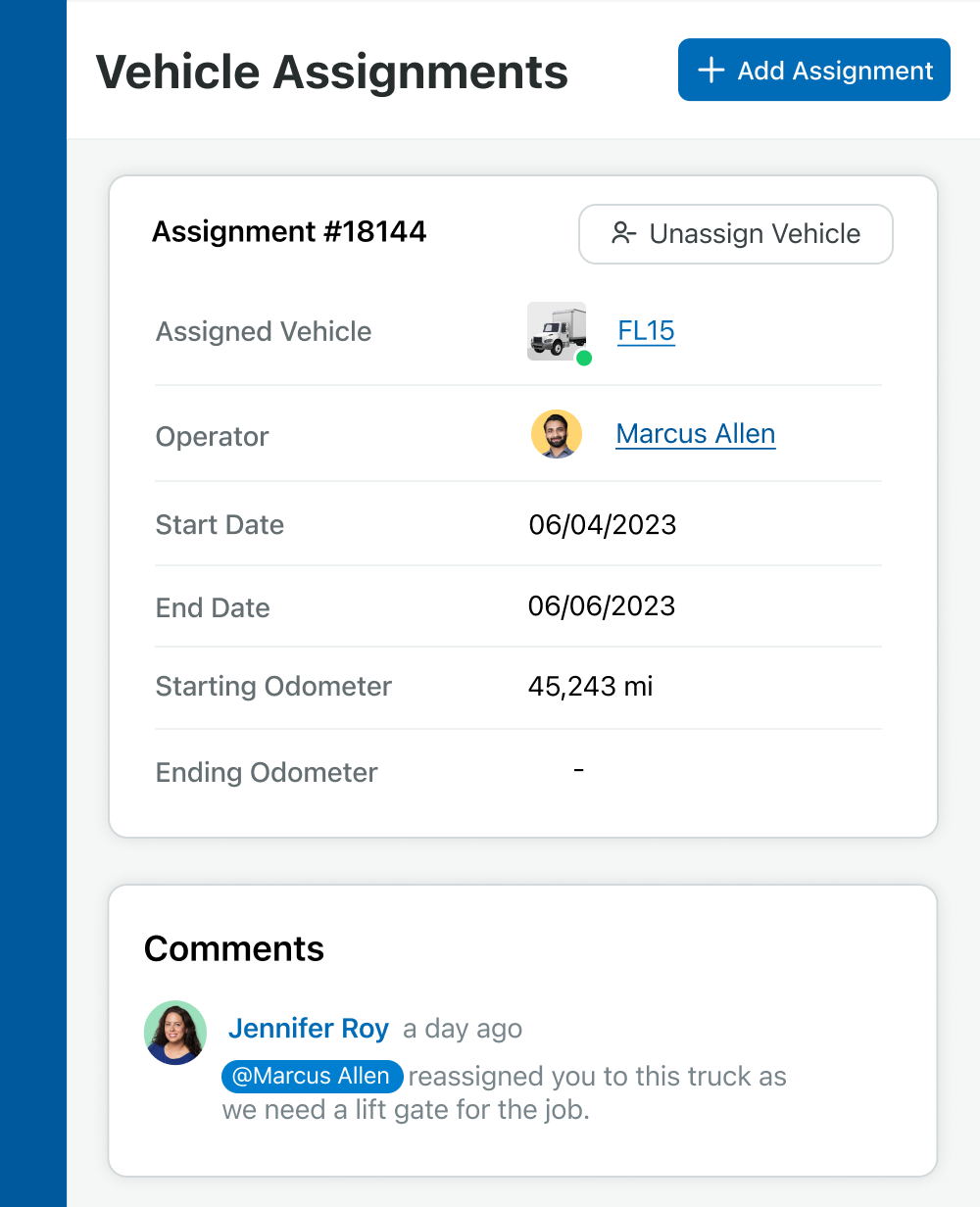 Centralize vital information into one accessible place
Compile all of your asset data into a single source of truth so everyone has reliable access to the information they need.
Gain complete visibility over your asset expenses
Account for each expense that contributes to an asset's total cost of ownership - fuel, loans or leases, maintenance costs and many more - in one place. Fleetio breaks down each expense associated with an asset so you can get a clear picture of its profitability.
Plan for the future with actionable projections
Stop using guesswork or complicated spreadsheets to plan for the future. Fleetio uses your historical data to forecast the best time to replace an asset, optimize utilization based on replacement priorities, and advocate for the capital needed to maintain your fleet.
Start a Free Trial
Why our customers love Fleetio
"I find this app saves me about 1.5 hours per day in the evening when I sit down to catch up all my files. If you use it as intended, it will be a huge benefit!"

Mark D.
Mark Dominey Trucking
"We love having all of our fleet information in the one place. It's very user friendly and easy to update information on the fly."

Tamara R.
CV Services Group
"Fleetio is our first fleet maintenance software program. Before that, everything was done manually. We now have the ability to efficiently record, track and report on vehicle maintenance and operating activities, parts inventory, and just about every other facet of our business."

Robert J.
Kayak Public Transport
"Like being able to add our landscaping assets as well as our vehicle."

Robert S.
Cape Fear Landscaping
"Fleetio puts inspections from employees in my hands as soon as they are completed. Issues are a great help as well, it not only keeps me up to date with what is going on with the equipment, my employees see what others have found wrong with the equipment."

Riley G.
New Venture Safety
"Overall, this is the best program by far in helping manage our fleet and keep track of maintenance and repairs."

Frequently Asked Questions
Ready to get started?
Join thousands of satisfied customers using Fleetio
Questions? Call us at 1-800-975-5304