Features
Fleet Management Dashboards
Get a high-level view of your entire operation and build custom information dashboards to manage your fleet in real time.
Book a Demo
Make the most of your fleet data without the fear of overload
---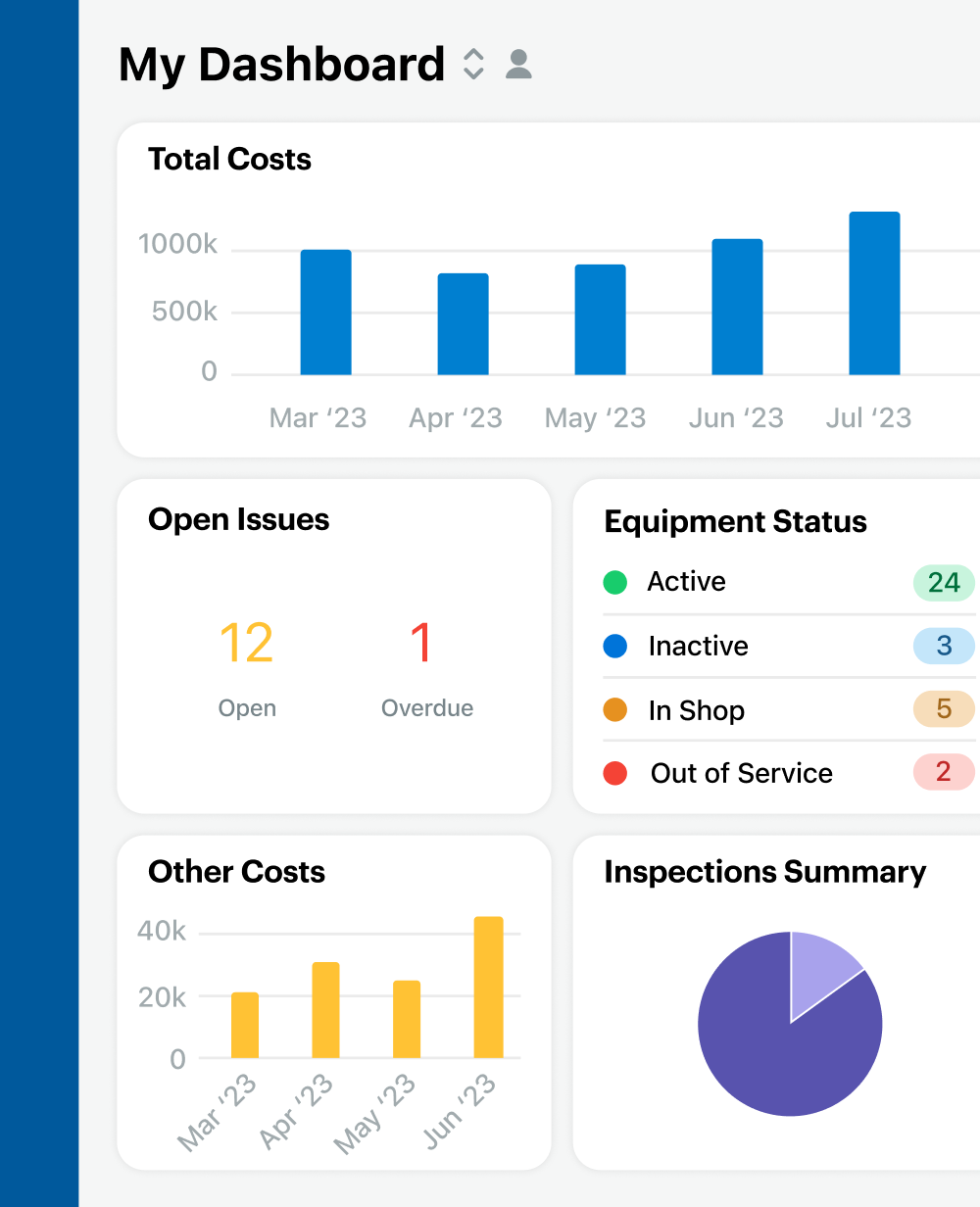 Tailor your fleet dashboard for quick insights
Build a robust dashboard in just a few minutes. Add charts and graphs and customize the layout to keep key performance metrics top of mind, including open work orders, top reasons for repair and inspection compliance rates.
Share data securely for ease of mind
Create shared dashboards for key stakeholders across your organization — technicians, drivers, management, etc. Fleetio's fleet management system lets you control access with fine-grained configurable permissions.
Increase data visibility for a smoother operation
Keep your team in the know. Full-screen mode makes it easy to display real-time dashboards on TVs in your office or shop.
Book a Demo
View key fleet insights with Fleetio Dashboards
Time Taken to Resolve Issues
Top Reasons for Repair
ROs Needing Approval
On-Time Service Compliance
Active Work Orders
Asset Cost/Mile
Active Vehicle Assignments
Improve fleet efficiency and data-driven decision-making — all on a single platform
---
Access fleet-wide data quickly
Create a custom dashboard to tailor your view to the metrics you need. See integrated data from popular fuel cards, telematics providers and third-party maintenance shops and even filter data by operating groups/regions.
Give key stakeholders a real-time view of fleet performances
Keep management in the loop and your fleet management efforts visible to the entire organization. Instantly share custom dashboards and fleet management reports with key stakeholders, such as executives, finance/accounting and shop personnel.
Reduce data overload with controlled data visibility
Viewers can only see data they have explicit permission to access, ensuring everyone sees exactly what they need to and nothing else.
Start a Free Trial
Why our customers love Fleetio
I find this app saves me about 1.5 hours per day in the evening when I sit down to catch up all my files. If you use it as intended, it will be a huge benefit!

Mark D.
Mark Dominey Trucking
My dashboard is kind of my baby. Every day I check my inventory value that's on my dashboard. I will check our work orders right after that, and go over to our pending approval. I review a lot of the work orders alongside the lead technicians, and I make sure that our notes are taken, parts are charged out, time is charged.

Samantha S.
Wyandotte County and Kansas City
Bringing in a tool that brings all the data into one centralized location to make informed decisions and help guide our business was critical.

We are constantly trying to find ways to save time and money. Fleetio helps us achieve that with their constant updates.

Ernest A.
Boyle Transportation
Frequently Asked Questions