Features
Digital Work Orders
Track and manage your fleet's repairs in real time with digital work orders. Monitor fleet data to reduce unplanned vehicle downtime and limit the cost of emergency repairs.
Book a Demo
Stop filling out paper work order forms
---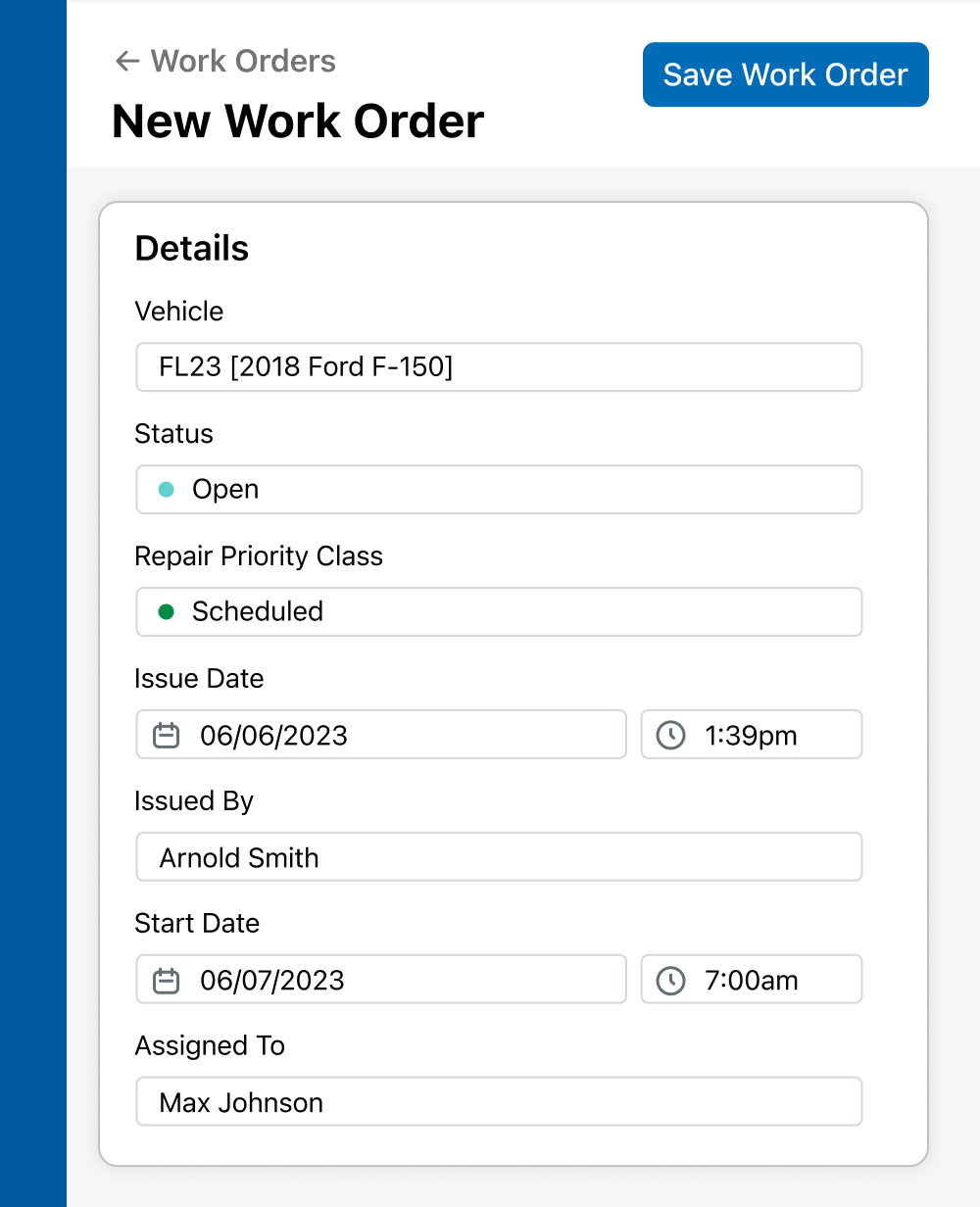 Create, manage and assign digital work orders
Create work orders directly from DTC alerts or failed inspection items and assign them to your fleet's technician to get your vehicle repaired and back on the road quickly
Manage in-house and outsourced maintenance from one location
Know the status of all open repair tasks in your fleet, regardless of whether the work is performed in-house or outsourced to a maintenance shop
Categorize maintenance with Repair Priority Classes
Categorize a repair as Scheduled, Non-scheduled, or Emergency in order to improve your fleet's maintenance visibility and identify opportunities to reduce unplanned repairs
Track precise maintenance line items with ease
Receive accurate breakdowns of the costs of repair with line items for parts and labor tied to individual service tasks, providing up-to-date cost information for fleet vehicle ownership
Book a Demo
Key features of our Digital Work Order App
Monitor Order Status
Track Maintenance Spend
Manage Time Effectively
Eliminate Paper
Enhance Visibility
Automate Workflows
Configure Notifications
Perform Bulk Updates
Integrate work orders with maintenance software
---
Expedite maintenance work flows to reduce vehicle downtime
When your work orders are linked to fleet maintenance software, you can instantly begin the maintenance and repair process to reduce the impact of downtime on your fleet
Automatically adjust inventory counts for vehicle parts used
Fleetio will automatically adjust your on-hand parts inventory when you assign a part to a maintenance task so you can avoid parts stockouts
Generate reports to see cost of service and operating costs at-a-glance
Cost of operation reports are updated for individual vehicles and the entire fleet as you add line items to a work order, and can be scheduled by email to simplify maintenance reporting
Start Free Trial
Why our customers love Fleetio
"I find this app saves me about 1.5 hours per day in the evening when I sit down to catch up all my files. If you use it as intended, it will be a huge benefit!"

Mark D.
Mark Dominey Trucking
"I use this platform as a mechanic on our diverse fleet. The layout of work orders is seamless and all around user friendly."

"Everything we've needed to maintain those trucks is easy and quick to grab."

Andrew M.
Daniels Sharpsmart
"Fleetio is our first fleet maintenance software program. Before that, everything was done manually. We now have the ability to efficiently record, track and report on vehicle maintenance and operating activities, parts inventory, and just about every other facet of our business."

Robert J.
Kayak Public Transit
"Both app and computer based makes it easy to use. My field technicians enjoy using the app."

"Fleetio fleet management is exactly what we were looking for. Totally easy to use! We wanted to be able to track all of our truck expenses, and be able to see what each truck in the fleet costs per mile, and Fleetio does exactly that!"

Sheldon D.
Sue's Recycling
Ready to get started?
Join thousands of satisfied customers using Fleetio
Questions? Call us at 1-800-975-5304