Features
Vehicle Inspections Software
Enhance your operations by conducting vehicle inspections with greater efficiency and compliance.
Book a Demo
Elevate how you conduct, respond to and review your inspections
---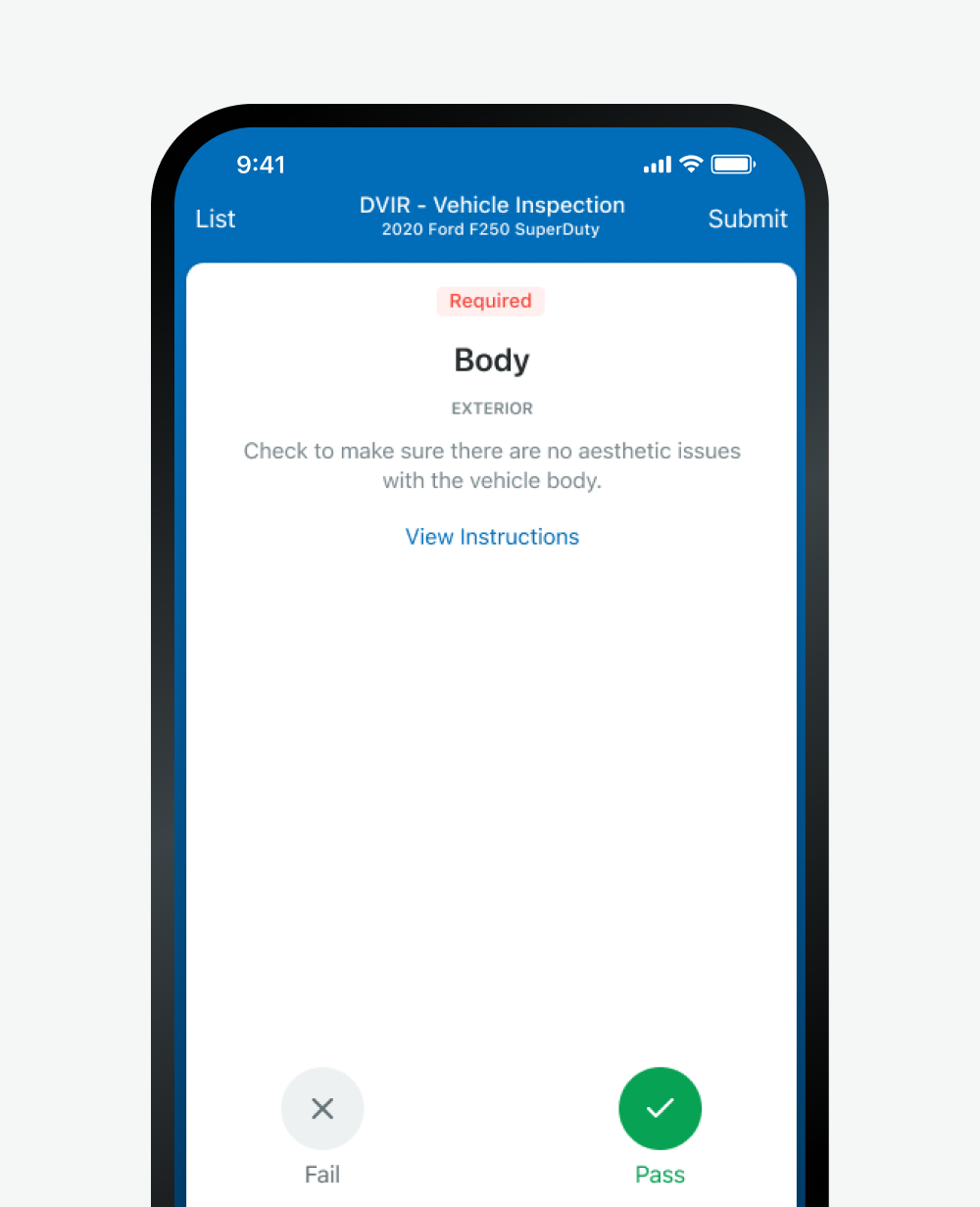 Eliminate paperwork with a driver inspection app
Conduct inspections, attach photos and add comments from your mobile device or computer. With less manual data entry and physical clutter, you'll find the information you need quickly and easily, every time you need it.
Ensure compliance across your driver vehicle inspection reports
With a complete record of inspection history, fleets can better manage their compliance requirements, avoid penalties and decrease asset downtime. Inspection forms are fully customizable to ensure your drivers are checking the appropriate boxes.
Address vehicle issues immediately
Customize notifications and take action instantly with real-time information. Administrators are immediately alerted to failed inspection items so you can get your vehicles back on the road faster.
Book a Demo
Key features of our Fleet Inspections App
Customizable inspection forms
Access mobile app offline
Maintain airtight compliance
Alerts for failed inspections
Eliminate paper
Log odometer readings
Automate workflows
Attach photos to failed items
Fleetio Inspections: How It Works
Fleetio Inspections is an intuitive solution available on your computer or smartphone to help you manage and track the inspections process end-to-end. Create custom inspection forms and manage reported defects electronically. FMCSA-compliant DVIRs are quickly accessible from anywhere, even areas without internet, helping you prove safety and compliance on the road.
Driver inspects vehicle and records findings in mobile app or web browser.
Results appear in Fleetio and the fleet manager schedules repairs.
Vehicle repairs are completed and recorded against the original inspections report.
The driver confirms the issue is resolved in their next inspection.
The vehicle is road-ready with a fully compliant inspections report.
Streamline your inspection workflows
---
Create custom inspections to meet your fleet's needs
Fleetio's endlessly customizable forms enable you to tailor your inspections to your fleet's exact needs. From vehicles to trailers and beyond, you can easily build inspection forms for anything your fleet owns. You can even provide your personnel with a pre-trip inspection checklist.
Automate maintenance workflows for failed inspections
The faster a failed inspection item is addressed, the faster that vehicle returns to the road. In Fleetio, failed inspection items can be converted into work orders in just a few clicks, starting the maintenance immediately. Combined with the ability to customize the steps that make up their maintenance workflows, Fleetio helps fleets act on failed inspection items more efficiently and effectively.
Connect with an approved maintenance shop
Fleetio's Maintenance Shop Integration enables fleets to streamline their communications with third-party repair shops. Without ever having to pick up a phone or send an email, managers can approve or reject repair line items or create auto-approval policies based on certain criteria. In addition to saving fleets time, this process eliminates surprise bills and overcharges.
Start a Free Trial
Turn your inspections into actions
---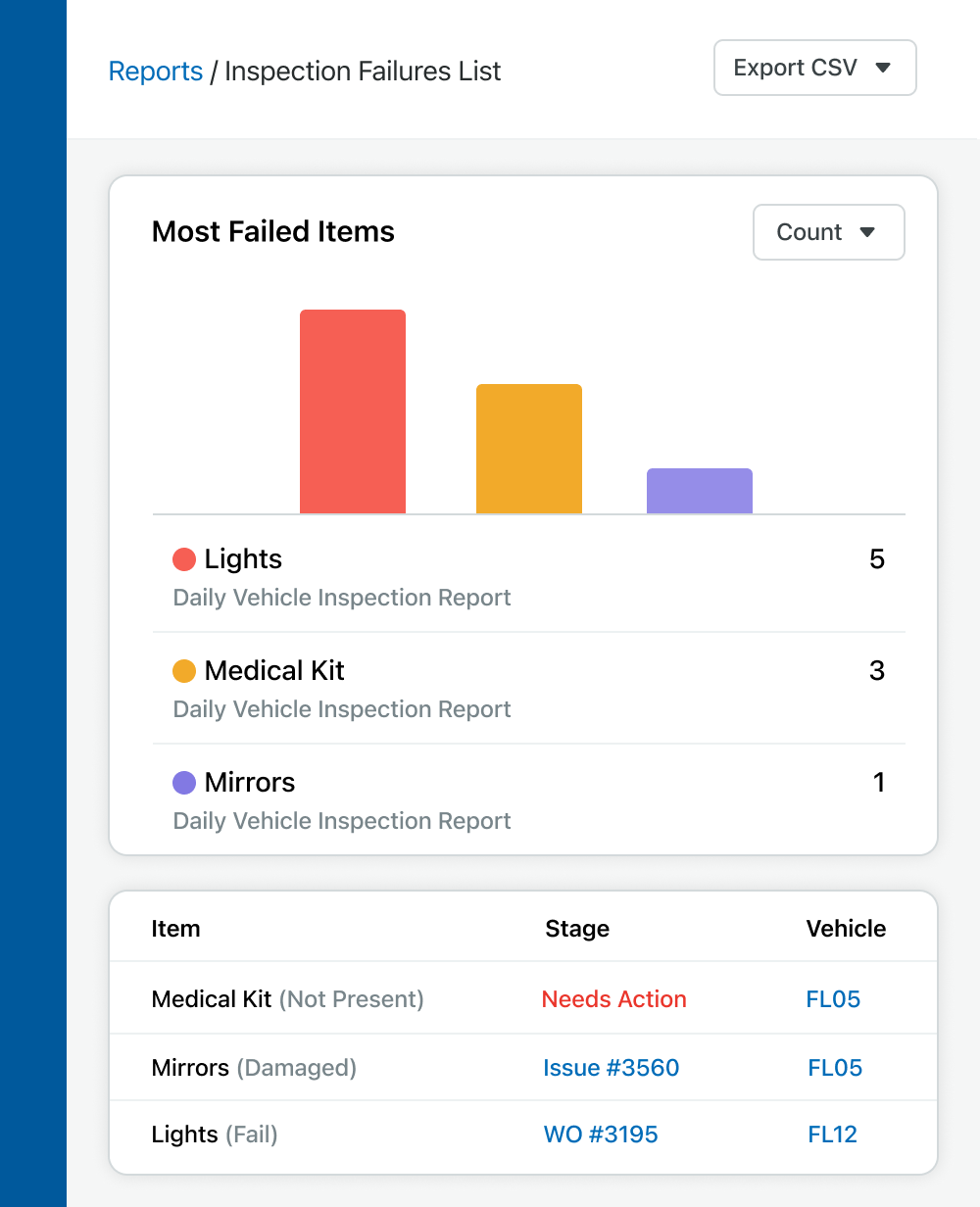 Do more with your inspection data
Fleetio automatically collects all of the data captured via your inspections and presents critical information and insights in intuitive dashboards and reports. These analytics surface most-failed inspection items and vehicles to provide a clear picture of your fleet's performance and health.
Ensure inspection integrity with tracking and reporting
As your fleet's first line of defense against breakdowns, the integrity of your fleet inspections should never be compromised. Fleetio uses GPS tracking to automatically alert you when inspections are submitted from suspicious locations – a common sign of pencil whipping. Generate inspection compliance reports to identify vehicles that have gone uninspected.
Why our customers love Fleetio
"We like the customization of the DVIR features. Being able to create our own inspections has been great!"

"Everything. The inspection function is top notch and easily customized per vehicle. The fuel tracking is great and easy to use really helps to determine your cost for operating a asset in seconds"

Morgan L.
Asset Solution Recovery
"Ease of setup and the functionality of software is user friendly and captures all our companies maintenance tracking and inspection needs."

Rodney S.
Steel View Energy
"This product has improved our inspection and safety reporting more than 100%."

"We love Fleetio, It has really streamlined our fleet management process. The user friendly platform is a huge help. Our teams actually take the time and use the program for fleet inspections and fuel management. Thanks Fleetio!!!"

Brianna S.
Omega Development
"Where to start? A ton of things such as fuel cost integration, inspections, ease of use, web based, inventory, reporting, and etc."

Fredrick C
University of Louisiana at Lafayette
Frequently Asked Questions
Ready to get started?
Join thousands of satisfied customers using Fleetio
Questions? Call us at 1-800-975-5304