Features
Fleet Management Reports
Easily surface and analyze key data with consolidated fleet reports in Fleetio. Track and monitor operating costs and other management metrics, including usage and performance.
Book a Demo
Take the guesswork out of fleet management
---
Key features of our Fleet Reports
Total Fleet Operating Cost
Asset and Fleet Utilization
Service Cost Histories
Downtime Reporting
Fuel Consumption Trends
Asset Operating Costs
Asset Assignmnent Histories
Inspection Compliance Rates
Consolidate data for robust operational insights
---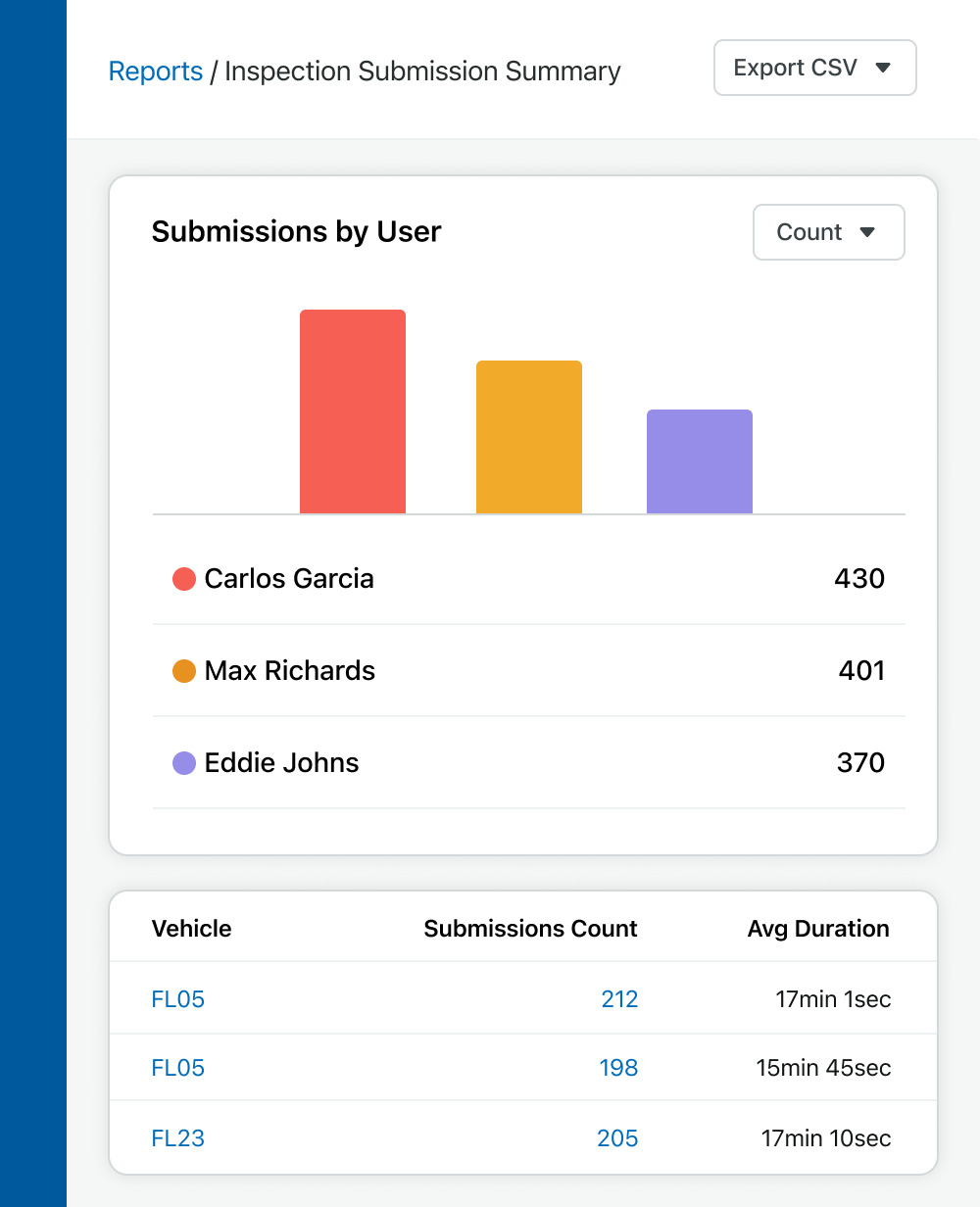 Unlock fuel consumption trends
Report on fuel performance and integrate fuel card data to spot consumption trends and deficiencies, get alerted to potential fuel theft and simplify quarterly fuel tax reporting (IFTA) with location-based reporting.
Ensure fleet safety and compliance
Find out who's completing required inspections, ensure in-service vehicles are being inspected regularly and view all reported defects to identify trends and spot common defects across your fleet.
Optimize parts inventories and track parts usage
See which parts are being used by specific vehicles and equipment, as well as which parts are being used the most, making it easy to keep track of, report on and optimize in-house inventory.
Customize and automatically share reports
Surface and share the metrics that matter most. Customize your reports based on the recipient (finance, safety, maintenance, etc.) and schedule the reports to automatically send to their email inbox at your preferred frequency.
Start a Free Trial
Why our customers love Fleetio
Fleetio has exponentially helped to streamline our company driver & vehicle tracking. The interface is very user friendly. Definitely worth the seemingly minimal investment.

Colleen P.
EDA Contractors, Inc
We are constantly trying to find ways to save time and money. Fleetio helps us achieve that with their constant updates.

Ernest A.
Boyle Transportation
Bringing in a tool that brings all the data into one centralized location to make informed decisions and help guide our business was critical.

I find this app saves me about 1.5 hours per day in the evening when I sit down to catch up all my files. If you use it as intended, it will be a huge benefit!

Mark D.
Mark Dominey Trucking
Frequently Asked Questions