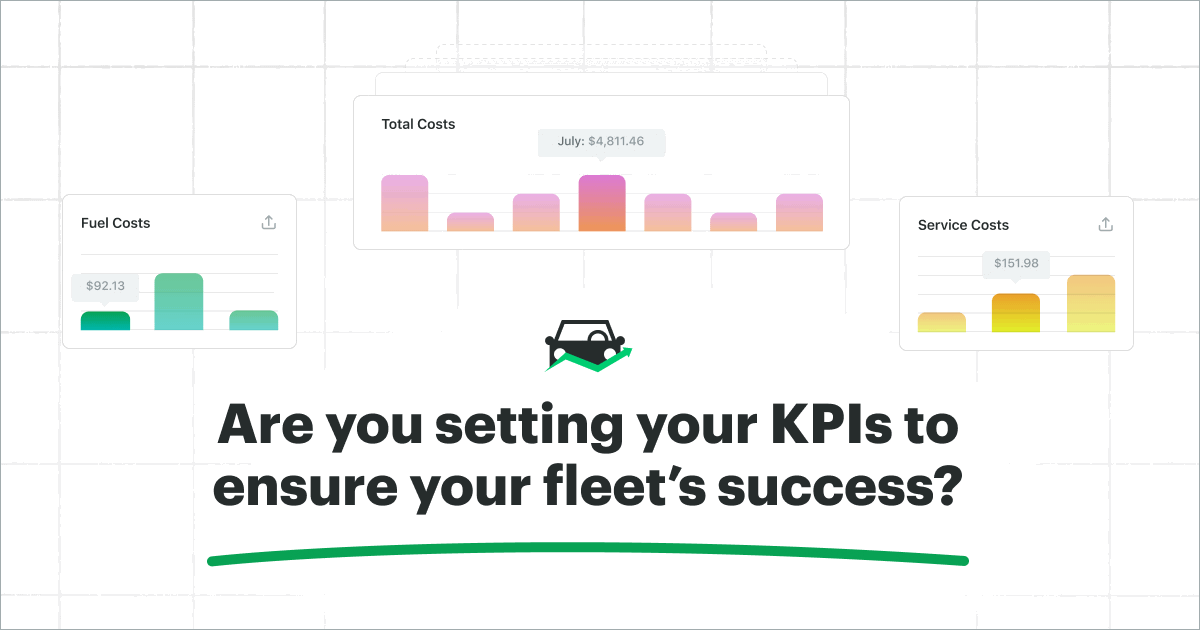 What are Fleet Management KPIs?
Fleet management KPIs are a performance measurement that demonstrates the effectiveness of your fleet management strategy. A fleet management KPI is like a compass guiding you towards successful decisions to improve your fleet.
The most common fleet management benchmarks are:
Boosting efficiency
Enhancing productivity
Controlling costs
These three objectives can be used as a baseline to develop your organization's fleet management KPIs. First, consider which area(s) of your fleet need improvement.
Perhaps you'd like to limit downtime or cut repair expenses. These goals can be a baseline to setting your KPIs. Using historical data, you can then set fleet benchmarks to target.
While setting fleet management KPIs is one thing, meeting them is another. To meet fleet management KPI targets, you must effectively communicate strategies with your team and have comprehensive access to real-time fleet data.
This can be challenging for fleets who don't have a way to stay connected with their team and track every aspect of their fleet. To hit KPIs and get a complete, accurate view of fleet performance, many fleet managers are turning to software solutions.
Leveraging a fleet computerized maintenance management system (CMMS) allows you to seamlessly collaborate with your team and monitor fleet metrics in real time. A CMMS benefits your fleet by providing maximum visibility into your assets so you can clearly track fleet management KPIs and set your fleet up for success.
Track and meet your KPIs with Fleetio
Easily track vehicle utilization, fuel efficiency, maintenance schedules and much more in real time.
Learn more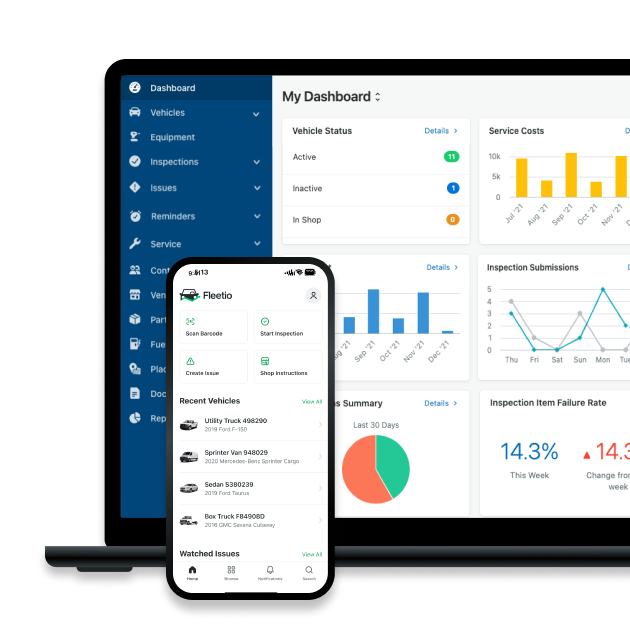 Here are six fleet management KPIs you should be tracking.
1. Cost Control and Budget Adherence
You can't improve what you can't measure. Most fleet managers aim to control expenses and maximize profitability. Unfortunately, many fleet managers don't have a way to accurately track expenses.
Because there are so many costs associated with fleets, manually calculating expenses is an uphill battle. Not only is it difficult to ensure accuracy, but by the time you reconcile your budget, you've already fallen behind.
Fleet management software allows you to track expenses in real-time. One of the benefits of a fleet management system is that you can view expenses on a line item level and automatically calculate your total cost of ownership (TCO) for each asset.
Monitoring costs with configurable fleet reports allows you to confirm trends across your fleet and take necessary action for improvement.
When setting fleet management KPIs for expense management, you can create broad targets, such as cutting fleet expenses by 10 percent, or track specific benchmarks, such as:
Total cost per mile
Parts and labor costs
Fuel expenses
Taxes and registration
Optimal vehicle replacement
2. Maintenance Management and Downtime Prevention
Developing fleet management KPIs for maintenance helps ensure your vehicles are serviced quickly to keep your fleet productive. Prioritizing maintenance productivity reduces downtime and maximizes efficiency.
When determining maintenance benchmarks for a productive fleet, first consider measuring repair turnover rate. Monitoring your technician efficiency ensures your vehicles are getting in and out of the shop quickly and avoiding downtime.
You should also track issues by vehicle. Are there certain vehicles that experience frequent oil leaks or other issues? Comprehensively tracking vehicle health allows you to spot recurring issues and trends across your vehicles.
To avoid recurring issues, fleet managers should take a proactive approach to fleet maintenance. Adhering to a preventive maintenance schedule helps identify and repair issues before they compound and cause downtime.
To stay on top of preventive maintenance schedules, consider setting a fleet management KPI to measure how well you're following service schedules. This should be an easy target to hit if you've set up automatic service reminders!
3. Optimal Vehicle Replacement Targets
We've discussed both expense and maintenance management. These two aspects of your fleet management plan can help you make one of the more challenging decisions for your fleet: vehicle replacement.
Determining the best time to replace vehicles is complex. You want to get the most out of your assets, but there comes a point of diminishing returns with every vehicle. At some point, maintenance expenses outweigh the cost of a new vehicle.
Leveraging software to monitor vehicle health and expenses can help identify optimal replacement windows. With Fleetio's Optimal Replacement Analysis Tool, fleet managers can take a strategic approach to replacement and estimate replacement windows based on a variety of factors.
With this analysis, you can center your fleet management KPIs to target lengthening asset lifespan by X percent and create a target to replace vehicles at optimal times to avoid spending more money in the long run.
4. Fuel Costs
Fuel keeps your fleet running — literally. Fuel is one of the largest ongoing costs for fleets and, while unavoidable, fuel costs can be managed. Monitoring fuel consumption and expenses in software allows you to develop strategies for improvement.
When setting fleet management KPIs surrounding fuel, fleet managers should target fuel efficiency. This involves both monitoring fuel consumption trends as well as improving routes and driver behavior.
Tracking fuel consumption is time-consuming if you're trying to keep up with paper receipts and manual data entry. Having drivers input fuel entries into a fuel management system saves time and allows you to view fuel costs in real time. For further efficiency and access to additional fuel data, fleets can integrate their fuel cards with Fleetio.
Fleet managers can also hit their target fleet KPIs by optimizing routes. Are some vehicles driving longer distances than others? Balancing asset utilization and streamlining routes can improve performance and fuel efficiency across your fleet and even help you save on fuel expenses.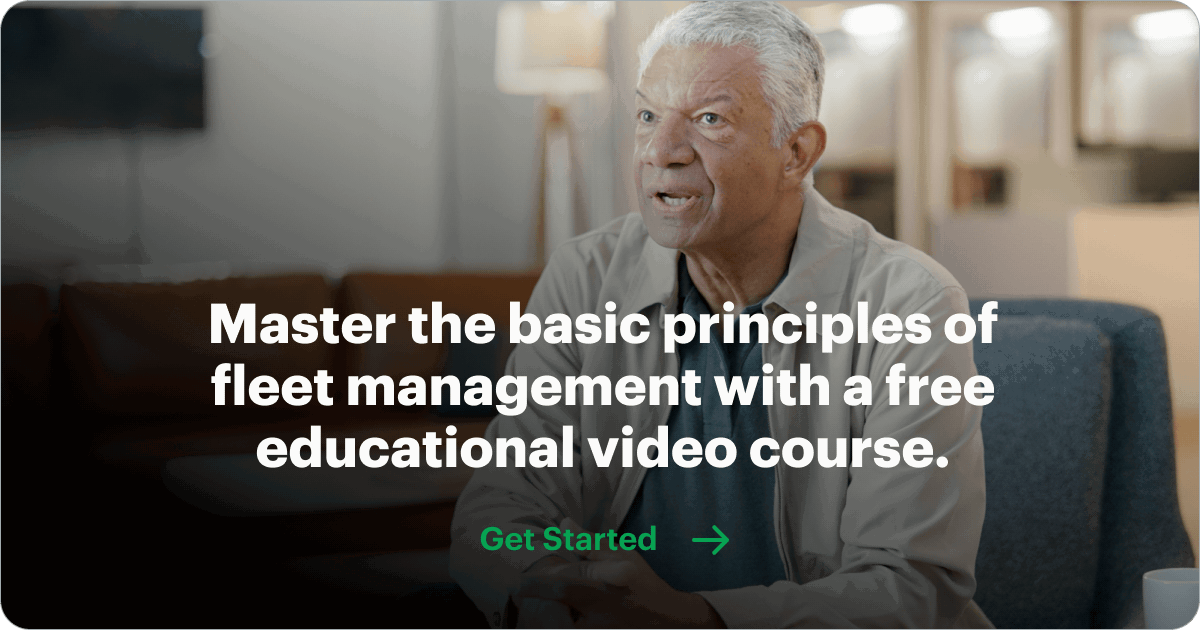 5. Compliance and Inspections
To maintain fleet compliance, commercial fleets must complete daily Driver Vehicle Inspection Reports (DVIR). Keeping a log of completed DVIRs is critical to passing a DOT audit or road check.
While paper inspection forms are unorganized and inefficient, drivers can now complete electronic DVIRs (eDVIR) with a vehicle inspection app. Drivers can upload inspection results in real time to inform managers of vehicle issues and keep a complete record of eDVIRs to prove compliance.
Creating a fleet management KPI to target thorough inspections is one of the best ways to maintain compliance. Monitoring completion rates in fleet management software ensures your drivers are keeping up with compliance and keeps you informed of any vehicles that require maintenance.
6. Safety and Driver Behavior
Safety is a fleet manager's top priority, and just like costs and maintenance, safety can be measured. Setting fleet management KPIs surrounding safety and driver behavior allows you to ensure your vehicles, your drivers and the public at large are safe on the roadways.
Consider creating fleet management KPIs for the number of incidents each quarter. While this number should be as close to zero as possible, sometimes accidents are unavoidable (but hopefully never your driver's fault).
Fleet managers can also monitor driver behavior with fleet telematics tools to identify harsh braking and speeding. A fleet manager of a trucking and logistics fleet could even connect their truck fleet management software to their electronic logging devices (ELD) to identify unsafe driving practices, no matter the location of their drivers.
Give Fleetio a test drive
Discover how Fleetio's fleet management software can help you streamline your operations and meet your KPIs with confidence.
Schedule a demo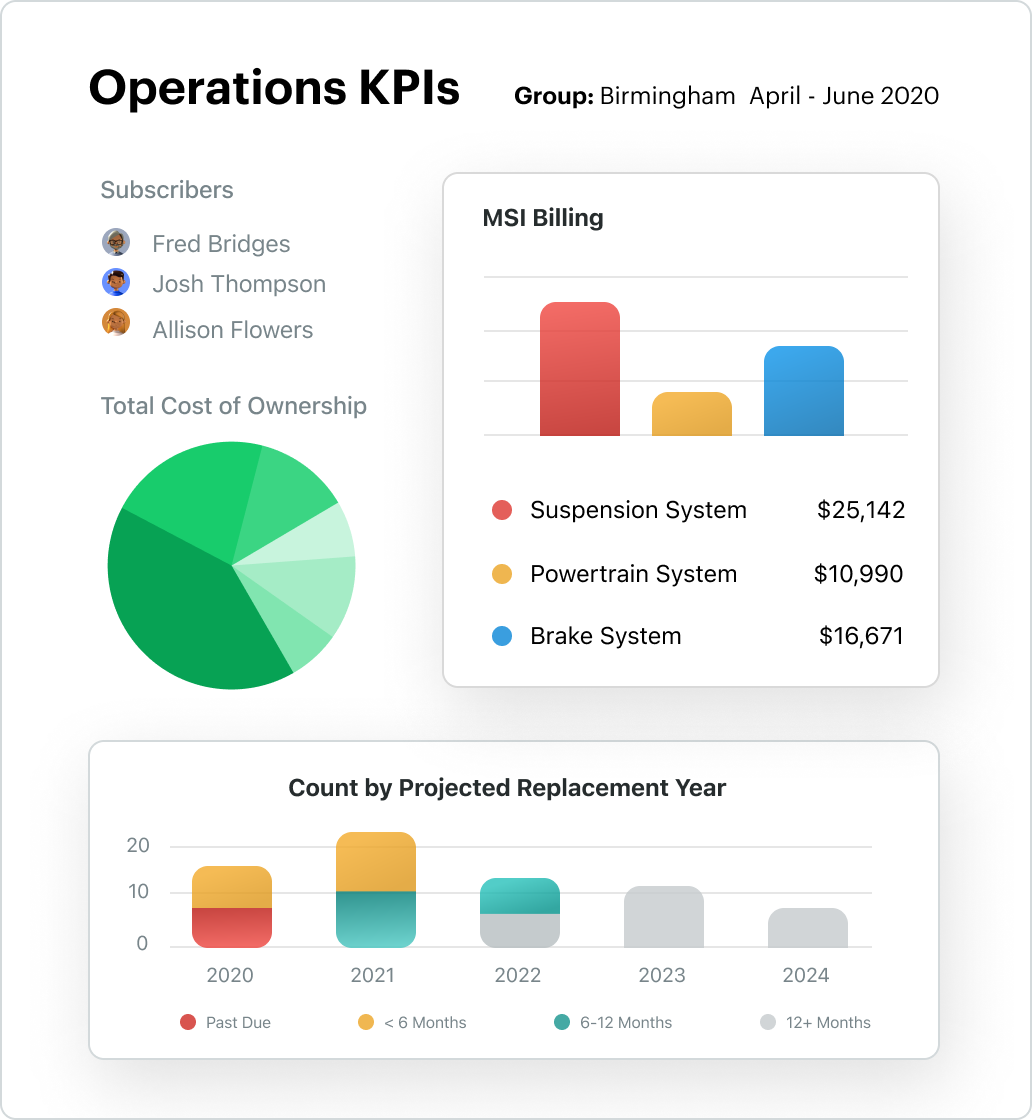 Training drivers regularly on safe driving habits and creating safety procedures can ensure your team is taking safety seriously. Not only does this decrease liability, but it can also help avoid fines and violations.
---
See how Fleetio can help your fleet reach new heights! Start your free trial or request a demo today.
Editor's note: This blog post was originally posted in September 2020 and has been updated for accuracy and relevancy.