Work Order Template
Work orders are the heart and soul of fleet maintenance, indicating both work needed and work accomplished. Building maintenance data in a central location can give you insights into your fleet's overall health and ROI. We've put together a printable work order template for all your fleet's assets to standardize work order data for easy reporting and, when you're ready, easy uploading into fleet management software. Never miss a proactive maintenance service or suggested repair.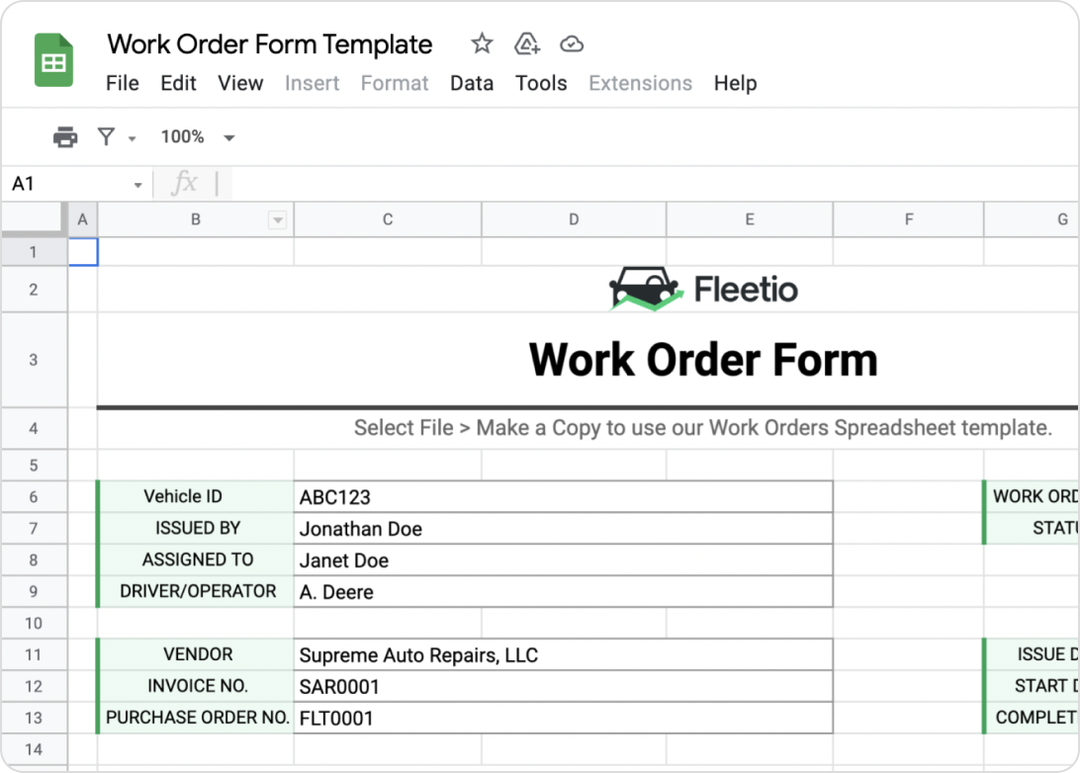 What is a work order?
---
A work order (or repair order) is a document created to describe a maintenance or repair need on an asset. Work orders provide technicians with clear guidelines on what work has been approved. Most work order forms have your basic line items, vehicle information, service completed, date of service and all associated costs.
Why use a maintenance work order?
---
A maintenance work order ensures that everybody involved is clear on the approved maintenance and repairs, as well as which asset is due for service. When organized properly, work orders can also be used to determine historical maintenance performed to identify larger trends or problems.
How to use Fleetio's free work order template
This work order template was designed to help you track in-house and outsourced maintenance, and build vehicle service histories to ensure maximum return on investment (ROI).
Our work order template is built using Google Sheets, a free online alternative to Excel. To create your own editable version of this template, you simply need to select "File" and then "Make a copy" once you open the template link.
Log and track information
Work requested
Control maintenance spend and ensure that unnecessary work is not performed on an asset.
Work performed
Keep a historical record of what work has been performed on an asset and when.
Parts used
Determine the total parts cost of a maintenance task and log any warranty information in case of early failure.
Service recommendations
Log upcoming service needs and put a plan in place to reduce unscheduled asset downtime.
Total cost
Track the ongoing service spend for an asset to more accurately calculate an asset's cost of operation and determine the optimal timeline for replacement.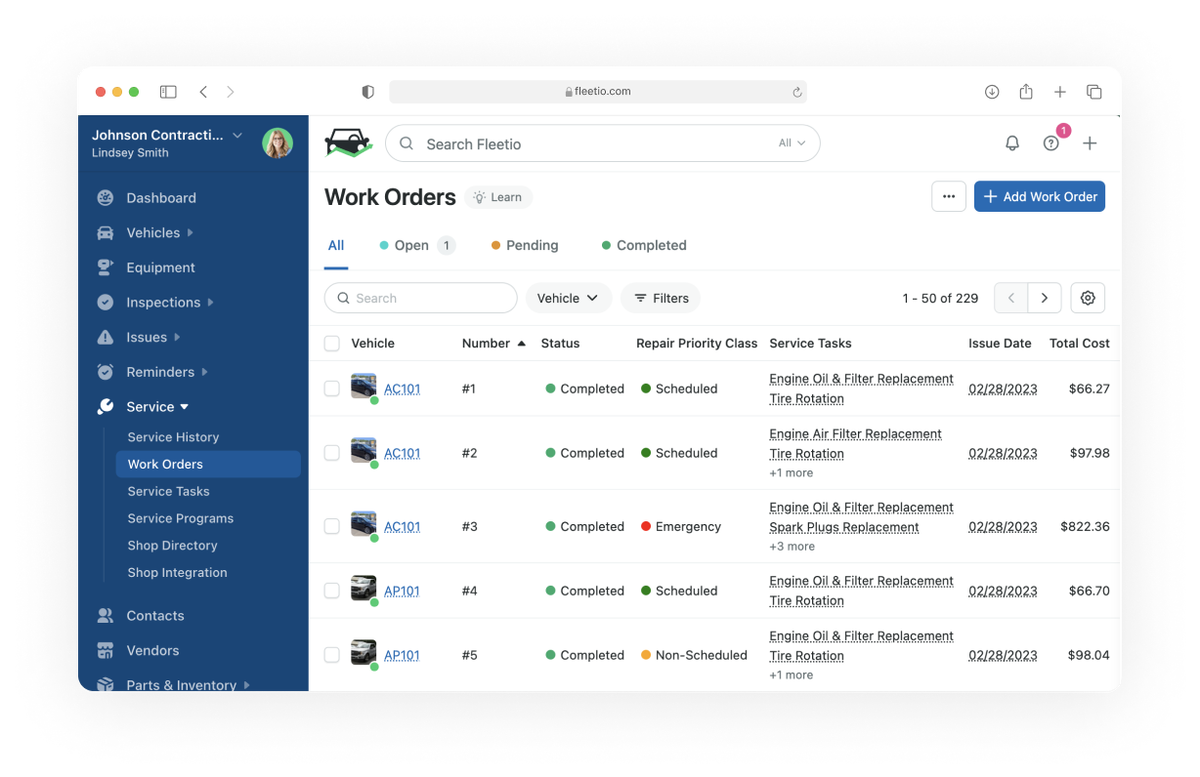 Manage work orders in Fleetio
If you're tired of the spreadsheets and paper forms, it's time to find the best work order software for your fleet. Digital work orders allow you to streamline maintenance and repair workflows, build detailed service histories and gain better control of service spend. Fleetio allows you to track work order statuses in real time — determining whether a work order is open, pending, completed, needs approval or approved.
Fleetio's work order tracking app also allows technicians to clock in and out of jobs right from their smartphone or tablet so you can get a better idea of how long a job takes versus the service duration. When techs add a part to the work order, Fleetio automatically updates your parts inventory, and you can set low-stock thresholds to ensure you're reordering before your stock is depleted.
What customers are saying
"Fleetio is user friendly; I'm not the most technologically savvy individual but the training sessions provided were more than enough to help me feel comfortable using the software myself"

"Bringing in a tool that brings all the data into one centralized location to make informed decisions and help guide our business was critical."

"We like being able to to add our landscaping assets as well as our vehicles to Fleetio."

Robert S.
Cape Fear Landscaping
"I find this app saves me about 1.5 hours per day in the evening when I sit down to catch up all my files. If you use it as intended, it will be a huge benefit!"

Mark D.
Mark Dominey Trucking
Ready to get started?
Join thousands of satisfied customers using Fleetio
Questions? Call us at 1-800-975-5304