A strong, sustainable preventive maintenance schedule is vital for the upkeep of your fleet. Keeping your fleet well-maintained not only maximizes uptime and lengthens vehicle lifespan, but also ensures the safety of your assets on the road.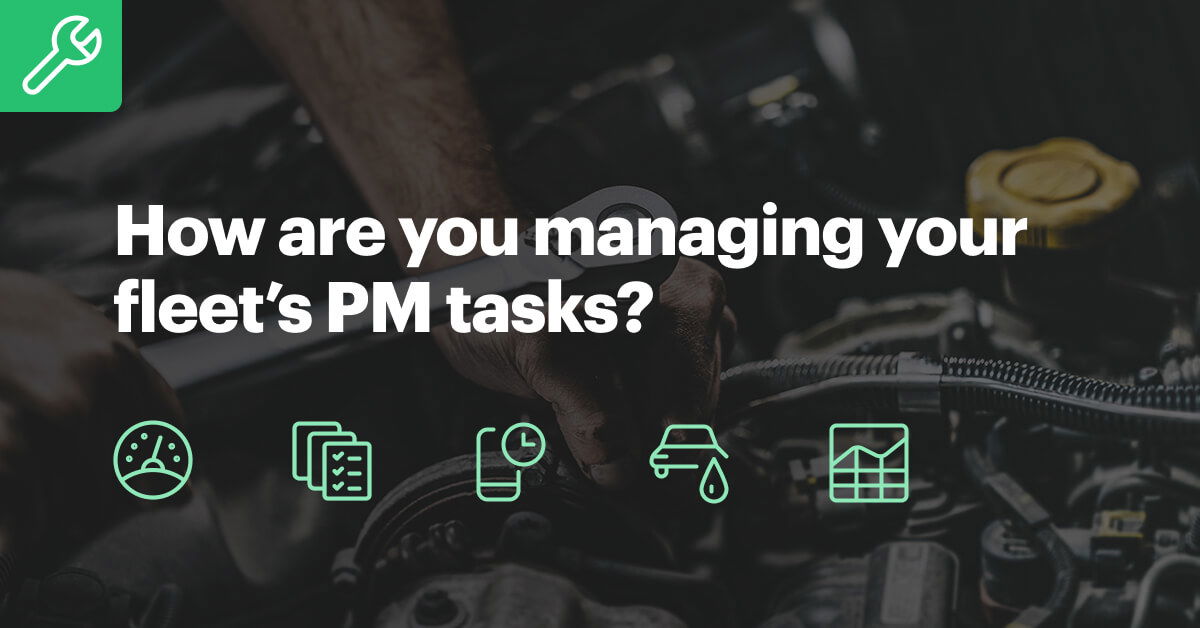 Types of fleet maintenance
There are two types of maintenance that happen within fleets: corrective and preventive maintenance. Corrective maintenance is often unscheduled and done as a reaction to a failed item on a vehicle, whereas preventive maintenance (PM) is a proactive approach to fleet maintenance – where regular maintenance is scheduled and performed to prevent failure to vehicle components.
Fleet preventive maintenance program components
A preventive maintenance program allows fleet managers to improve their overall uptime and reduce the costs associated with unplanned repairs, as well as extend the lifetime of the assets in their fleet. Here are a few components of a fleet preventive maintenance program:
Inventory each asset in your fleet
Create a list, documenting each asset in your fleet that requires preventive maintenance. Include asset details such as year, make and model.
Record the service history for each asset
By seeing what service has been performed historically, you can better prioritize upcoming maintenance needs, rather than constantly performing reactive maintenance. Create a system for documenting fleet-wide maintenance.
Create a list of OEM-recommended maintenance tasks and intervals
Create a PM calendar for each asset
Once you know what maintenance has been performed and what maintenance needs to be performed, create a maintenance calendar to anticipate vehicle downtime for each asset.
Log odometer readings to anticipate maintenance needs
Track meter readings for all of the assets in your fleet in order to ensure that your assets are receiving the service they need, when they need it.
5 best practices for implementing preventive maintenance
Implementing a fleet maintenance schedule is one thing; sticking to it is another. The best preventive maintenance schedule is one that is sustainable for your team.
Many fleets still use paper work orders and spreadsheets to manage their PM, which can be inefficient and cause vehicles to miss routine maintenance. Many fleet preventive maintenance schedules fall apart due to disorganization, leading to downtime and costly repairs.
While you may have a planned preventative maintenance (PPM) schedule in place, check out these best practices to see how a fleet management system can help you increase efficiency.
1. Set Service Reminders Based on Odometer Updates
Most fleet preventive maintenance schedules are based around mileage and hour intervals, so fleet managers rely heavily on odometer readings to manage maintenance.
Because many fleets still use paper processes, most drivers can only provide odometer readings when they return to the office. This means managers are receiving infrequent, and sometimes inaccurate, odometer updates.
With an integrated fleet management system, you receive recurring, accurate odometer updates to help automate service reminders. Instead of hunting down drivers and manually tracking when service is due, you can avoid the information bottleneck and start service on time.
Drivers update odometer readings through a driver inspection app, or you can integrate your telematics system into fleet management software to receive automatic meter updates in real-time.
With accurate odometer readings, your fleet can adhere to routine preventive maintenance, set service schedules in your maintenance software and receive reminders based on odometer updates. Never miss an oil change again!
2. Take Advantage of Inspection Results
While setting service reminders guarantees your assets receive regular service, sometimes issues arise ahead of schedule. Routine inspections are critical, and leveraging Electronic DVIR (eDVIR) provides even more efficiency in your maintenance program.
Small issues in your inspections that go unrepaired can lead to greater issues in the long run. Leveraging inspections in your fleet preventive maintenance process allows your drivers to communicate vehicle issues efficiently and expedite the maintenance process.
Conducting digital inspections within your fleet maintenance platform provides a quick, paperless way for drivers to perform inspections. Work orders can be created based on failed inspection items, ensuring issues don't go unnoticed.
Tracking inspection results can also provide you with crucial insight into your fleet's health. When you have inspection data in a central location, you can easily track common issues across vehicles to make data-driven decisions regarding future maintenance.
3. Expedite Maintenance with Mobile Work Orders
As we mentioned, leveraging inspection results can have a positive impact on your fleet preventive maintenance process. That said, paper systems often create communication gaps that cause a backlog of work orders.
In fleet preventive maintenance software, fleet managers can generate mobile work orders to plan, schedule and carry out maintenance tasks. Fleet managers can receive email notifications on failed inspection items and create work orders based on any issues to jumpstart the maintenance process.
Creating work orders based on inspection items as well as engine and hour intervals enables you to take a proactive stance on maintenance. Having a way to view inspection results, work orders and maintenance progress in one place ensures the effectiveness and sustainability of your preventive maintenance PM schedule.
[![Never miss an oil change when you schedule preventive maintenance using Fleetio](https://marketing-cdn.fleetio.com/images/blog/pm-cta.png)](/pricing)
4. Streamline Third-Party Repairs
Many organizations outsource their fleet preventive maintenance to third-party shops. While this is a cost-effective solution for most fleets, communication issues can arise when outsourcing maintenance to external vendors without an efficient process.
Managing third-party maintenance through software streamlines approvals, work orders and billing. A Maintenance Shop Integration reduces downtime by sending fleet managers notifications to approve or reject maintenance as soon as vehicles get to the shop.
From there, you can automate approvals at your usual shops up to a certain dollar amount, so your drivers can bring vehicles into the shop for fleet preventive maintenance and get back on the road quickly.
Fleetio's Maintenance Shop Integration uploads all service information into your existing fleet management system, allowing you to view the status of maintenance tasks, view service history and get a better understanding of your fleet's total cost.
5. Use Fleet Reports to Forecast Future Preventive Maintenance
Taking a proactive stance on fleet preventive maintenance doesn't end with creating and sticking to service reminders. To have the most effective preventive maintenance program, it's important to keep an ongoing record of your assets' service histories.
Fleet management software tracks asset utilization and daily average usage to forecast future service needs. Fleet managers can opt in to receive notifications based on when a vehicle is predicted to need service. Notifications can be customized by vehicle type to keep your assets organized.
Measuring fleet preventive maintenance is easy when all of your fleet's data is in one central location. By measuring your preventive maintenance performance through fleet reports, you can be sure your fleet avoids downtime and unnecessary expenses.
Vehicle Preventive Maintenance Checklist
Change engine oil and filter
Rotate tires and check PSI
Check air and cabin air filters (change if needed)
Check brake system/replace worn components
Check exhaust system
Lubricate grease fittings
Check fluid levels (coolant, brake, power steering, transmission, differential, transfer case, master cylinder, etc.)
Check belts and hoses
Check lighting systems
Check safety systems/equipment (if applicable)
Check coupling devices (for trailers)
Fleet preventive maintenance made easy with Fleetio
With Fleetio's maintenance automation, you can ensure that your fleet never misses a service need again. The meter readings for your assets are updated automatically through data from pre-trip inspections and telematics devices, guaranteeing that you always know when a vehicle is due for service. Simply set a Service Reminder for things like oil changes, tire rotations and more and Fleetio will notify you when a vehicle is predicted to need service.
Each asset's entire service history is just a few clicks away, allowing you to accurately determine the costs of operating a vehicle and determine the optimal time to replace an asset before it starts costing your fleet unnecessarily.
---
Fleetio is a fleet management solution that helps keep your preventive maintenance schedule on track! Schedule a demo or start a free trial today!