Features
Fleet Maintenance Shop Integration
Efficiently manage external maintenance activities across your fleet and get instant insight into service data. Fully automate your authorization and transactional workflows while maintaining control and real-time visibility of all fleet maintenance activities.
Book a Demo
How the Maintenance Shop Integration works
1.

Vehicle Enters Shop

Driver or runner takes the vehicle to one of the 85,000+ in-network repair shops.
2.

Repair Order Submitted

Shop creates an electronic repair order with necessary line items and submits for fleet manager review.
3.

Electronic Approval

Handle approvals electronically via auto-approval policies or manually approve or reject line items.
4.

Vehicle Repaired

Shop is notified of approval/rejection decisions and completes repair.
5.

Back on the Road

Driver and vehicle get back on the road with the repair order data stored as a new service entry in Fleetio.
6.

Real-time Reporting

Service data is categorized by vehicle system automatically enabling instant insight and real-time reporting across your fleet.
Collaborate effortlessly with third-party fleet maintenance services
---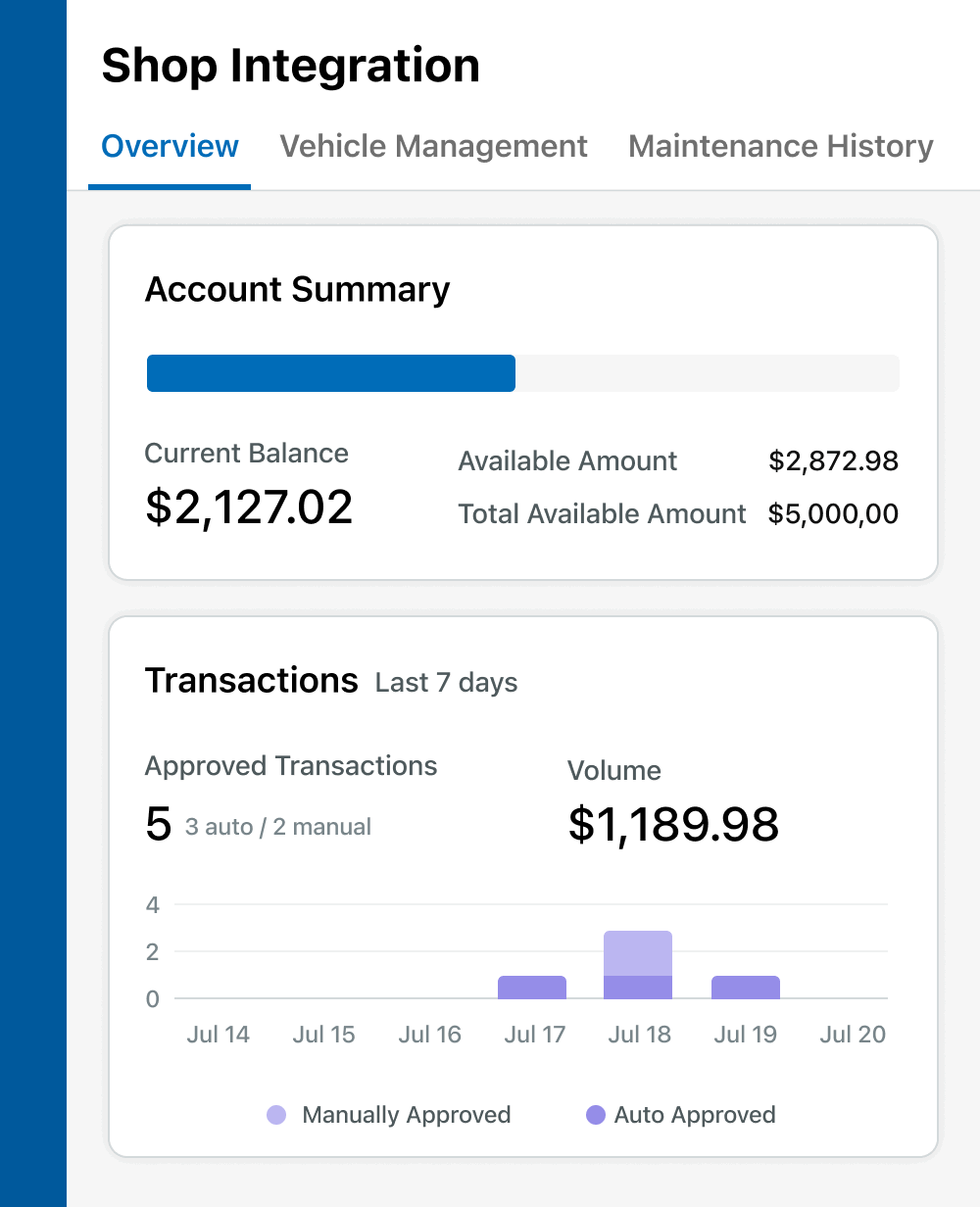 Manage internal and external maintenance contacts
Track all the people and entities that touch your fleet, including drivers, mechanics, vendors and more, all while ensuring everyone has access to the information they need.
Keep costs under control with repair approvals
Quickly approve or reject repair line items from the shop or create auto-approval policies based on specific criteria. Only pay for work that is approved and avoid overcharges.
Tap in to immediate insights
Data from your repair orders is collected and categorized automatically, giving you instant insight into total cost of ownership, spend and more.
Book a Demo
Key features of our Maintenance Shop Integration
85,000+ in-network shops
Streamlined maintenance processes
Real-time status updates
Automated data synchronization
Exclusive savings and discounts
Inventory management
Cost tracking and reporting
Enhanced communication
Seamlessly integrate all of your maintenance data in Fleetio
---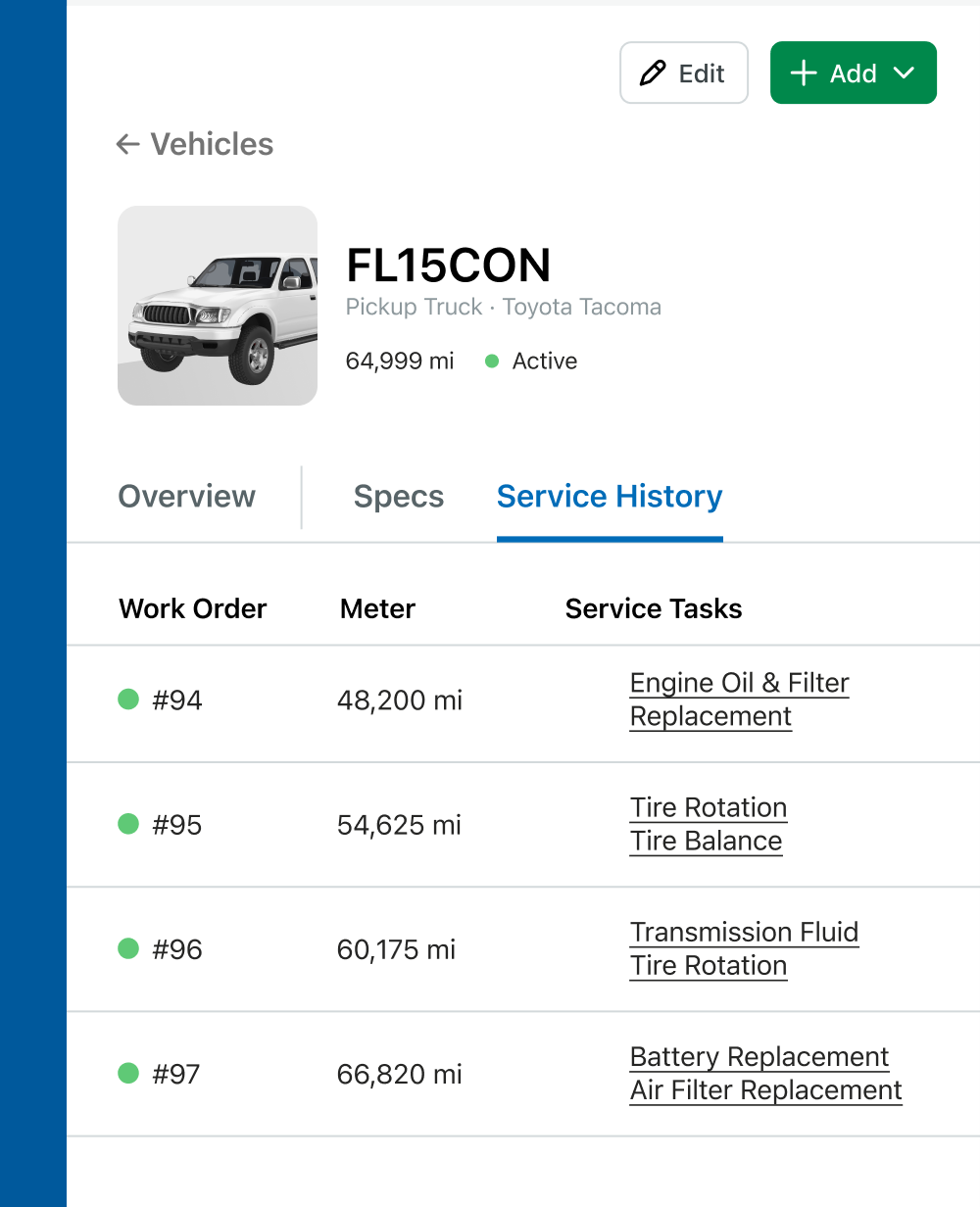 Unify data with existing maintenance records
By managing repair shops in fleet maintenance software, you allow data to flow effortlessly between vehicle records, work orders, and service history, ensuring accurate and up-to-date information in real time.
Streamline communication across your fleet
Never wonder about the status of your assets. All communication with drivers, maintenance partners and other stakeholders stays in one place, giving you a 360-degree perspective of your fleet.
Optimize your workflows to reduce downtime
Manage maintenance workflows to allow users to seamlessly transition from work order creation to parts inventory management, technician assignments, work order approvals and cost tracking, all within the same fleet management system.
Start Free Trial
Why our customers love Fleetio
This is a great asset from a sales perspective, and it is my preferred recommendation for a maintenance solution. The quality is fantastic, and the business model is easy to explain to a prospective customer.

Joy B.
Fleet Nav Systems, LLC
I was using the program right from the first day. It helps me track so many things with regards to our Fleet of vehicles. I no longer have to have spreadsheets galore in order to track when my vehicles are due for a service – the system reminds me when it's coming up.

Kieran D.
SN Transport Ltd.
The ease of use is by far the best part. Our previous fleet management software felt like too much. Plus, when our previous software had updates with more features, those features cost more money. Fleetio keeps the updates coming with no additional cost.

Frederick C.
University of Louisiana at Lafayette
Frequently Asked Questions