Features
Maintenance Shop Integration
Completely automate outsourced maintenance activities and get real-time service reporting.
Take back control of outsourced maintenance
Efficiently manage external maintenance activities across your fleet and get instant insight into service data. Fully automate your authorization and transactional workflows while maintaining control and real-time visibility of all fleet maintenance activities.
Contact Management
Track all the people and entities that touch your fleet, including drivers, mechanics, vendors and more.
Control costs
Quickly approve or reject repair line items from the shop or create auto-approval policies based on specific criteria. Only pay for work that is approved and avoid overcharges.
Immediate insight
No data entry! Data from your repair orders is collected and categorized automatically, giving you instant insight into total cost of ownership, spend and more.
How the Maintenance Shop Integration works
End-to-end Outsourced Maintenance Management without Lifting a Finger
Vehicle Enters Shop
Driver or runner takes the vehicle to one of the 85,000+ in-network repair shops.
Repair Order Submitted
Shop creates an electronic repair order with necessary line items and submits for fleet manager review.
Electronic Approval
Handle approvals electronically via auto-approval policies or manually approve or reject line items.
Vehicle Repaired
Shop is notified of approval/rejection decisions and completes repair.
Back on the Road
Driver and vehicle get back on the road with the repair order data stored as a new service entry in Fleetio.
Real-time Reporting
Service data is categorized by vehicle system automatically enabling instant insight and real-time reporting across your fleet.
Optimize Efficiency
Simplify preventive maintenance and repair activities
Lighten the load of coordinating service and managing approvals. Fleetio alerts you when vehicles are due for service, helps you manage the process electronically and maximizes uptime.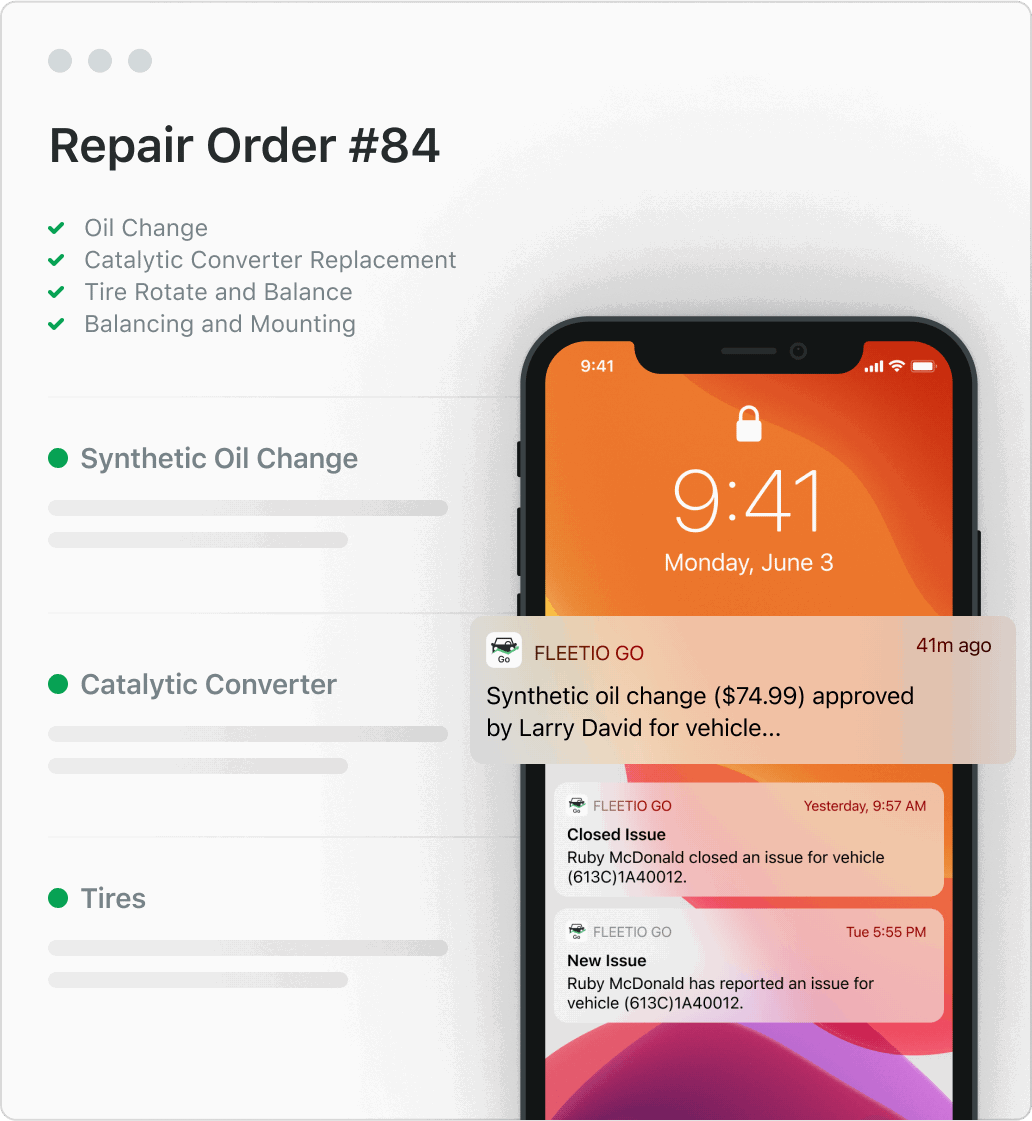 Keep up with preventive maintenance compliance
Empower responsible parties with PM notifications. Receive a PM notification before maintenance is due and schedule an appointment at your preferred shop. Reminders are automatically reset when service is complete.
Fine-grained control of repairs
Choose what you want to review manually and designate approvers by group. Set up auto-approval limits by dollar amount and shop. Create auto-rejection decisions based on specific line items.
Painless billing with automated consolidation
With speedy approvals and no payments or expense reports to worry about, drivers get back on the road fast. Fleetio handles payment in the background, reducing time spent at the shop.
See how Cherrylake leveraged the Maintenance Shop Integration
Large Network
Enjoy the benefits of a maintenance network regardless of fleet size
Access to our network providers and electronic repair order management tools are included in every Fleetio subscription at no additional cost.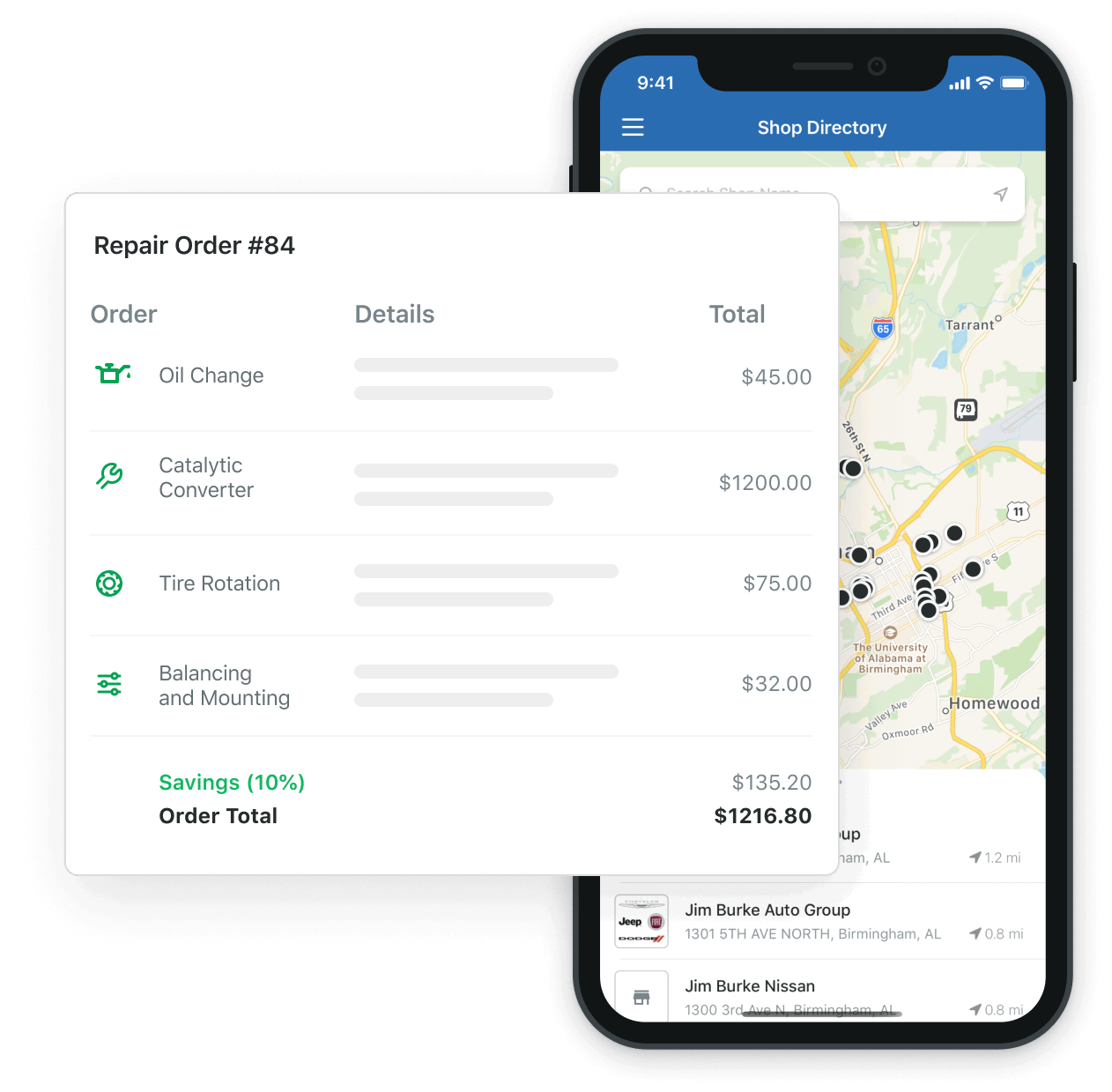 Work with your preferred providers
Gain insight into repair shop experience from other users and continue using the shops you know and trust.
Everyday savings and exclusive discounts
With over 85,000 shops in the network, our Shop Directory makes it easy to choose the right shop for the job. Enjoy exclusive discounts at National providers, helping you save 10% on average.
Painless billing with automated consolidation
Instead of sifting through service invoices, all service costs are automatically placed into a single itemized bill that includes all your vendors. Reconcile quickly and easily.
Immediate Insight
View real-time maintenance reports and make better decisions
Data from your transactions is immediately available, helping you make the right decisions sooner and ultimately lower total cost of ownership.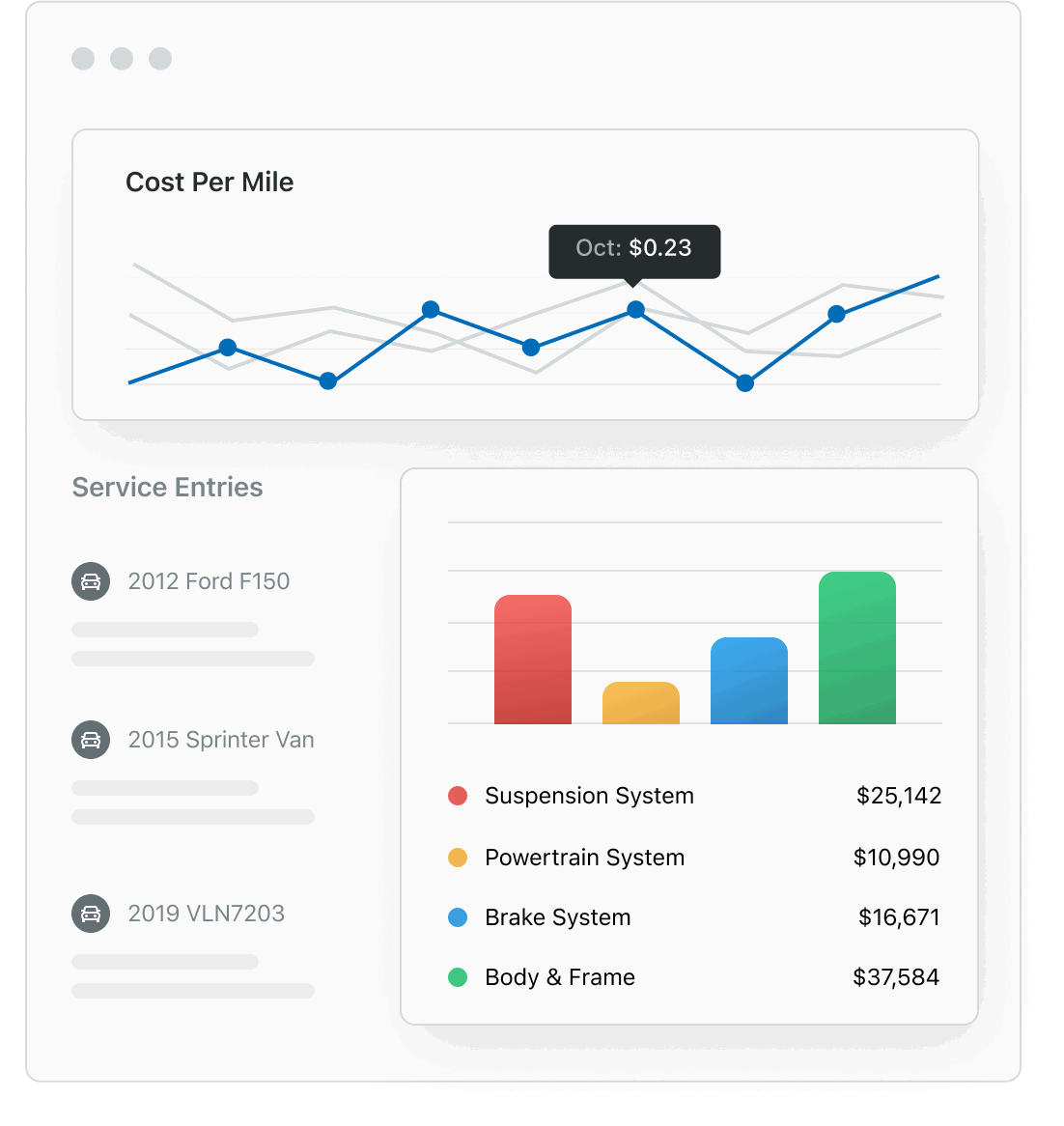 Record service automatically and increase transparency
Completed repair orders and detailed line items are logged in Fleetio automatically, enabling real-time service reporting without the headache of data entry.
See exactly what you're spending on service
See category breakdowns of spend by vehicle system and service task to gain insight into which systems are failing consistently across your fleet. Improve PM scheduling and purchasing decision-making.
Optimize vendor utilization
See how much you're spending on service tasks at different vendors, helping you take advantage of competitive pricing and reduce overall maintenance costs.
See how Fleetio compares
Fleet Management Company
Manages approvals based on broad guidelines
Difficult to access repair data on demand
Easily spot cost and repair trends in real-time
National provider discounts but at the cost of hiring FMC
Electronically approve or reject ROs at line-item level
Access detailed maintenance history 24/7
Easily spot cost and repair trends
National provider discounts, regardless of fleet size
Paper or Spreadsheets
Unnecessary time spent on phone with shops approving ROs
No centralized maintenance records
Difficult to spot trends from paper invoices
National provider discounts limited for smaller fleets