Features
Developer API & Webhooks
Leverage all of your data, no matter where it is, with webhooks and use Fleetio's public API to craft an individual approach to your fleet management software.
Book a Demo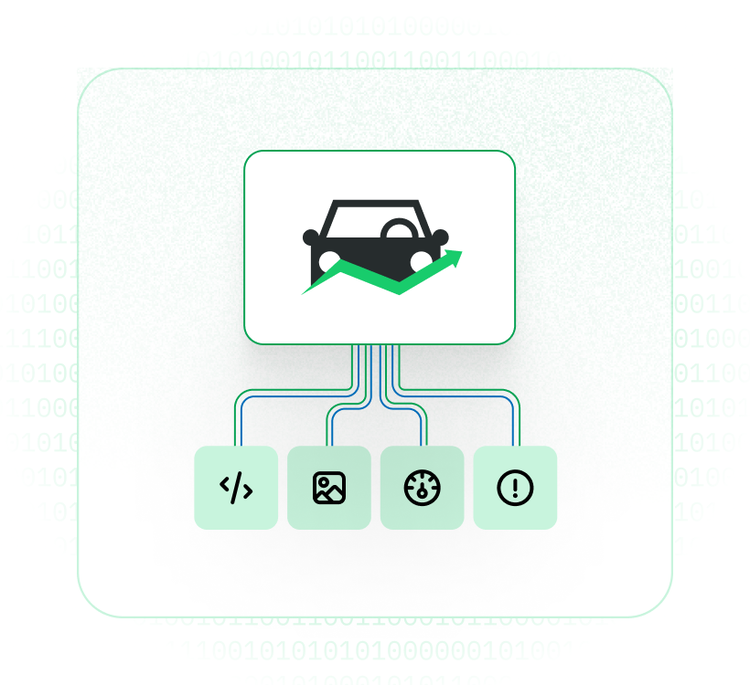 Create your custom integrated fleet management system
---
Import odometer readings
Update asset mileage using readings from other systems to stay on top of maintenance and lifecycle milestones.
Trigger trouble code alerts
Integrate directly with telematics devices to link DTC alerts or engine faults to individual assets and receive notifications through your Fleetio dashboard.
Update vehicle status
Keep tabs on your vehicles in Fleetio and prioritize issues based on status updates triggered by other systems.
Automate accounting
Register costs from digital work orders and push those costs onto your accounting system so you always have updated budget numbers.
Book a Demo
Connect Fleetio to other business systems with webhooks
---
Choose the actions that matter most
Choose from 50+ events such as vehicle status changes, issue creation and resolution, work order completion.
Get real-time updates
Trigger instant notifications, tasks and follow-ups based on the events you specify.
Establish seamless communication
Push relevant data from Fleetio into other softwares and applications.
Explore our documentation
Why our customers love Fleetio
Fleetio fleet management is exactly what we were looking for. Totally easy to use! We wanted to be able to track all of our truck expenses, and be able to see what each truck in the fleet costs per mile, and Fleetio does exactly that!

We are constantly trying to find ways to save time and money. Fleetio helps us achieve that with their constant updates. We have integrated many of key driver and maintenance solutions that Fleetio offers into our business functions. Fleetio Go is our baby – it is everything here. They have done such a great job adapting our needs to their system that it feels more like one of our internal systems. This is why Fleetio is such a great partner!

Ernest A.
Boyle Transportation
One of my favorite things about Fleetio is the fact that they have a Public API. It's nice when [software providers] have their own integrations, but the advantage of Fleetio's API is that I can build my own as necessary. That's what can end up saving us a lot of time – the ability to automate things.

Frequently Asked Questions