Features
Fleet Parts Inventory Management System
Track spare auto parts inventory, manage stock and control costs with a fleet inventory management system – all from the convenience of your mobile phone. Automate your inventory workflows so you're never missing what you need for maintenance.
Book a Demo
Manage spare parts inventory while reducing downtime and costs
---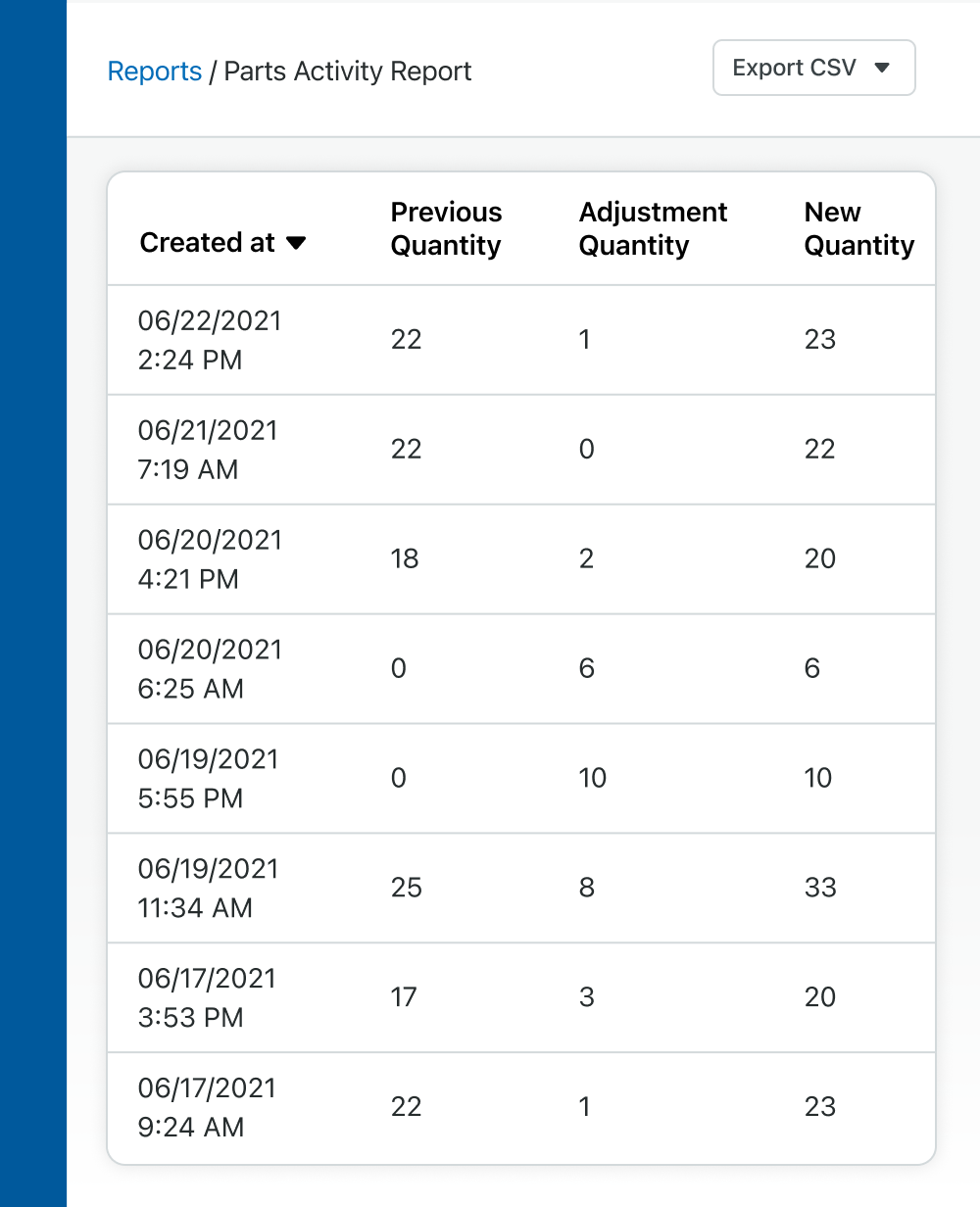 Avoid stockouts with low inventory alerts
Always know how much you have in stock, track how much you've used, and receive notifications when it's time to reorder, well before the last second.
Reduce unnecessary costs through rightsizing
Rightsize your inventory with clear cost insights and actionable data, as well as record order history and compare vendor prices, so that you're never spending more than is necessary on parts.
Increase efficiency and optimize space
Integrate digital tracking to know exactly where all of your inventory is – down to the aisle, row and bin – and stay organized to streamline maintenance workflows and manage bulk operations.
Book a Demo
Key features of our Parts Inventory Management Software
Centralized Inventory Management
Barcode/RFID Capability
Real-time Inventory Tracking
Parts Reordering Automation
Vendor Management
Cost Tracking and Reporting
Mobile Accessibility
Seamlessly integrate all of your inventory data in Fleetio
---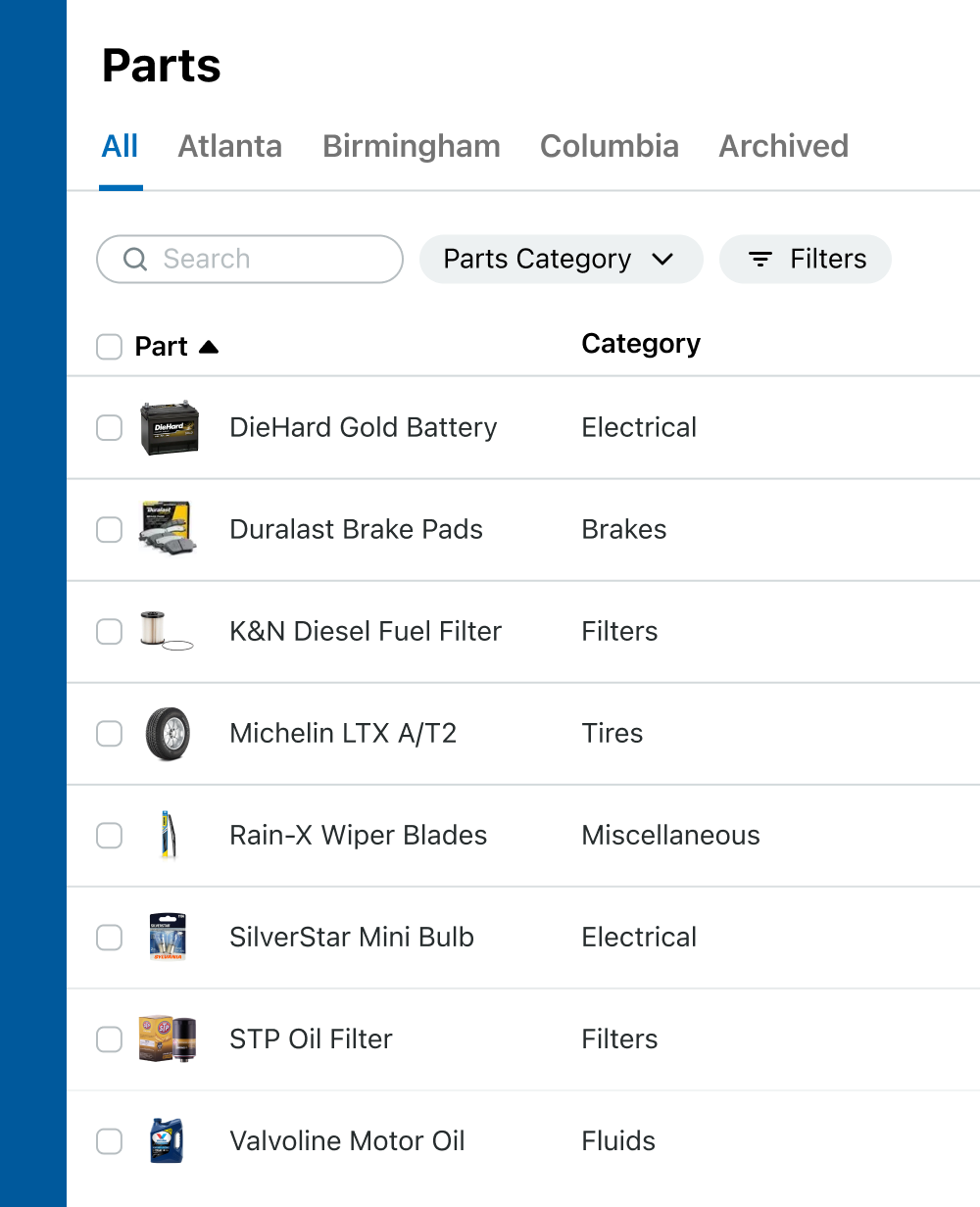 Unify your maintenance data sources
Let data flow effortlessly between parts and inventory, inspections, work orders, and service history, ensuring accurate and up-to-date information in real time.
Track maintenance costs down to the line item
By managing your parts inventory in a fleet management system, you can assign individual parts to repair orders to ensure your service costs are up-to-date and comprehensive. Inventory valuation methods allow even more control over the reported cost of spare parts.
Optimize your fleet management workflows
Manage maintenance workflows to allow users to seamlessly transition from work order creation to parts inventory management, technician assignments, work order approvals and cost tracking, all within the same dashboard.
Start a Free Trial
Why our customers love Fleetio
"The Fleetio Parts app has allowed us to streamline our online inventory, and tie parts into work orders so we can track what trucks use which parts."

Hayden M.
Pacific Sweeping
"Fleetio fleet management is exactly what we were looking for. Totally easy to use! We wanted to be able to track all of our truck expenses, and be able to see what each truck in the fleet costs per mile, and Fleetio does exactly that!"

Sheldon C.
Sue's Recycling and Sanitation
"The ease of use is by far the best part. Our previous fleet management software felt like too much. Plus, when our previous software had updates with more features, those features cost more money. Fleetio keeps the updates coming with no additional cost."

Frederick C.
University of Louisiana at Lafayette
Frequently Asked Questions
Ready to get started?
Join thousands of satisfied customers using Fleetio
Questions? Call us at 1-800-975-5304