Integrated Fleet Management
Capture all your fleet data in one place
Software integrations create a secure connection between different software tools, allowing you to pull data from disparate sources into one place. Fleetio can integrate with many of the fleet management tools you use today to pull in relevant data and make it easier to take action on, analyze, and report on— fuel cards, gps/telematics devices, maintenance shops and more.
View App Directory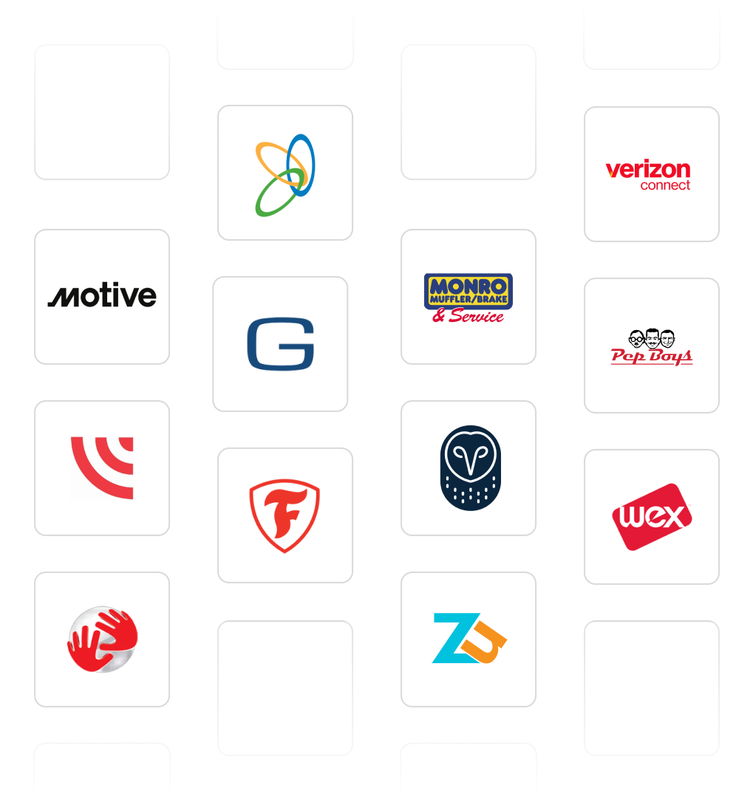 Maintenance Shops
Manage external repair orders and approvals by connecting directly with your trusted shops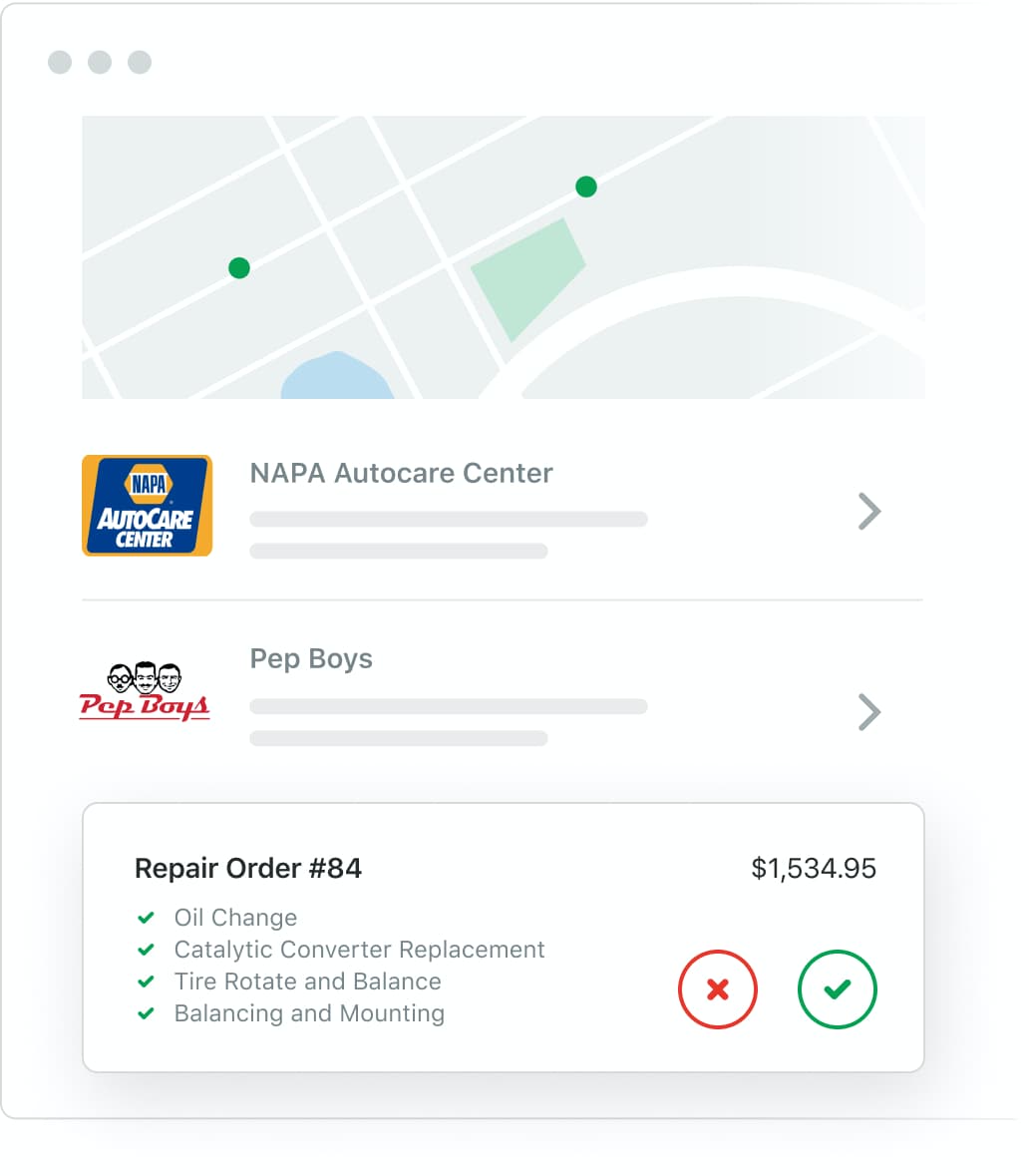 Streamline approvals with an electronic repair order system
Digital shop repair orders reduce driver wait time and save time by eliminating back and forth phone calls to approve work. Set up auto-approvals for trusted shops and cost thresholds.
Capture service data automatically
Detailed line items and costs from external repair orders are recorded in Fleetio automatically, eliminating the backlog of repair invoices that need data entry. Plus, get one monthly bill for all your maintenance vendors.
Extensive open network of maintenance providers
We work with over 44,500 shops (and growing!) including over 10,000 national provider locations. Many national providers offer exclusive discounts to Fleetio customers, helping you save money on common services.
View Maintenance Shop Integrations
GPS & Telematics
Improve visibility and optimize daily workflows by connecting your existing telematics hardware
Compatible with an ever-expanding list of providers
Fleetio integrates with an extensive list of popular providers such as Geotab, Samsara, KeepTruckin, Verizon Connect and more.
Automate preventive maintenance triggers
Every integration logs odometer readings automatically daily (or more frequently) to help keep PM schedules and other interval-based maintenance activities on track.
Address issues from DTCs, engine faults and DVIR defects immediately
Fleetio pulls in engine faults, diagnostic trouble codes (DTC) and defects from your external DVIRs automatically. Assign to mechanics via in-house maintenance processes or resolve them at external maintenance shops.
View GPS & Telematics Integrations
Fuel Cards
Reduce time to insight by automating fuel expense tracking and reporting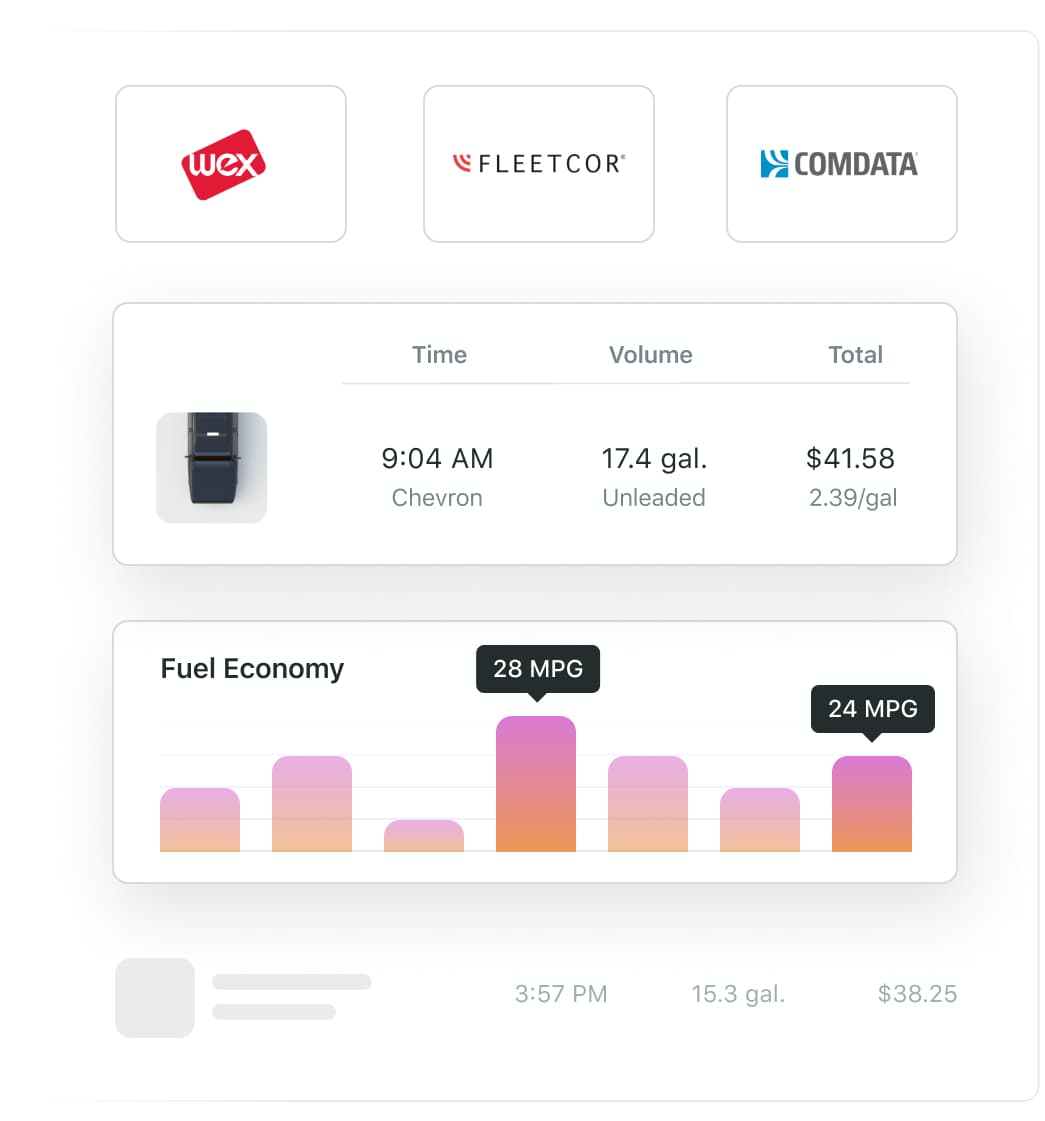 No more lost receipts
Integrate hundreds of popular fuel cards from providers from Wex, Fleetcor and Comdata brands. Transactions are imported automatically eliminating manual data entry.
Eliminate spreadsheets
Fuel economy is calculated with every transaction and history is saved for life. Identify trends in fuel consumption to help you spot operating inefficiencies.
Easily report on one of your highest expenses
See how fuel contributes to total operating costs and cost of ownership to aid in vehicle replacement decisions.
View Fuel Card Integrations
Ready to get started?
Join thousands of satisfied customers using Fleetio
Questions? Call us at 1-800-975-5304