Features
VIN Decoding
Access fleet vehicle specs and OEM-recommended service schedules automatically, reducing the burden of manual data entry.
Book a Demo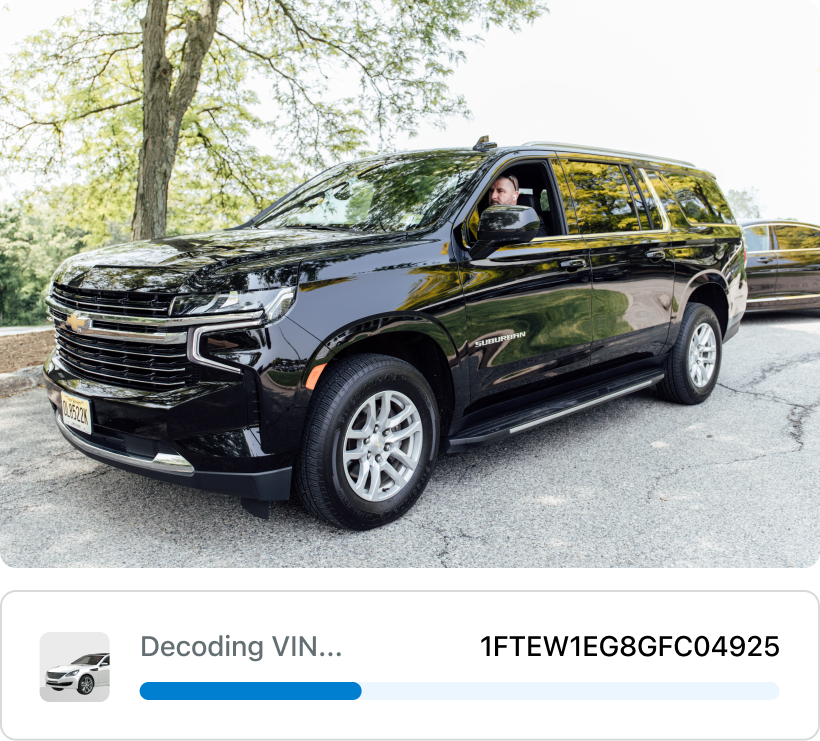 Automatically import essential vehicle information
---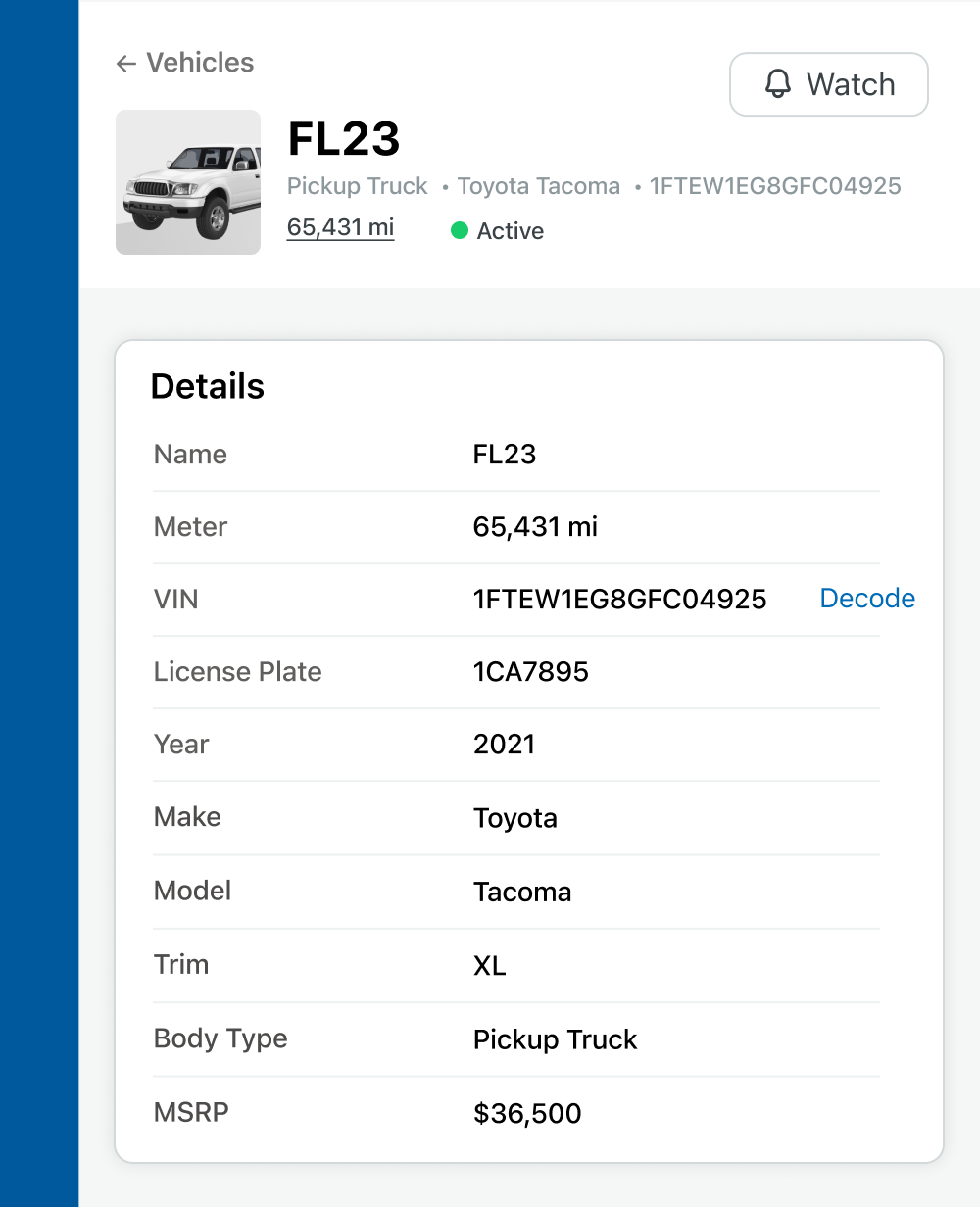 Automatically import essential vehicle information
All it takes is a VIN. From there, Fleetio populates vehicle details and specifications that you can access anytime and anywhere.
Retrieve 90+ vehicle specs instantly
VIN decoding provides fleets with comprehensive data on their fleet vehicles. Specs, engine and transmission information, fluid and capacity levels, details about wheels/tires and so much more.
Automatically pull OEM-recommended maintenance schedules
When it comes to optimal times for servicing vehicles, original equipment manufacturers tend to know best. VIN decoding automatically pulls the latest OEM-suggested service intervals so you can start meeting your maintenance goals immediately.
Get alerts for vehicle recalls in your fleet
Once you add a vehicle's VIN into Fleetio, our integration with the NHTSA will notify you whenever a safety recall is issued. This enables fleets to take advantage of repairs and increase safety fleet-wide far more quickly than relying on manufacturer notices sent via mail.
Book a Demo
Key features of VIN Decoding
90+ vehicle specs
OEM maintenance recommendations
Vehicle recall alerts
Easy to import vehicles
*This feature is available on passenger, light, medium and heavy duty vehicles made in North America or manufactured for sale in North America. VIN decoding for Heavy Duty vehicles is supported for model year 1995 and newer.
Leverage VIN decoding for simplified fleet management
---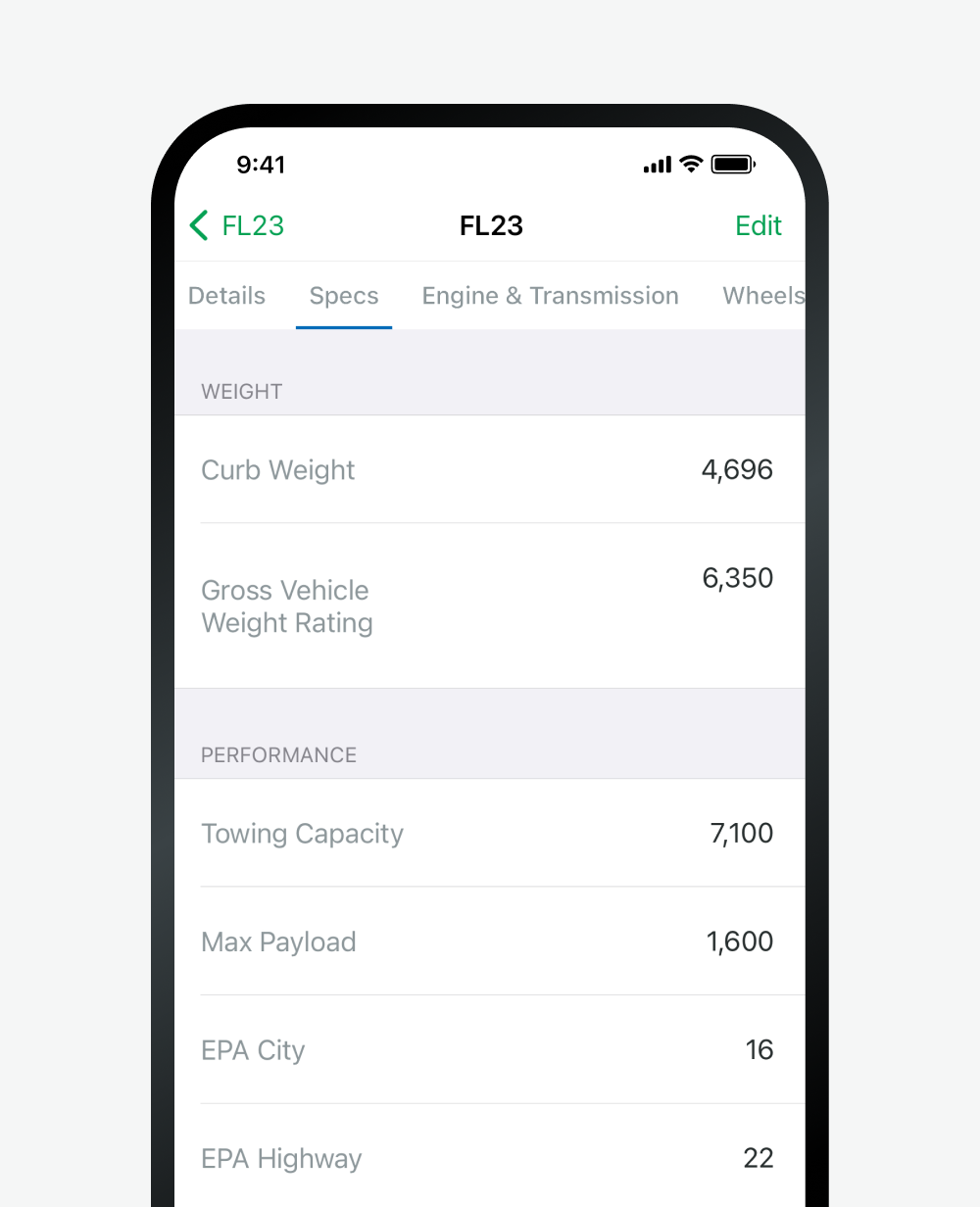 Eliminate manual data entry
By importing vehicles using Fleetio's built-in VIN decoder, you're able to start making an impact on your fleet immediately. Gather vehicle specs and set up maintenance workflows for each vehicle in your fleet – all customized based on the OEM recommendations attached to the year, make and model of your vehicles.
Compare vehicles across your fleet to find the best fit
Fleetio's reports allow you to compare the costs of operating each vehicle in your fleet. By grouping similar vehicles, you can see which vehicle types are the most cost effective, and also create a plan to replace the vehicles that are more of a burden than they're worth.
Access vehicle information on the go
You never know when your personnel might need to look up vehicle information while in the field. With Fleetio Go, your drivers and technicians can always pull up important vehicle information (towing capacity, service history, fuel type, etc.) to ensure they have the information needed to give each asset the individual care it requires.
Start a Free Trial
Why our customers love Fleetio
I find the app saves me about 1.5 hours per day in the evening when I sit down to catch up all my files. If you use it as intended, it will be a huge benefit!

Mark D.
Mark Dominey Trucking
We love Fleetio, It has really streamlined our fleet management process. The user friendly platform is a huge help.

Brianna S.
Omega Development
We rely on all the automation Fleetio provides.

Automatically updates as vital information is entered into the program, videos and customer service are great, very helpful, and extremely timely.

Derek B.
Bonfe Plumbing and Heating