Fuel Management System
Track your fleet's fuel transactions to reduce spend and identify exceptions
Simplify fuel data collection, improve accuracy and reduce time to insight with a modern fuel management solution. Optimize fuel usage and understand how fuel contributes to operating costs, including total cost of ownership.
Fuel Consumption
Optimize asset utilization based on fuel consumption trends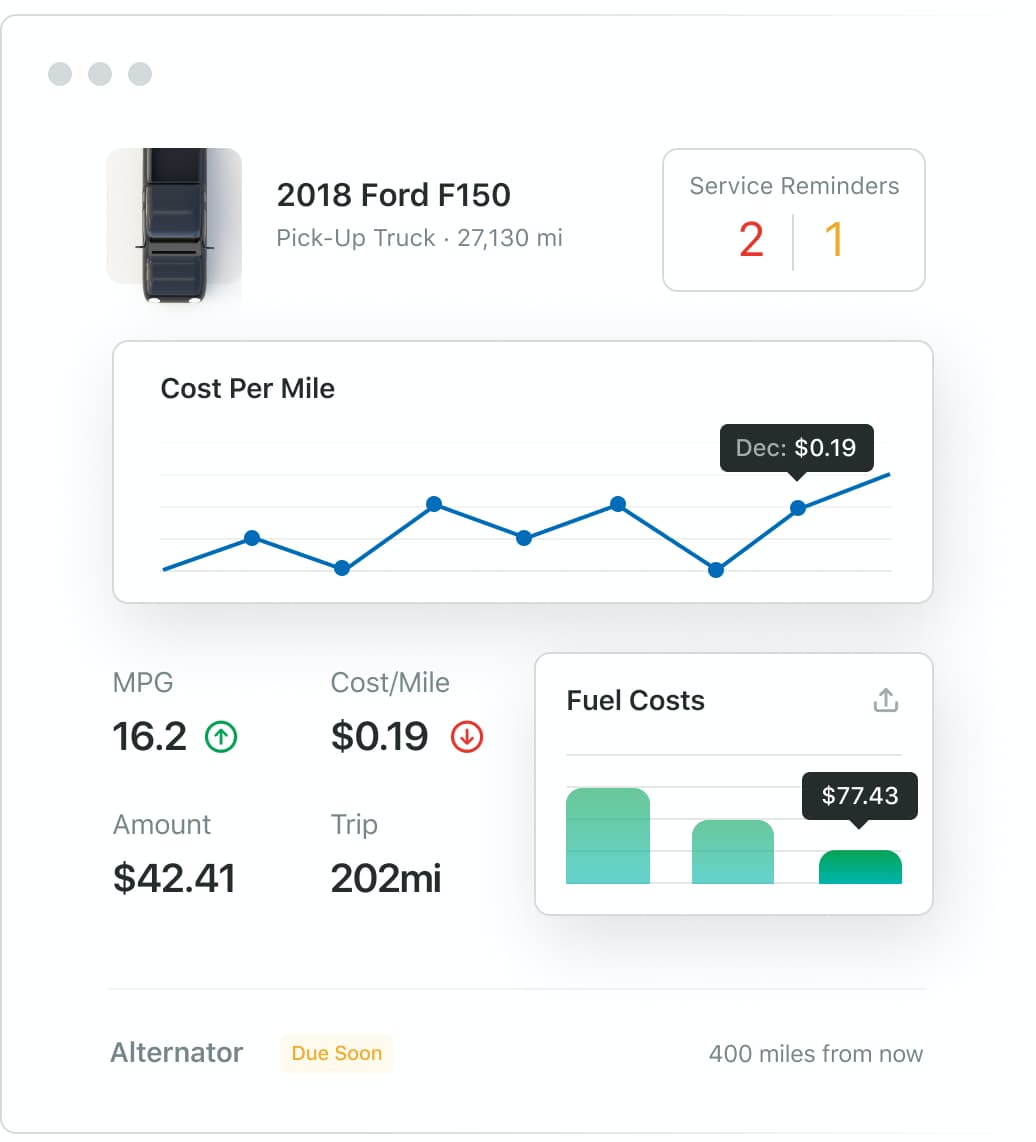 Know your fuel economy inside and out
Receive fuel economy data based on your preferred unit of measurement: MPG (US or UK), L/100km, km/L. Easily see when fuel economy is higher than expected, signaling potential maintenance or driving behavior issues.
Understand cost per mile for every asset
Track fuel-related data in depth and gain insight into how much a vehicle costs to operate per mile based on fuel and maintenance costs, loan/lease payments and more.
Reduce fuel theft
Stay informed with fuel capacity and location alerts. When paired with our popular GPS/telematics integrations, Fleetio alerts you when a vehicle's GPS location is different than where it was fueled, helping you flag problem activity as it's happening.
Book a Demo
Fuel Transactions
Fuel management software to track every penny. Every transaction.
Pull in transactions automatically from fuel cards
Avoid lost fuel receipts, increase data accuracy and reduce time to insight by automatically tracking gallons/liters, cost, vendor locations and more. Fleetio integrates with hundreds of cards from providers like Wex, Fleetcor and Comdata.
Empower drivers to log receipts on the go
Save your drivers time and the hassle of keeping up with paper receipts. Using Fleetio Go, drivers can quickly log fuel and upload associated receipts for improved insights.
Upload transactions in bulk
Upload historical transaction data via CSV and get everything in one place quickly, helping you report on trends sooner.
Start a Free Trial
Fuel Reporting
Unlock powerful fuel reporting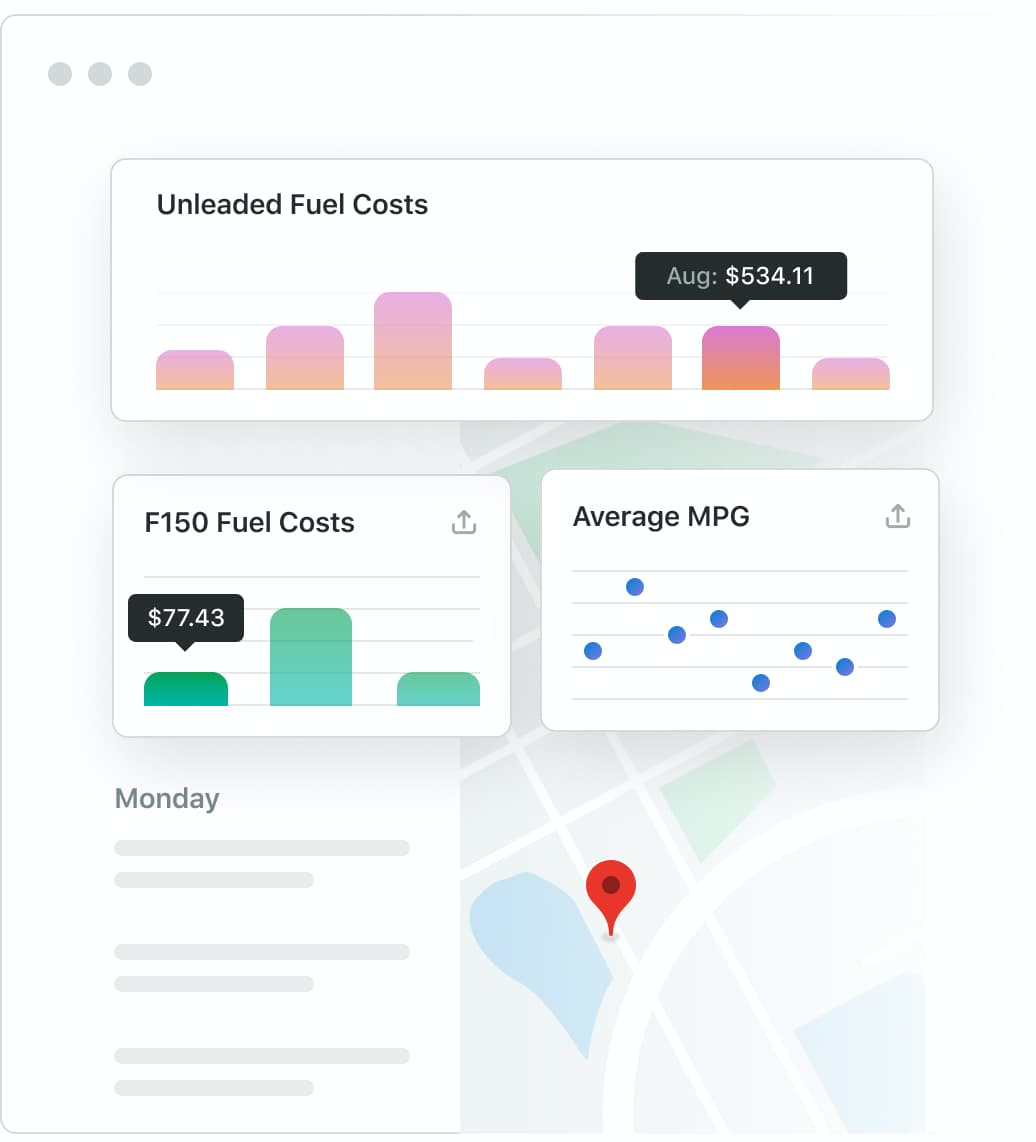 Customize reporting
Report on fuel performance in aggregate, by location, fuel type or vehicle in your preferred unit of measurement. Fleetio can even help with your IFTA quarterly fuel tax reports.
View costs in real time
View top-level metrics on a dashboard, helping you keep tabs on fuel patterns at a glance. Drill into fuel cost data for your assets to help optimize allocation and financial forecasting.
Easily share data across your organization
Share critical fuel data quickly with configurable reports in Fleetio. Easily export, print on demand or send reports to stakeholders on a customized schedule.
Explore our fleet reports
Trusted by fleets around the world
Everything. The inspection function is top notch and easily customized per vehicle. The fuel tracking is great and easy to use really helps to determine your cost for operating a asset in seconds.

Morgan L.
Asset Solution Recovery
We are constantly trying to find ways to save time and money. Fleetio helps us achieve that with their constant updates.

Ernest A.
Boyle Transportation
I find this app saves me about 1.5 hours per day in the evening when I sit down to catch up all my files. If you use it as intended, it will be a huge benefit!

Mark D.
Mark Dominey Trucking
Fleetio is user friendly; I'm not the most technologically savvy individual but the training sessions provided were more than enough to help me feel comfortable using the software myself as well as showing others on my team how to use it.

My company is utilizing the platform for a very new concept, and the sales and service team at Fleetio listened to our product needs, and worked around our new start-up complications to ensure maximum effectiveness at launch.

I love the fact that we are able to upload spreadsheets, it saves me a lot of time. Tracking mpg per vehicle has been tremendously easy compared to the method we used prior to Fleetio.

All in one product that is easy to use...

We have been working with Fleetio for past 2+ years and have been super happy with their work ethics and their continuous system improvements.

Frequently Asked Questions