Features
Preventive Maintenance Scheduling Software
Stay on top of regular service timelines with automated reminders. Increase uptime and compliance and reduce costly breakdowns with maintenance scheduling while managing utilization with pre-scheduled preventive action.
Book a Demo
Always know when maintenance is coming up
---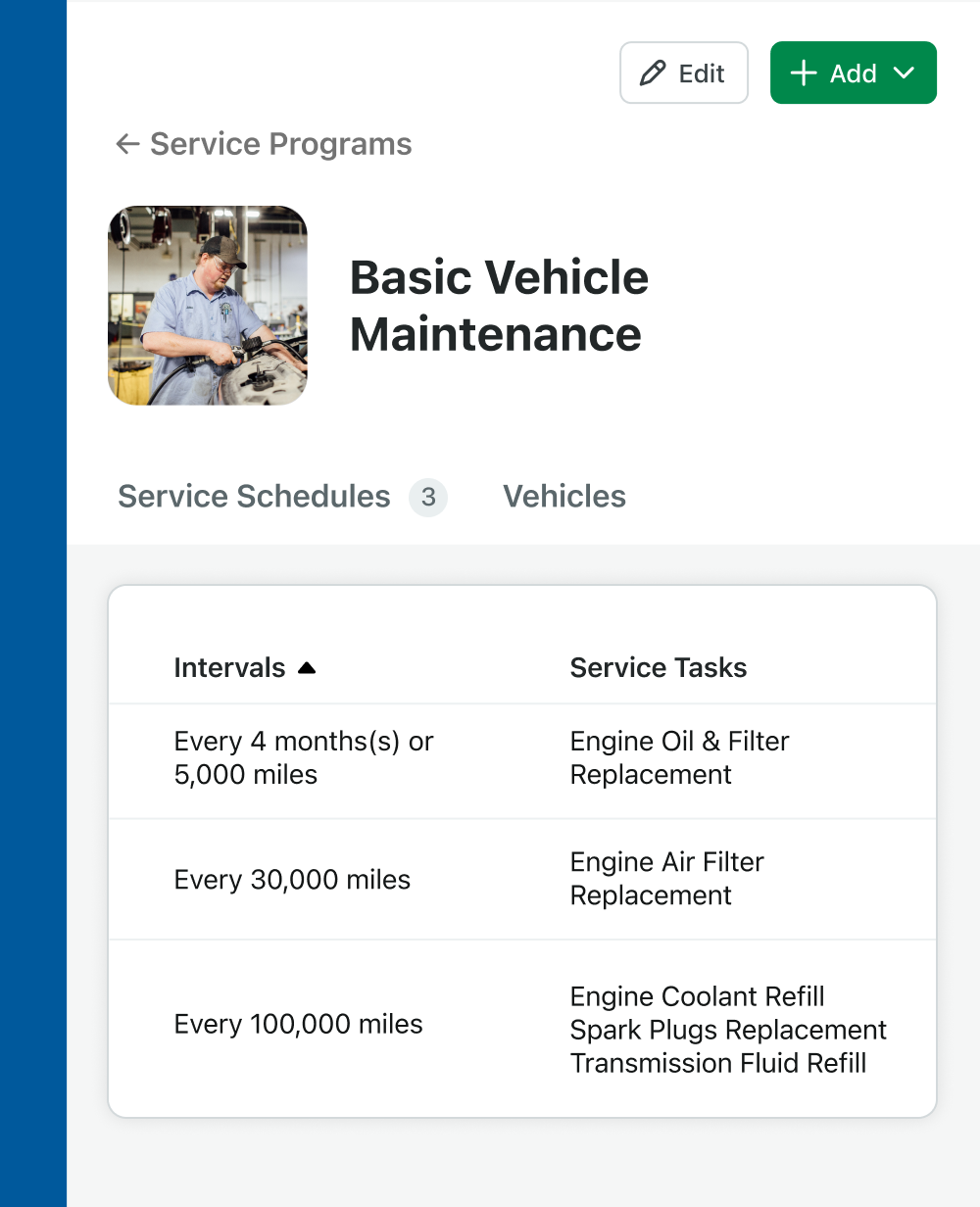 Receive mobile reminders
Set a due soon threshold for when you would like to be notified about upcoming maintenance and receive due soon and overdue reminders in Fleetio Go, helping you keep tabs on a vehicle's service needs from anywhere.
Customize and standardize service intervals
Determine when PM services need to be completed across your fleet based on specific asset attributes, or after your vehicles drive a certain distance, run for a set number of hours or go a specific amount of time since their last service.
Align PM schedules across your fleet
Bulk edit changes to your Service Programs and maintenance timelines on all related assets, ensuring consistent standards in line with OEM guidelines.
Book a Demo
Key features of our Preventive Maintenance Software
Automated Service Reminders
Paperless Scheduling
Customizable Service Programs
Asset Utilization Tracking
Reporting and Analytics
Bulk Updates
Standardized Service Intervals
Due Soon Thresholds
Save time and money with standardized maintenance
---
Why our customers love Fleetio
"Before Fleetio, we had little to no idea whether maintenance was being performed on time. Now, a simple glance at the dashboard tells me or our managers where we stand."

"The ability to assign tasks, update maintenance records, and upload photos is extremely helpful. I highly recommend the app for anyone needing to keep tabs on vehicle maintenance."

"No longer will we wonder if the "Next service due" sticker that the mechanic put in the windshield is based on his schedule or ours."

"Since switching to Fleetio we have noticed an incredible difference with equipment being serviced on schedule. The reason is simple – I get an email from Fleetio when a piece of equipment is nearing or overdue for service."

"I have everything pertaining to my fleet in one place."

Dan D.
Coral Springs Improvement District
"I got everything into it that I need and I now really have a handle on what's going on with our vehicles."

Phillip R.
Richmar Controls
Frequently Asked Questions
Ready to get started?
Join thousands of satisfied customers using Fleetio
Questions? Call us at 1-800-975-5304