Features
Vehicle Service History
Immediately access service logs for every asset in your fleet, including in-house and outsourced maintenance records.
Book a Demo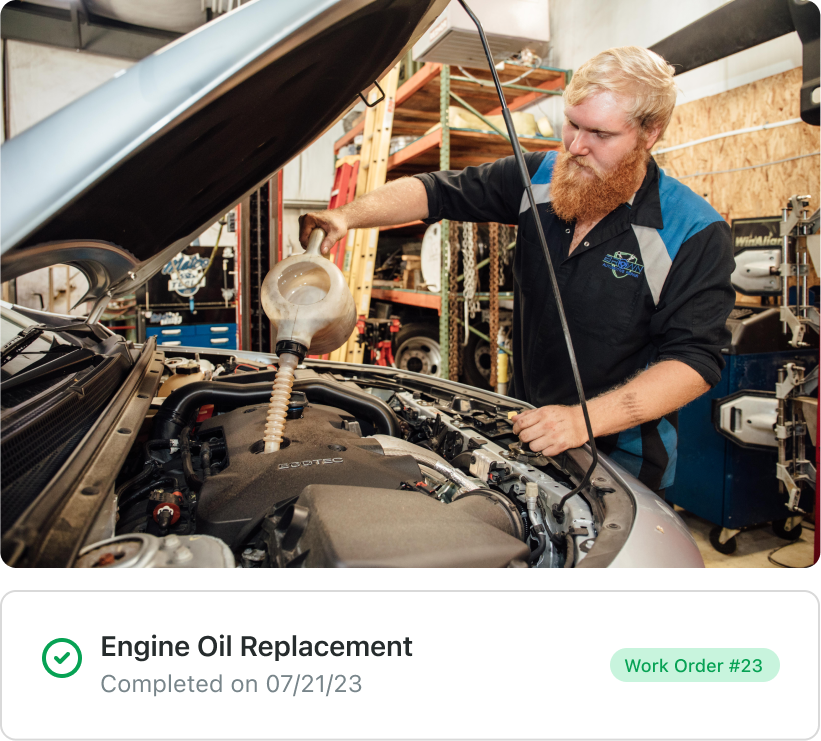 Easily access organized, comprehensive vehicle service records for your assets
---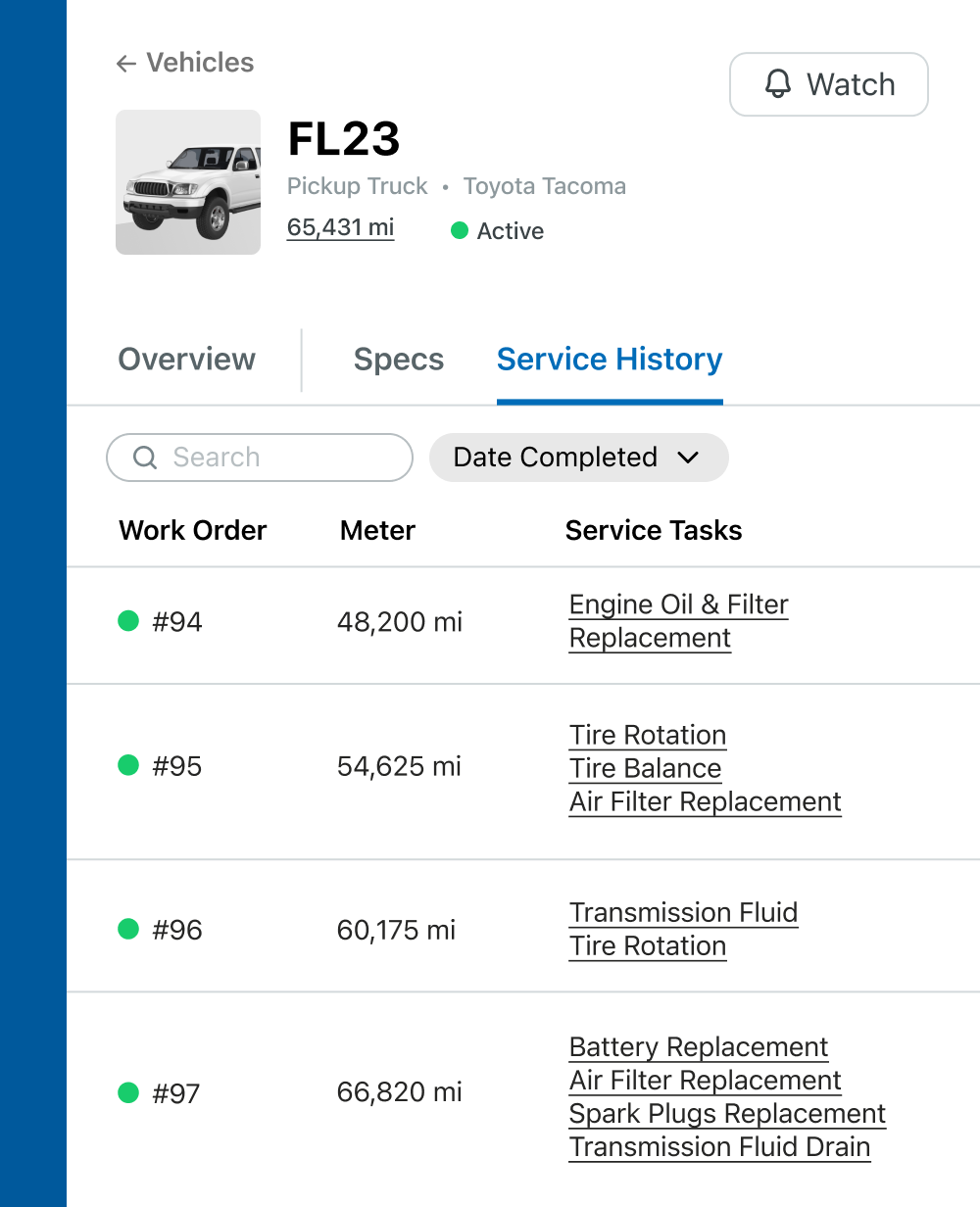 Automate detailed digital records of all service performed on fleet assets
Whether you perform maintenance in-house or outsource it, Fleetio's fleet maintenance software automatically collects and stores service records for all your assets in one place.
Track expenses and source causes of increased spend
View service histories across vehicle types, groups and locations or drill down into spend, including sourcing the causes of inflated spend.
Access service records from anywhere with a maintenance app
Employees can quickly and easily pull up maintenance reports in the Fleetio Go mobile app, keeping compliance at the forefront with easily retrievable documents.
Book a Demo
Key features of Service Histories in Fleetio
Service details
Service vendor documents
Link service to vendors
Issue histories
Link service to issues
Track safety recalls
Automated data entry
Mobile data access
Be proactive with maintenance using vehicle service records
---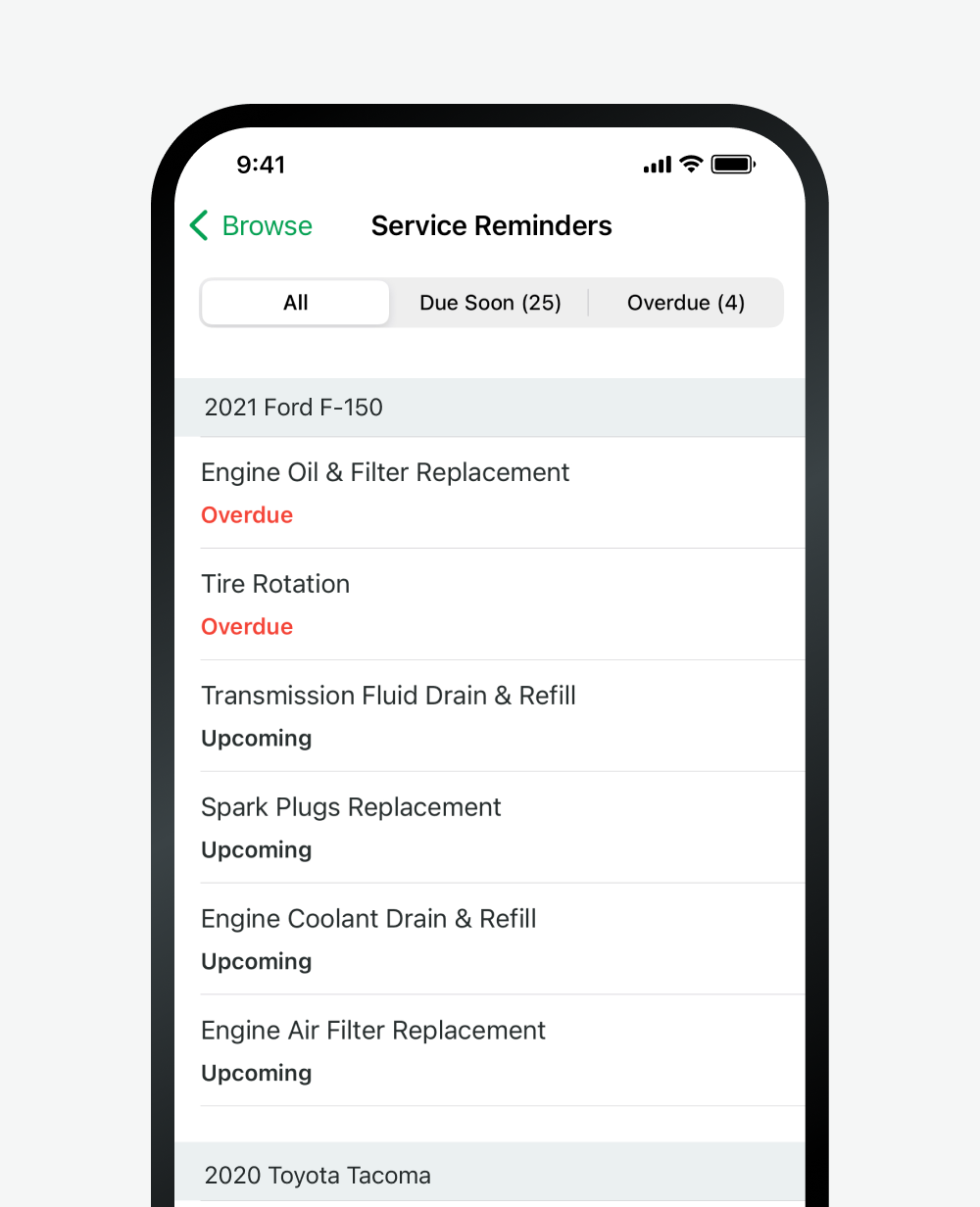 Make informed decisions on your maintenance and vehicles
Gain immediate insights into service costs, recurring asset issues and asset usage to make data-driven decisions with automated fleet reports.
Reduce unnecessary downtime with automated service reminders
Fleetio Go helps fleets reduce downtime and shop delays with automated, custom service reminders and a list of approved repair shops to choose from in the area.
Create a data-backed vehicle disposal plan
Use service histories to gain insights into optimal vehicle replacement windows for older and/or high-mileage assets and to improve resell value based on solid maintenance history documentation.
Start a Free Trial
Why our customers love Fleetio
"We wouldn't be where we are today without Fleetio's management system."

Scott N.
Concrete Ready Mix, Inc
"Bringing in a tool that brings all the data into one centralized location to make informed decisions and help guide our business was critical."

"Everything we've needed to maintain those trucks is easy and quick to grab."

Andrew M.
Daniels Sharpsmart
"Fleetio allowed us to create proactive maintenance plans that saved us over 33% in the first half of this year versus the first half of last year."

Jeremy Bader.
ProQual Landscaping
Frequently Asked Questions
Ready to get started?
Join thousands of satisfied customers using Fleetio
Questions? Call us at 1-800-975-5304