Features
Vehicle Lifecycle Management
Take the guesswork out of fleet vehicle replacement and use historical data to inform asset purchasing strategy. Make data-driven decisions about asset acquisition and replacement and secure a better return on investment for your vehicles.
Book a Demo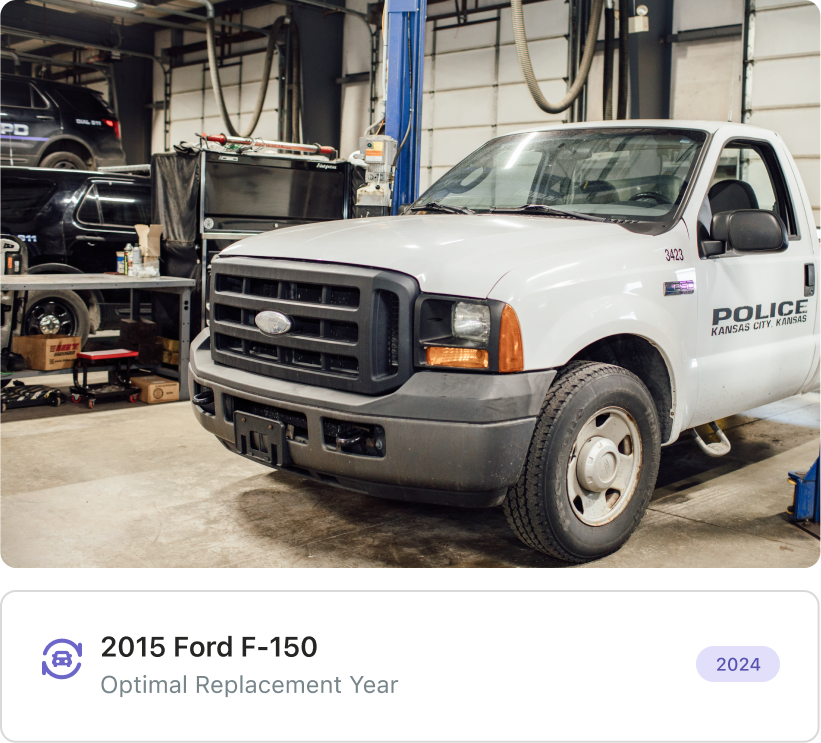 Stop running vehicles into the ground
---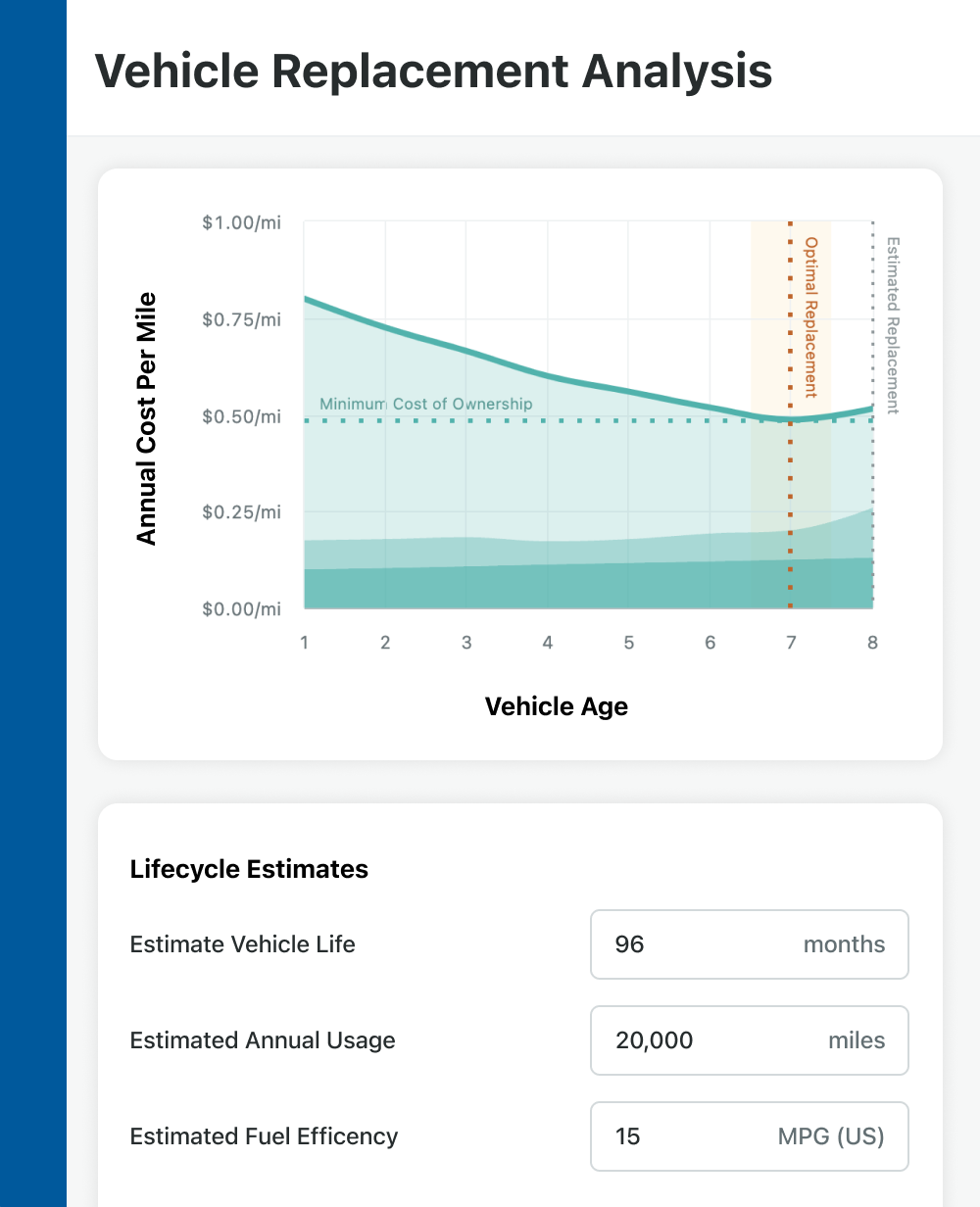 Set replacement timelines
Use our Fleet Vehicle Replacement Formula tool to estimate when a vehicle should be replaced, create tailored replacement timelines and see how changes in estimated service costs, remarketing and utilization change your fleet replacement strategy.
Control replacement budgeting
Know which vehicles are up for replacement, reallocate budget activities based on over or under utilization and create fleet reports to see how vehicle replacement demand increases year over year to prepare for increases in spend well in advance.
Maintain consistent service records
Always know the status of your vehicles in use, and have a comprehensive history of service when it comes time to offload old assets.
Book a Demo
Key features of Lifecycle Management in Fleetio
Custom Replacement Policies
Performance Monitoring
Vehicle Utilization Tracking
Replacement Scheduling
Care for your vehicles through their whole lifecycle
---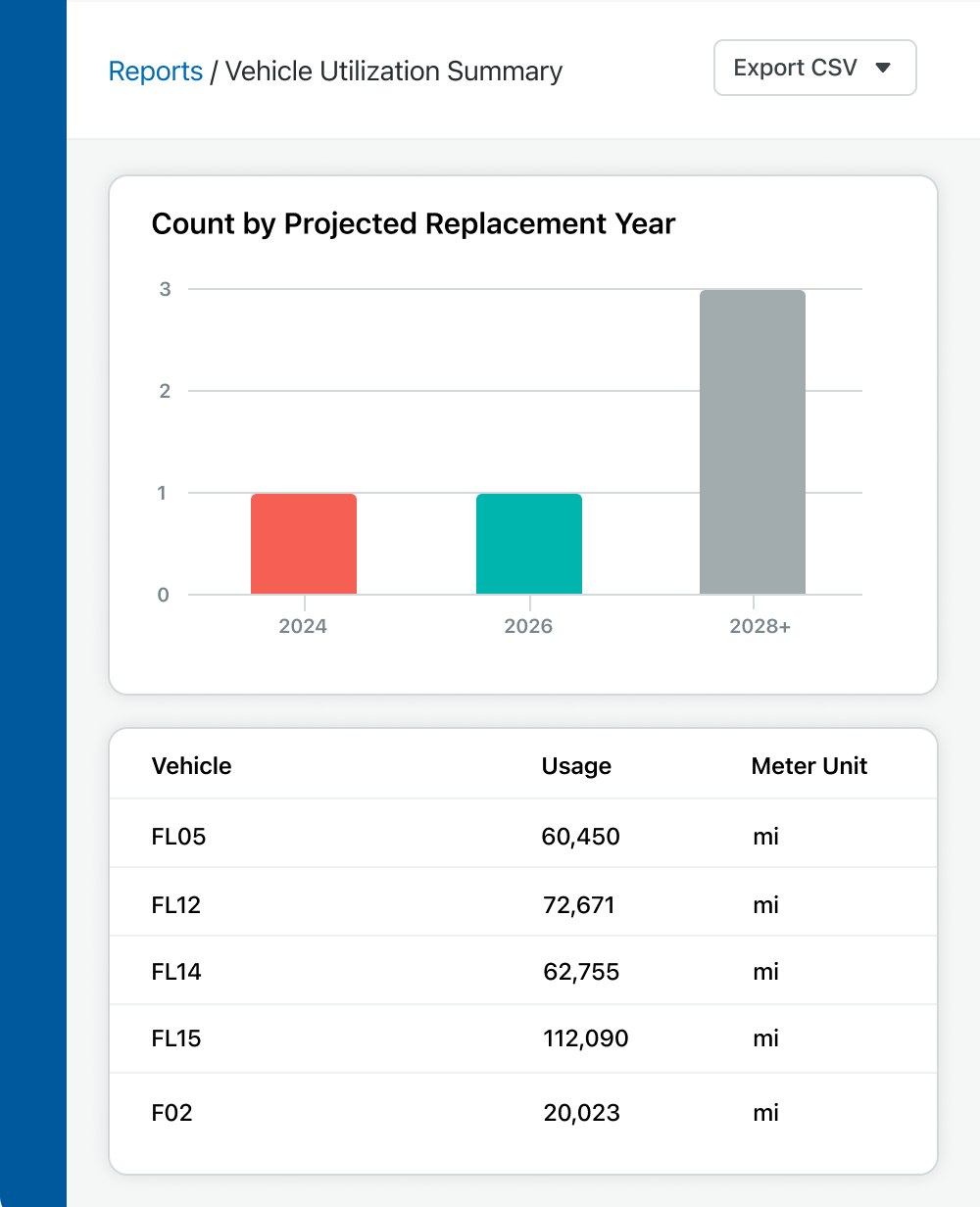 Balance vehicle utilization
Spread your usage across your whole fleet to create more equitable wear, adjust utilization based on past performance and track life expectancy progress across each asset.
Streamline in-house and outsourced maintenance
Make use of Fleetio's entire fleet maintenance system to seamlessly communicate with technicians to expedite service and decrease downtime, so you get the full value out of your assets throughout their lifespan.
Integrate with GPS and telematics
Bring in your external data with third-party integrations to maximize asset lifespan with route optimization and increased vehicle visibility with DTC notifications and automated mileage records.
Start a Free Trial
Why our customers love Fleetio
After collecting enough data [in Fleetio] we were able to retire the right vehicles and cut costs drastically.

Daniel F.
T & G Sand & Gravel
We have been using Fleetio for almost 3 years now. I am not sure what we would do without it at this point. Fleetio has allowed us to streamline our maintenance issues and decrease our cost across the board.

Bert B.
Berry Bros. General Contractors, Inc.
We believe we have replaced a part time fleet manager by using Fleetio. We also believe this software will increase the life of our vehicles and equipment as well as reduce overall maintenance costs.