The need for preventive maintenance in fleet management should always be an assumption – but getting your checklist right can take a little work. Here's what you should consider in your preventive maintenance checklist.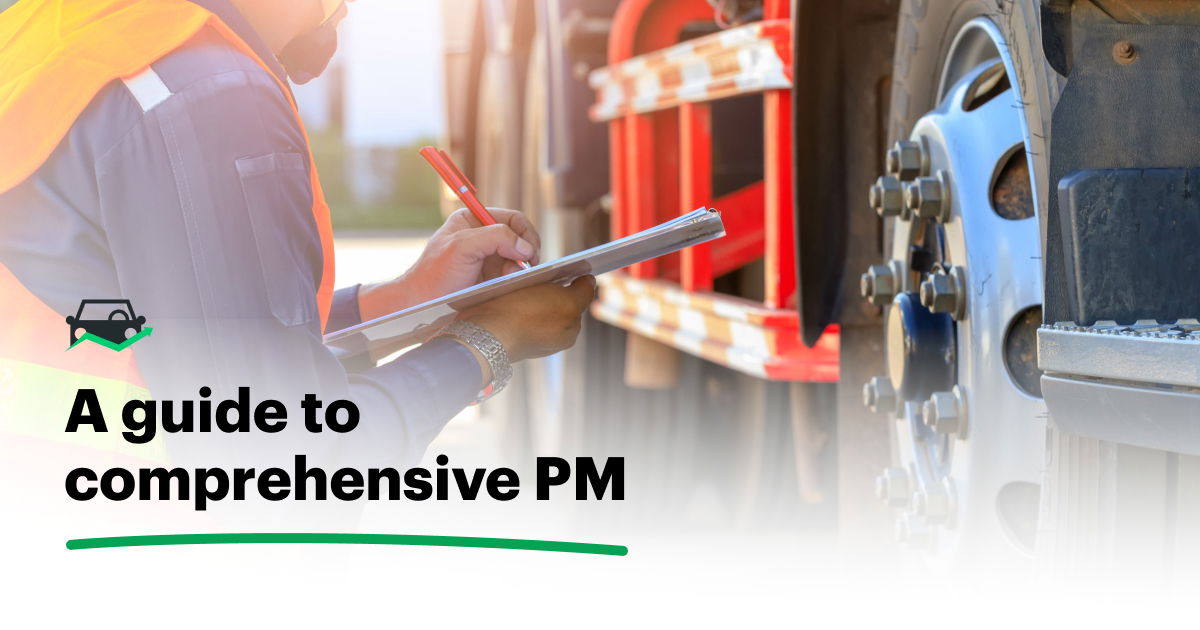 What your checklist should cover
The primary purpose of any vehicle maintenance program is just that – to maintain vehicles. But there are other secondary responsibilities that come with PM programs, like boosting efficiency, controlling costs, extending asset lifespan, maintaining warranties and reducing liability on the road.
Your preventive maintenance checklist should ideally cover:
OEM guidelines and warranties
State and federal compliance regulations
Internal goals for maintenance
What is your goal?
Knowing what you want to accomplish with your preventive maintenance checklist can be a great way to narrow your focus as you build out a process. There are certainly a lot of ways to orient your fleet around PM, but here are a few common goals that can guide your thinking.
Reduce costs – If you're focused on your bottom line, your PM approach should revolve around finding the optimal interval for extending your assets' lifespans as well as managing costly downtime.
Improve shop efficiency – If you manage maintenance and repairs internally, having a checklist that puts your shop first can be a good first step to optimizing preventive maintenance. Look for ways to encourage thorough attention to vehicles that adhere to OEM guidelines without overextending downtime.
Prioritize safety and compliance – Working to comply with local and federal regulations can be a very clear and easy way to set your PM priorities. Focus on what is necessary to maintain compliance and work that into your checklist and PM processes.
What you need for your PM checklist
In order to implement a preventive maintenance checklist effectively, there's a few things you need to make it happen.
Service Intervals. Consult your OEM recommendations to determine what the optimal window for maintenance is for your assets, and set an interval using either mileage for usage-based maintenance or time elapsed for more predictable downtime.
Inspection Process. Having daily driver vehicle inspection reports in place gives you an important data point for gauging the effectiveness of your PM checklist. If there are consistent issues with vehicles that aren't being taken care of during their preventive maintenance, they'll be quickly noted in the inspections process.
Maintenance Plan. Whether you outsource your preventive maintenance or handle it in-house, you'll want to ensure you have a standard process in place for handing off vehicles and work orders to the technicians that will service them.
Record Keeping. You'll need a way to track each service and its costs to calculate things like total cost of ownership, as well as keep track of expenditures for budgeting purposes. It will also ensure that you have a record of service for your vehicles to reference against in the future.
Parts and Inventory. Having a system for tracking parts and inventory is especially important if you manage your maintenance in-house, so that you never find yourself running short on the parts you need to conduct preventive maintenance.
Your preventive maintenance checklist
Fleet Vehicles
Change engine oil and filter
Rotate tires and check PSI
Check air and cabin air filters (change if needed)
Check brake system/replace worn components
Check exhaust system
Lubricate grease fittings
Check fluid levels (coolant, brake, power steering, transmission, differential, transfer case, master cylinder, etc.)
Check belts and hoses
Check lighting systems
Check safety systems/equipment (if applicable)
Check coupling devices (for trailers)
Power Tools and Equipment
Cool down after use
Clean after use
Keep lubricated
Sharpen bits and blades
Make sure they're calibrated
Store them well
Repair and replace parts and batteries
Prioritize preventive maintenance with Fleetio
The best way to actualize your preventive maintenance checklist is to use a solid fleet management software to track your PM processes from start to finish. With Fleetio, you can set maintenance schedules and automate reminders, as well as predict when maintenance is due based on recorded vehicle histories. Fleetio helps you keep everything in one spot, making operational consistency and compliance a breeze.


Start your free trial in Fleetio or request a demo today.