Features
Vehicle Issue Management Software
Collaborate with your team to capture and resolve vehicle and equipment issues quickly, keeping your assets in top shape.
Book a Demo
Report, resolve and review maintenance issues with streamlined efficiency
---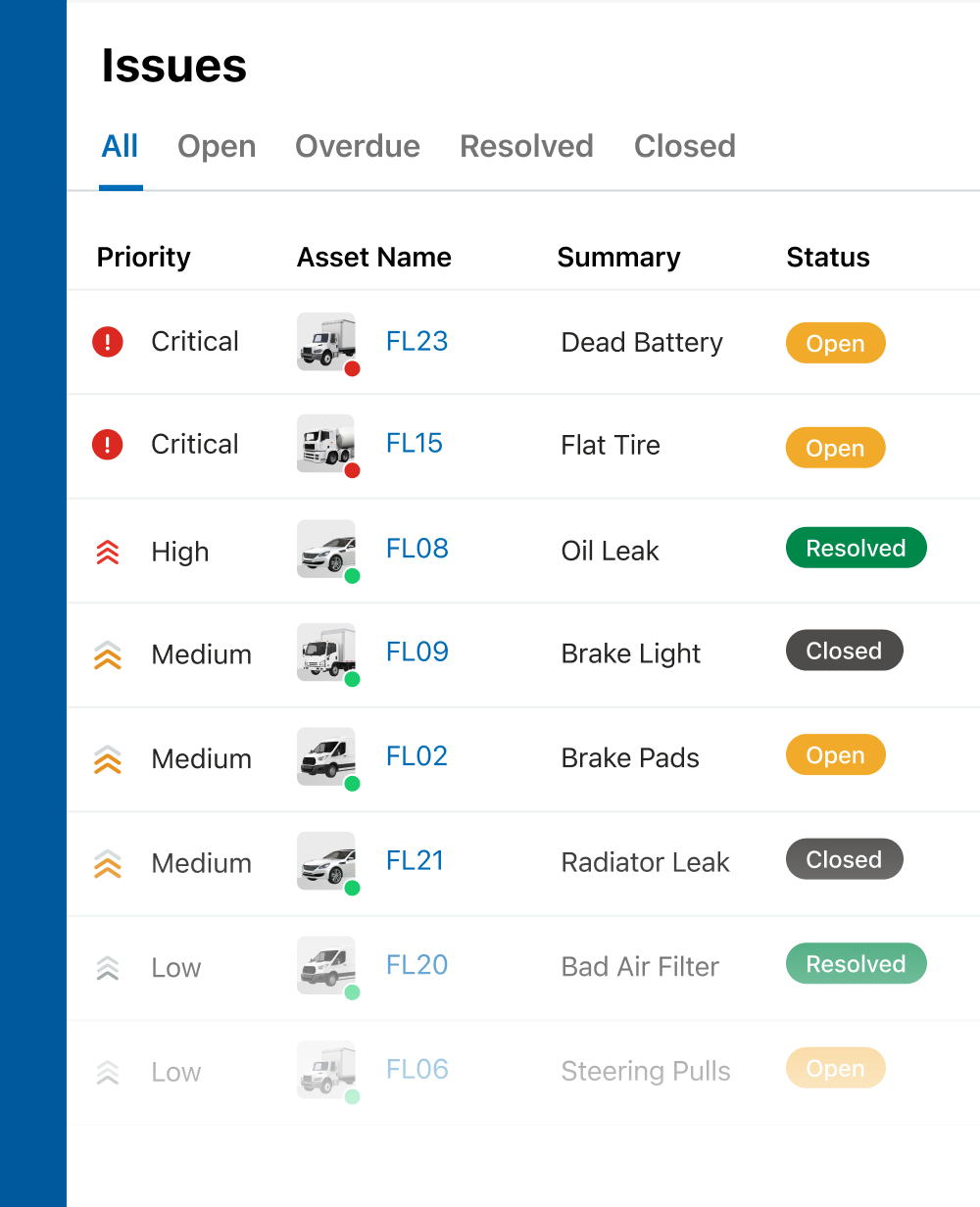 Identify issues from anywhere as soon as they arise
Report vehicle and equipment issues from any smart device and automatically open issues from failed inspection items and fault code alerts. Faster issue reporting results in faster issue resolution.
Resolve issues quickly via streamlined maintenance workflows
To provide personnel with the complete picture, issues can be linked to work orders with a single click. Built-in communication tools foster collaboration and improve productivity between internal teams.
Analyze issue trends to gain insights and improve responsiveness
Complete audit trails allow fleets to review recurring issues and identify high maintenance assets. Insights from this intelligence helps fleets adjust their maintenance tactics to achieve greater efficiency.
Book a Demo
Key features of our Fleet Issue Management App
Mobile Defect Logging
Automatic Issue Reporting
Fault Code Alerts
Streamline Maintenance Workflows
Real-Time Collaboration
Link Issues to Work Orders
Complete Audit Trails
Communicate with Repair Shops
Managing fleet issues through the entire maintenance lifecycle
---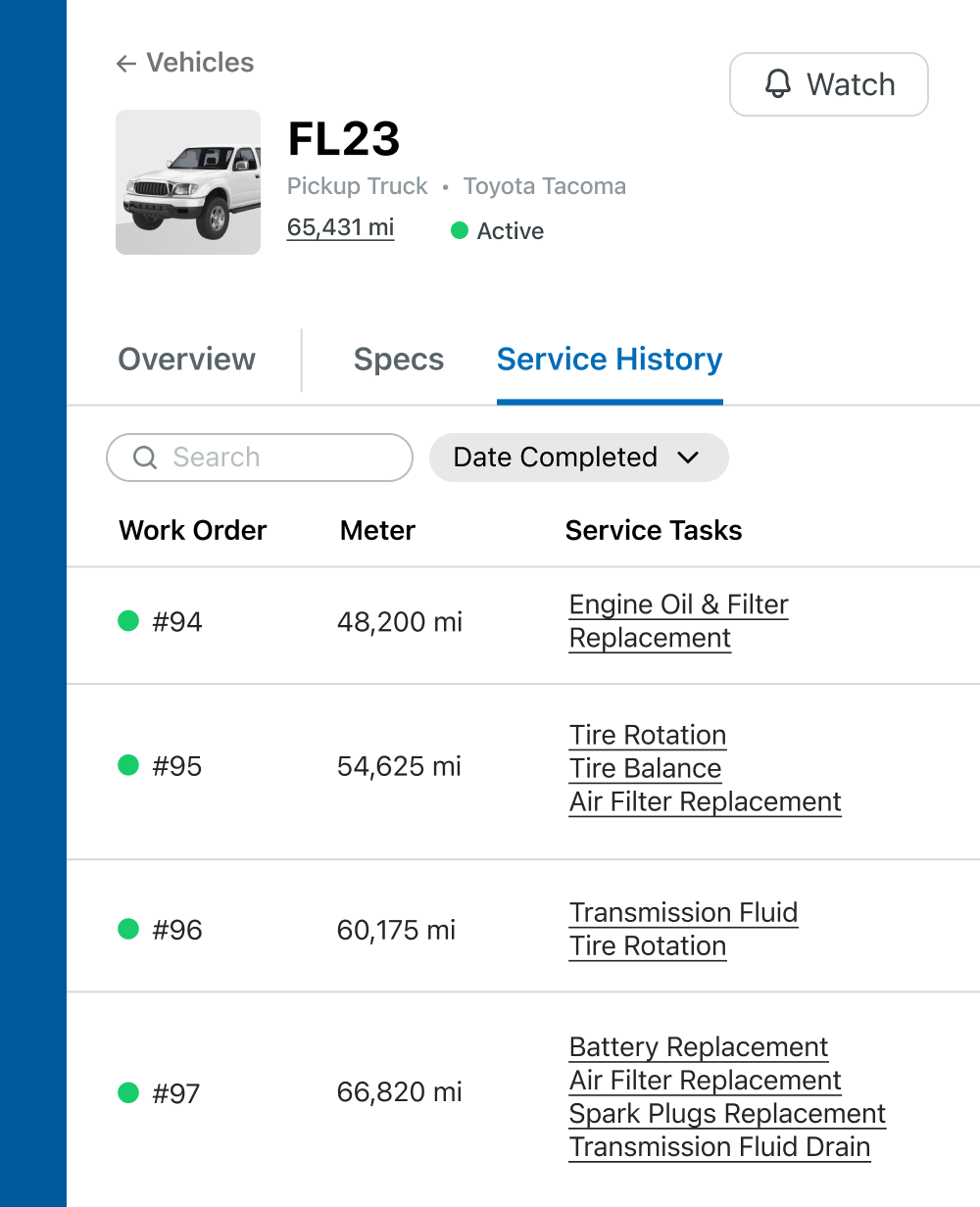 Reduce unexpected downtime with automatic notifications for vehicle issues
When issues go unreported, breakdowns become more frequent and repairs increase in cost. With Fleetio Go, our mobile management app, your personnel can report problems as soon as they arise, starting the maintenance process immediately so your vehicles can return to the road ASAP. Automatic issue notifications further accelerate your maintenance operations by allowing you instantly to create work orders from failed DVIR inspection items and fault codes.
Access historical service records to identify repeat or common issues
Whether your maintenance is outsourced or in-house, Fleetio streamlines how organizations manage and record maintenance activities. With a single click, you can view the complete service history of any vehicle in your fleet. Convenient dashboards surface issue trends that can help fleets identify and correct faults in their processes or assets. Instant, anytime access to all this data helps fleets more effectively monitor their maintenance and better understand their fleet health.
Start a Free Trial
Take steps to prevent further impact to your fleet
---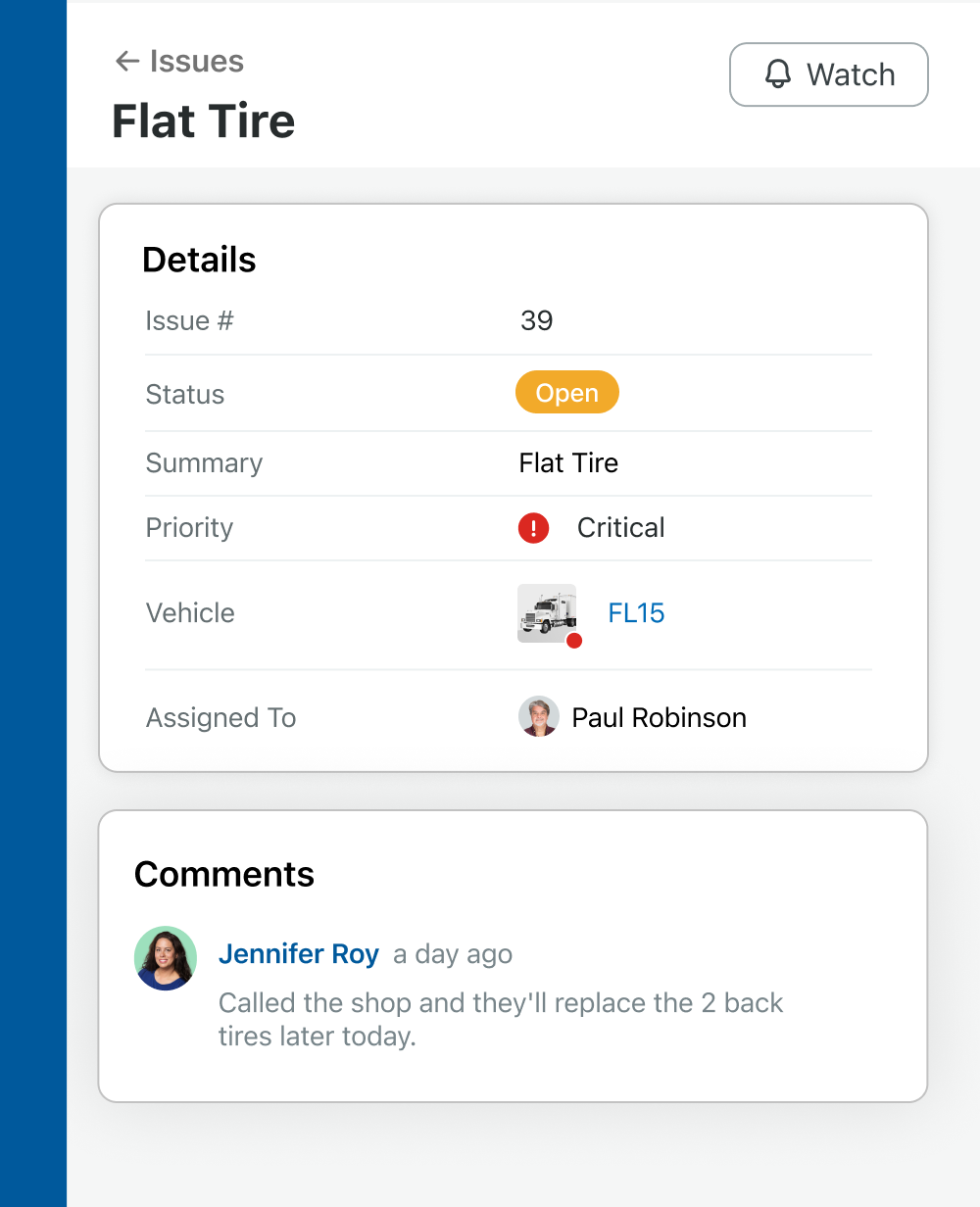 Collaborate with your technicians and operators in real-time
Fleet maintenance is a team effort. Fleetio facilitates collaboration by enabling your personnel to post comments and tag team members from within issue records. Maintenance alerts and push notifications for new mentions, comments and issue status changes keep everyone in the loop to improve productivity and reduce downtime. Additionally, Fleetio's Maintenance Shop Integration gives fleets the option of automatically approving maintenance online to eliminate surprise bills and time-consuming back and forth communications.
Compare assets across your fleet to make informed decisions
Through customizable reports, Fleetio enables organizations to identify the root causes of recurring vehicle issues. By comparing the maintenance needs of their assets, fleets can detect trends and develop countermeasures that reduce issues moving forward. Organizations can use insights gained from Fleetio to inform all kinds of decisions from reducing expenses by purchasing more reliable vehicles to partnering with more effective maintenance providers.
Why our customers love Fleetio
We have been using Fleetio for almost 3 years now. I"m not sure what we would do without it at this point. Fleetio has allowed us to streamline our maintenance issues and decrease our cost across the board. Their customer service representatives are the best that I have ever dealt with.

Bert B.
Berry Bros. General Contractors, Inc.
Fleetio puts inspections from employees in my hands as soon as they are completed. Issues are a great help as well, it not only keeps me up to date with what is going on with the equipment, my employees see what others have found wrong with the equipment.

Riley G.
New Venture Safety
So many potential issues or simple fixes are lost in communication and I feel the systems we are putting in place with Fleetio are building an excellent communication platform.