Features
Fleet Expense Tracking & Cost Analysis
Get a clear picture of your fleet's profitability and what resources you're investing to keep it running. Make more informed choices about vehicle utilization and replacement policies.
Book a Demo
Understand the true cost of running your fleet
---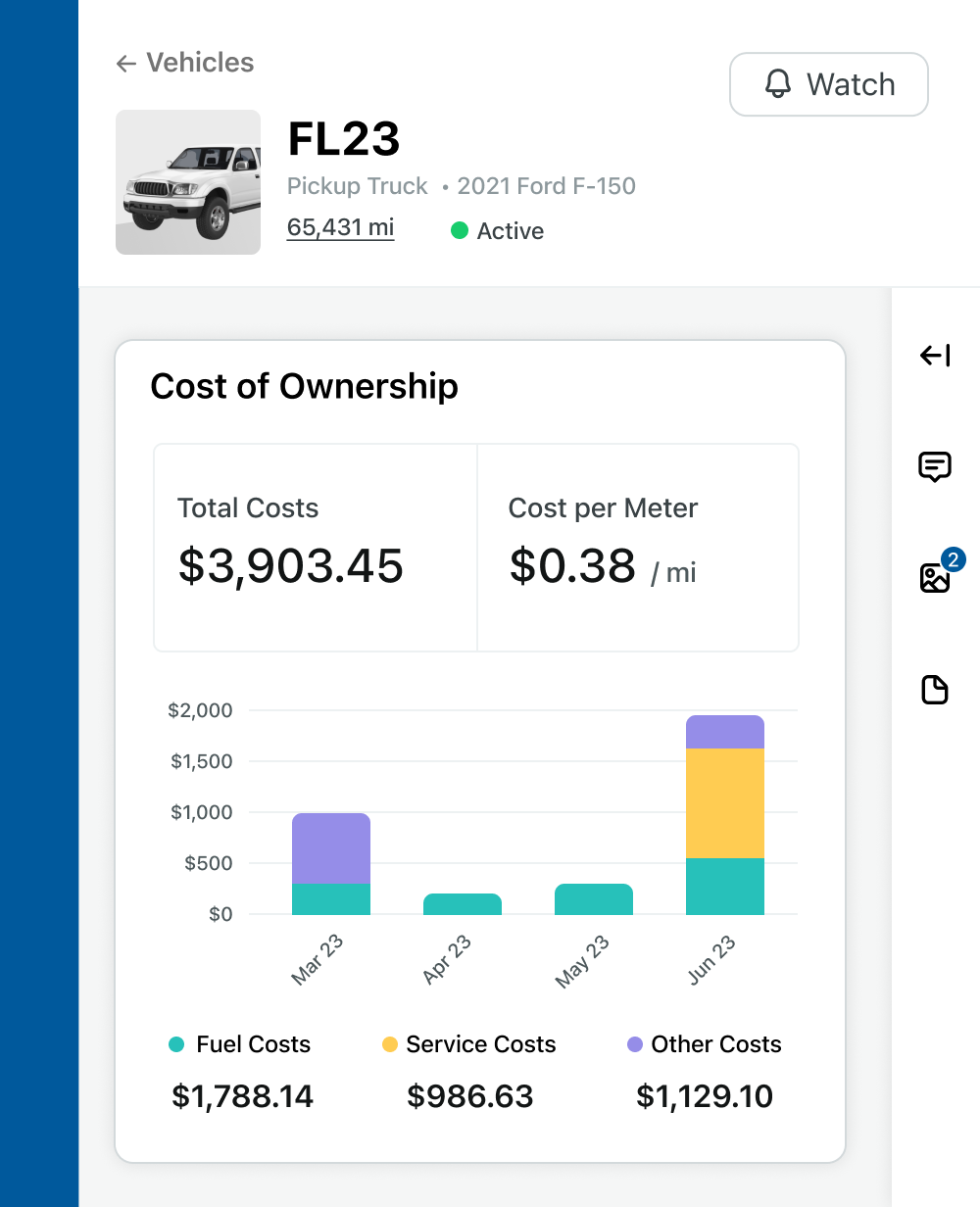 Track fuel and maintenance expenses in real time
Follow your costs as they occur to see how fleet budget expectations align with actual spending. Gauge the profitability of every asset you own at any point in time to determine the best time to cycle a vehicle.
Generate custom reports to measure a vehicle's total cost of ownership
Find answers to all your expense-related questions with fleet reports that can be adjusted and filtered however you like. View costs by asset, vehicle group or even expense type to compare spending across different areas.
Optimize vehicle usage based on individual asset trends
Balance vehicle utilization across your fleet to maximize the ROI and lifespan of each asset. Respond to performance declines and changes in market conditions that impact your fleet management costs.
Book a Demo
Key features of Lifecycle Management in Fleetio
Fleet Expense Reports
Real-Time Cost Tracking
Fuel Card Integrations
Parts Inventory Valuation
Expense Categories
Calculate Vehicle TCO
Maintenance Cost Trends
Vehicle Lifecycle Management
See the full picture with a fleet maintenance system
---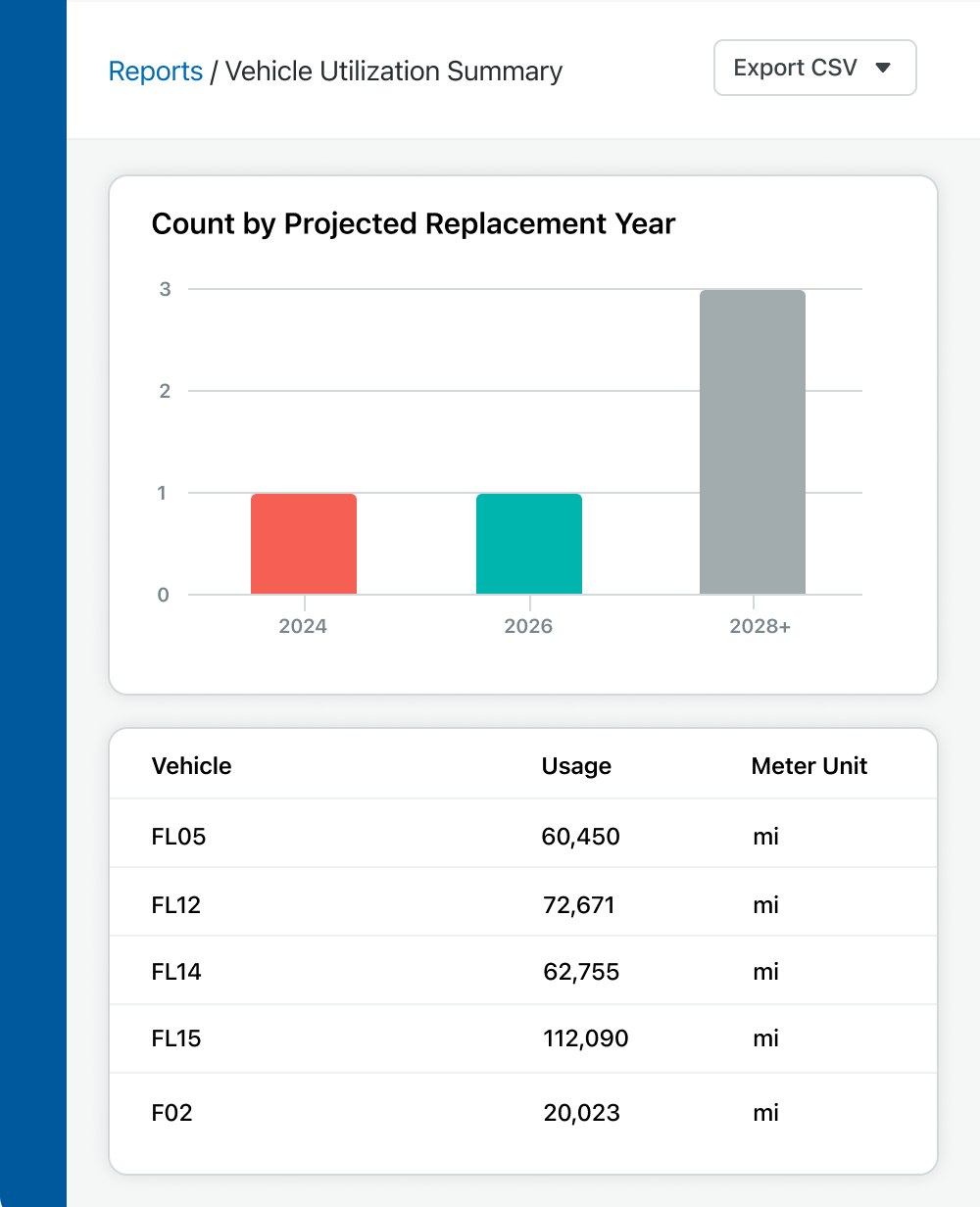 Eliminate inefficiencies in your fleet spending
Get a comprehensive breakdown of all your fleet-related expenses, from maintenance and fuel to administrative costs and depreciation, so you can identify inefficiencies wherever they arise.
Connect parts costs to work orders for accurate maintenance spend
Get a clear picture of the cost of maintenance or a repair within your fleet by storing your parts in Fleetio. Inventory valuation methods allow you to accurately view the cost of parts, no matter their purchase date.
Make asset replacement and disposal decisions based on data
Make a data-backed decision to part ways with a vehicle based on the year-to-year cost of operating the vehicle. View vehicle lifecycle trends to dispose of assets at the optimal time before they start costing your fleet money.
Start a Free Trial
Why our customers love Fleetio
Everything. The inspection function is top notch and easily customized per vehicle. The fuel tracking is great and easy to use really helps to determine your cost for operating a asset in seconds

Morgan L.
Asset Solution Recovery
Fleetio fleet management is exactly what we were looking for. Totally easy to use! We wanted to be able to track all of our truck expenses, and be able to see what each track in the fleet costs per mile, and Fleetio does exactly that!

Sheldon D.
Sue's Recycling
After collecting enough data we were able to retire the right vehicles and cut costs drastically.

Daniel F.
T&G Sand & Gravel
Simple, economical, yet efficient method of tracking fuel.

Bill B.
Harrison County Schools
Frequently Asked Questions