While you may already use a fleet telematics system to track vehicle location, fleet telematics devices are also powerful tools to manage and automate maintenance tasks.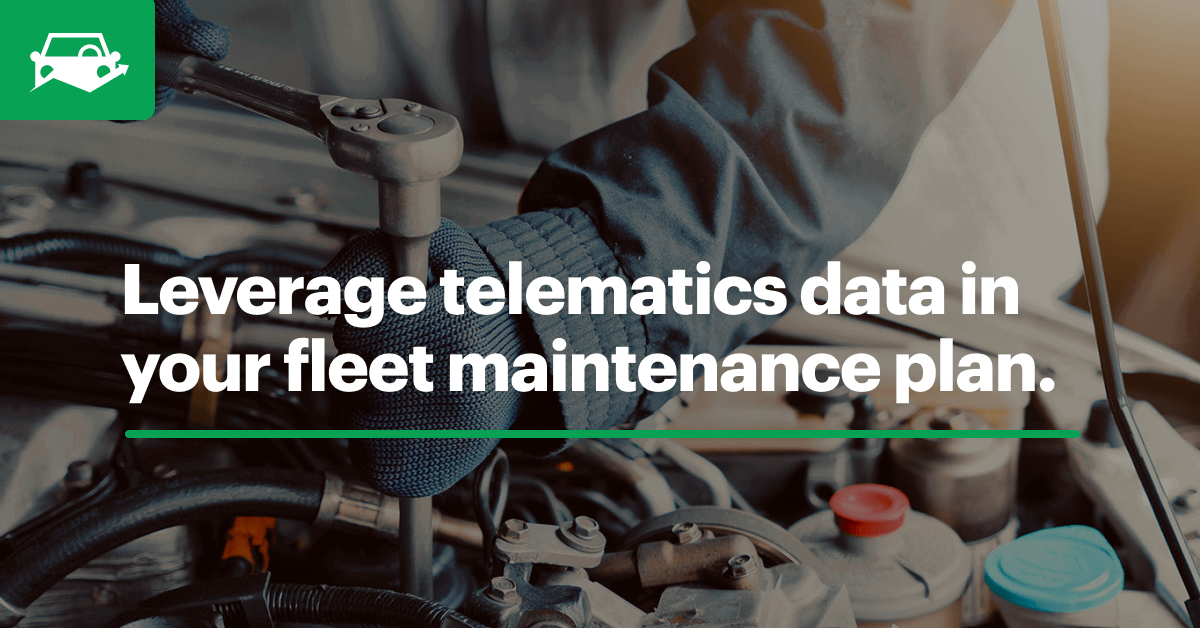 Jump to a Section
What is fleet telematics?
Fleet telematics provide a wealth of asset information. With GPS tracking and on-board diagnostic reading capabilities, telematics collects data directly from an asset to provide detailed information around asset usage, driver behavior, fuel consumption and diagnostic trouble codes (DTCs). Fleets can use telematics data to strengthen maintenance practices, find the source of costly issues and behaviors and optimize fleet utilization for improved ROI.
How does fleet telematics work?
Telematics systems use a combination of physical plug-in devices (either via J-bus or OBD II connections) and software. The on-board device records operational data directly from the vehicle's engine control module (ECM) and transmits that data to management software through either a wireless or satellite network. Fleets can then view and analyze recorded data from a desktop, tablet or mobile device.
How telematics improve fleet management
Telematics can help fleets reduce operating costs and improve asset ROI. Maintenance and fuel are two of the largest expenses in fleet; data gathered from telematics — including asset location — helps fleets better control these expenses through route optimization, idling reduction and by alerting fleets to mechanical issues early for expedient resolution. Early issue detection doesn't just serve to improve asset maintenance, though. It also improves safety on the road and in the field. Plus, because telematics captures driving behavior like speeding and harsh braking, fleets can improve driver training and coaching to further develop a culture of fleet safety and reduce driver behavior-related service expenses.
How telematics improve maintenance management
If you're like most fleet managers, you probably associate fleet telematics solutions with location tracking. Though telematics devices are great for monitoring vehicle location (especially when your fleet is spread out), there are many more benefits to leveraging data from fleet telematics providers.
Fleet telematics devices provide a mass amount of vehicle data, including information on the health status of your vehicles, making them an ideal resource for tracking and analyzing your fleet. Receiving vehicle data from your telematics device is a great way to improve your fleet maintenance plan and measure your fleet management KPIs.
By supplementing telematics data with integrated fleet management software, fleet managers can receive real-time telematics data in a cloud-based platform to automate maintenance workflows and immediately address vehicle issues as they arise.
Housing all fleet data on a comprehensive platform ensures managers have maximum visibility into vehicle status, maintenance schedules and inspection results to prevent vehicle downtime and improve fleet efficiency. Here are a few ways pairing a telematics device with fleet management software can improve your fleet maintenance plan.
1. Improve Fleet Operations by Receiving Real-Time Data
When your fleet is spread out across the map, receiving up-to-date vehicle information can be difficult. Drivers may not be able to easily communicate while on the road, and if you're still relying on paperwork to manage your fleet, you could be waiting days or weeks to receive pertinent data.
Fleet technology eliminates communication gaps and provides you with real-time data regarding your assets. A fleet telematics system can provide real-time data regarding the health of your vehicle to keep you informed of any issues and make necessary fleet maintenance decisions to avoid downtime.
Integrating telematics data into fleet management software provides increased visibility into overall operations, allowing you to automate fleet maintenance processes and make data-driven decisions regarding your assets.
While telematics tools can provide real-time vehicle information, fleet management software centralizes all of your fleet data to automate workflows and keep you connected with your team. By pairing the two, managers can accurately monitor driver behavior, fleet maintenance, fault alerts and overall vehicle health – all from a simple fleet management dashboard.
2. Conduct Preventive Maintenance Based on Odometer Readings
Most fleets base their preventive maintenance (PM) schedules on mileage, but manually tracking odometer readings is inefficient and often error-prone. Paper-based systems don't provide fleet managers with accurate, real-time updates to ensure PM tasks are carried out on time.
By utilizing fleet telematics devices, odometer readings can be automatically uploaded into fleet management software, ensuring managers have an organized way to manage fleet maintenance and never fall behind on PM tasks.
Fleet managers can set service reminders in fleet management software based on odometer readings. Setting service reminders and due-soon thresholds allows you and your team to receive email or push notifications to schedule preventive maintenance.
Integrating a telematics device into your software system ensures accurate odometer readings are uploaded each day. You can also sync updates from any of your assets at any time with one click to get instant updates from your fleet telematics system.
Instead of manually tracking odometer readings and calculating when fleet maintenance is due, software automates these processes by pulling current telematics data to ensure your fleet maintains a proactive PM schedule.
3. Immediately Address Issues from Diagnostic Trouble Codes
When it comes to unplanned maintenance, time is of the essence. Vehicle issues can fester under the hood for days, weeks, even months at a time without you knowing, resulting in more extensive and costly repairs.
While that check engine light may go ignored by drivers, fleet managers can gain peace of mind and create fleet resolution strategies based on information from their telematics tools. By pairing a telematics system with fleet management software, fleet managers receive instant notification of diagnostic trouble codes (DTC) across their fleets.
DTC and fault alerts from your telematics devices can be linked to digital work orders in fleet management software, providing maintenance technicians a complete picture of any issues. Linking DTC alerts directly to line items issues are addressed and are automatically recorded in your fleet's service history, ensuring you and your team have accurate insight into a vehicle's current and past condition.
Some assets trigger multiple fault alerts, and determining which alerts are relevant can disrupt your day. Fleetio allows managers to choose which alerts they receive, ensuring only relevant alerts come to your inbox.
Pairing your telematics system with other fleet management solutions allows you to see issues across your assets immediately and jumpstart the maintenance process to reduce overall downtime. Fleetio also maintains a report of all DTCs, allowing you to spot possible maintenance trends across your fleet and proactively manage them.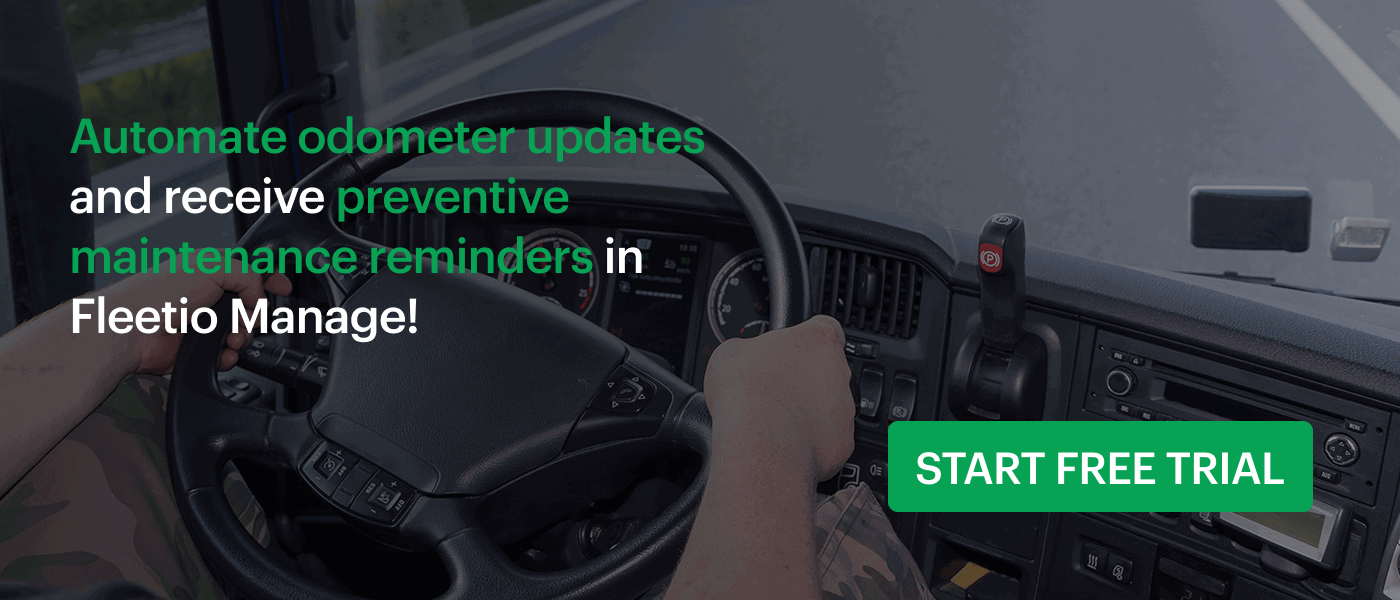 4. Aggregate Fleet Maintenance and Telematics Data into Configurable Reports
To maintain an efficient fleet, fleet managers must track and analyze every aspect of their operations. Fleets who still rely on paper and spreadsheets to manage operations have a difficult time compiling fleet data and accessing relevant information quickly.
Managing your entire fleet with cloud-based software ensures all of your data is organized into easy-to-read visualizations. With configurable fleet management reports, fleet managers can analyze the exact data they need to make the best decisions for their fleet.
Tracking maintenance and telematics data in fleet management software eliminates manual data entry, saving fleet managers countless hours and allowing them to use that extra time to analyze data and monitor their operations.
By integrating telematics data into fleet software, users can view maintenance reports regarding asset utilization, vehicle service records and fault codes. Fleet management software also calculates cost-per-mile based on geolocation data, allowing you to track fleet expenses and develop strategies to cut costs and improve your bottom line.
Telematics trends: what does the future look like for fleets?
While telematics captures an abundance of data, it still only scratches the surface of what can be done. Telematics providers and OEMs alike are finding ways to streamline vehicle data capturing, including through connected vehicle APIs. Telematics systems are increasingly using artificial intelligence to provide predictive analytics based on historical data gathered from vehicles. Even driver behavior features are being enhanced; video telematics are helping fleets improve safety and reduce potential liability in the event an accident occurs for which the fleet driver was not at fault. As technology continues advancing, telematics systems are evolving to match both technological capability and fleet needs.
---
Take fleet maintenance to the next level by pairing your telematics tool with Fleetio! Start your free trial or request a demo today!