If you choose to outsource maintenance, a fleet maintenance service provider is crucial for maintaining a healthy, well functioning fleet and keeping your assets safe and on the road.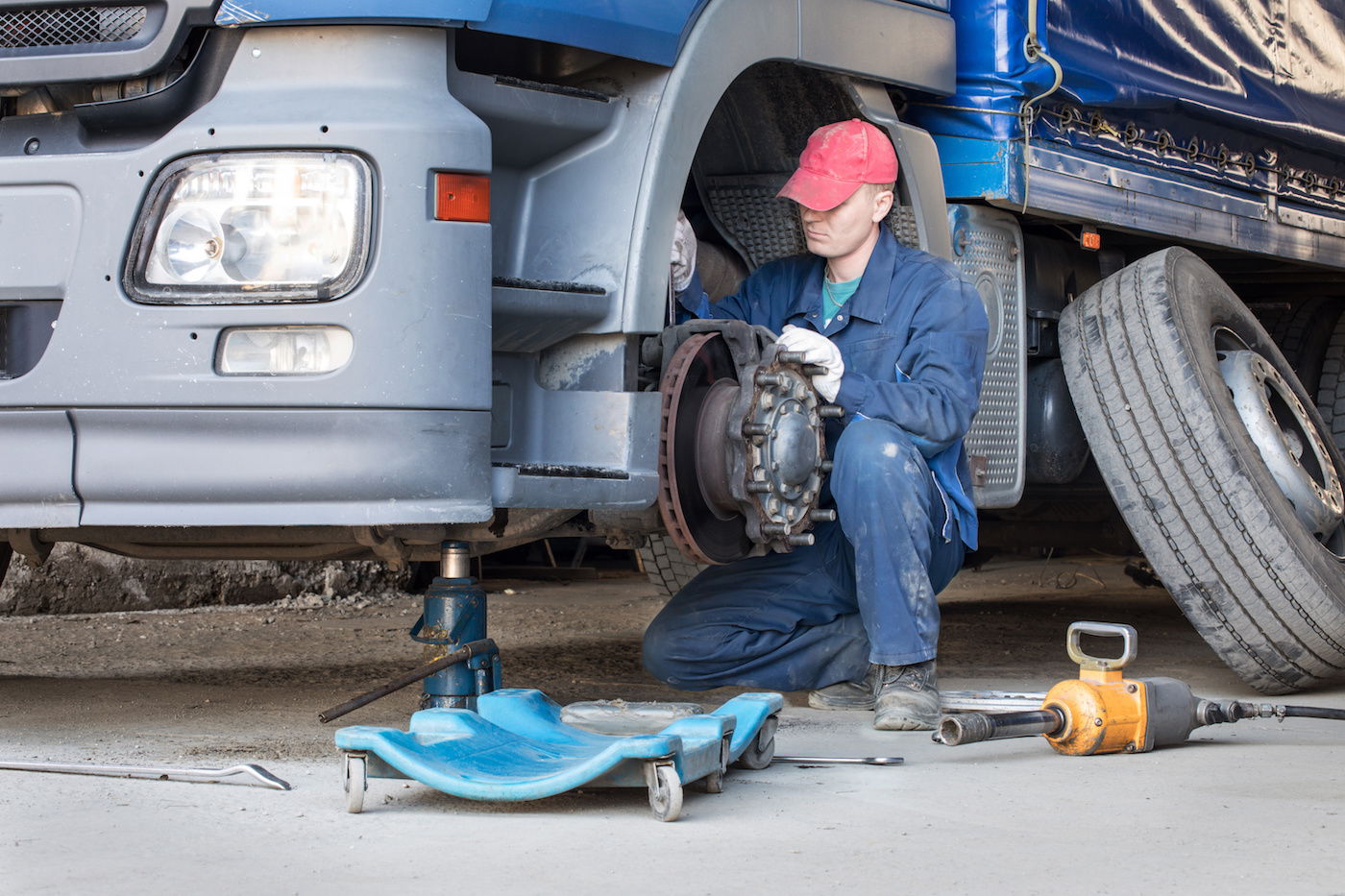 Asset downtime can be up to eight times more expensive than fleet owners expect with an average cost of $760 per vehicle per day, so it's important to develop your fleet maintenance and inspection program to minimize its impact as much as possible.
Ideally, you will be in business with your fleet maintenance service provider for years down the line, so it is important to make sure your partnership is the right fit.
There are many fleet maintenance shops to choose from — more 240,000 in the US alone. But we can help you navigate the process. As you search for a provider, there are a number of factors to consider to help narrow down your options.
11 things to consider when choosing fleet maintenance services
Selecting a fleet maintenance service provider is a process and should not be rushed. Keeping your assets on the road is crucial for keeping your business running.
There are a number of items to consider when selecting a fleet maintenance service provider. Let's explore them!
Hours of Operation
Determine when you prefer to bring assets into the shop and if the service provider is operating at that time.
Location
Choose a provider that is easily accessible for your team and located where your fleet operates. If you operate in multiple states, consider a regional or national provider.
Additionally, keep in mind how your drivers operate. If drivers take their vehicles home every night, then try to choose a provider with many locations in key areas.
Partnership
Look at this decision as forming a long-term relationship. Ideally you will work with this maintenance provider for years down the line so that they have a complete understanding of your vehicle service history — so do not just focus on the present in your decision. Consider whether the future goals of the provider align with the goals of your business.
Price and Speed
Make sure to ask how much the shop charges for routine fleet maintenance services and other service tasks your assets frequently require. Then, consider how that fits within your fleet budget.
While it's tempting to choose the provider with the lowest rates, don't make this mistake. One factor that is arguably more important to your business in the long run is speed.
One provider may charge $50 for the service but take a day to complete it. Another provider may charge $200 but get the vehicle back to you in an hour. In the end, which provider is actually more costly? Likely the one that keeps a vehicle out of operation for an entire day.
Consistency
A maintenance service provider should provide quality work and do so consistently. Oftentimes, this comes down to whether the shop has a standardized process for maintaining vehicles. If not, the quality, cost and time to complete a service task may vary from one visit to the next.
Expertise
Your fleet likely has specialized assets like heavy-duty vehicles that you will want your service provider to have experience with. Verify that the maintenance provider can handle the scope of services you need and can create a preventive maintenance schedule specific to your fleet assets.
Communication
The bottom line is when you have an out-of-service asset, it needs to be addressed as soon as possible. It's important to have an open line of communication with your maintenance provider. For shops who integrate with your fleet management system, you can communicate approvals or view the status of repairs in a fleet management app.
Establish a point of contact at the shop so you have a direct line to someone you can ask questions throughout the day. As you form a relationship, this person will learn your communication habits and fleet makeup.
Parts and Labor Warranty
If service is conducted on an asset and the part fails on a trip following, is there warranty that will cover part replacement and the labor costs to replace it?
Keep in mind that labor warranty is typically offered by dealerships but is less common in most shops.
Insurance
Insurance may be an afterthought, but it is something you should never overlook. Find out what shop's coverage looks like. If damage such as a fire occurs in the shop and harms your assets, will you be covered? You do not want to find out the answer to this after the fact.
Parts Inventory
You should also know whether the shop has their own parts inventory. This can separate a good shop from a great one since it significantly affects turnaround time. It is not ideal if you have to wait a couple additional days for a part to come in before a repair is complete. A shop with its own parts inventory can complete repairs more quickly.
Consolidated Billing
If your fleet visits multiple service locations, find out if the service provider you are considering offers consolidated billing. With consolidated billing, no matter which location your drivers visit, all your service charges appear on one bill. This can save major time and headache on the backend.
How Fleetio does fleet maintenance
With a maintenance service provider that checks all of these boxes, keeping your fleet in top condition should already pose minimal difficulty. But by adding fleet maintenance software into the equation, managing outsourced maintenance becomes even more streamlined and stress-free.
Fleetio's fleet maintenance management system logs detailed service histories for every vehicle in your fleet. Users can upload PDFs, photos and other documents to centralize all of your service records in one easily accessible place. This allows your personnel to track repair orders, service task line items and costs anytime and anywhere.
And on the topic of repair orders, Fleetio's Maintenance Shop Integration enables organizations to manage service work without ever picking up the phone or receiving a surprise bill. Instead, Fleetio users can electronically review and approve repair orders at the line-item level, resulting in less time waiting on hold and no unwanted charges. When work is completed, detailed invoices are automatically uploaded to your Fleetio account, ensuring you have complete clarity regarding your maintenance costs.
Our maintenance provider network
Additionally, Fleetio users get to enjoy the benefits of our maintenance provider network of over 55,000 shops nationwide. Our ever-expanding network of national and independent shops offer exclusive discounts to Fleetio customers regardless of fleet size. From within the app, users can browse through a directory of the in-network shops in their area and view what discounts are available at each. And at the end of every month, Fleetio customers receive one consolidated monthly statement from all of their fleet maintenance vendors, making it easy to track their expenses.
Features and benefits
Keep comprehensive service histories for every vehicle in their fleet
Automatically reset preventive maintenance reminders and resolve issues
Electronically approve and reject repair orders at the line-item level
Eliminate unexpected charges for unrequested service work
Receive exclusive discounts from in-network maintenance shops across the US
Ready to take control of your outsourced maintenance? Learn more about Fleetio's fleet maintenance software or jump right in with a free trial.
FAQs
How do you maintain fleet vehicles?
The specifics of fleet maintenance vary between specialized vehicles, but you can't go wrong with following manufacturer recommendations and addressing small defects before they become major issues. Preventive maintenance can reduce a fleet's repair costs and even extend the lives of their vehicles.
How do I keep track of fleet maintenance?
A basic way to keep track of your vehicles' service needs is with a fleet maintenance spreadsheet that you manually keep up-to-date. Alternatively, with fleet maintenance software, you can automate much of that data management, share information more easily, and generate on-demand reports.
How much does it cost to maintain a fleet?
While fleet maintenance costs vary considerably depending on vehicle count, vehicle type and other factors, the benefits of preventive maintenance extend to all fleets. By taking the time to keep vehicles in top condition, fleets can reduce unplanned downtime to a minimum, resulting in significant savings over the long run.
How often should vehicles be serviced?
At minimum, vehicles should be serviced whenever their manufacturer recommends (usually every time a specified mileage or time interval is reached). You can use our preventive maintenance schedule template to track common service items, plan for upcoming service needs, and print a report for any vehicle you own.
---
It's important to keep in mind that selecting a fleet maintenance service provider is a process. You are committing to doing business with someone who has a major impact on your operations. If your fleet is not running, your business is not running.
Streamline maintenance, shop orders and billing with our fleet maintenance software and network of maintenance providers. Book a guided walkthrough to see how it works.