Maintaining fleet compliance ensures your organization avoids fines and keeps your assets safe on the road. Leveraging software to manage vehicle inspections and maintenance allows you to adhere to the Department of Transportation (DOT) regulations and stay compliant.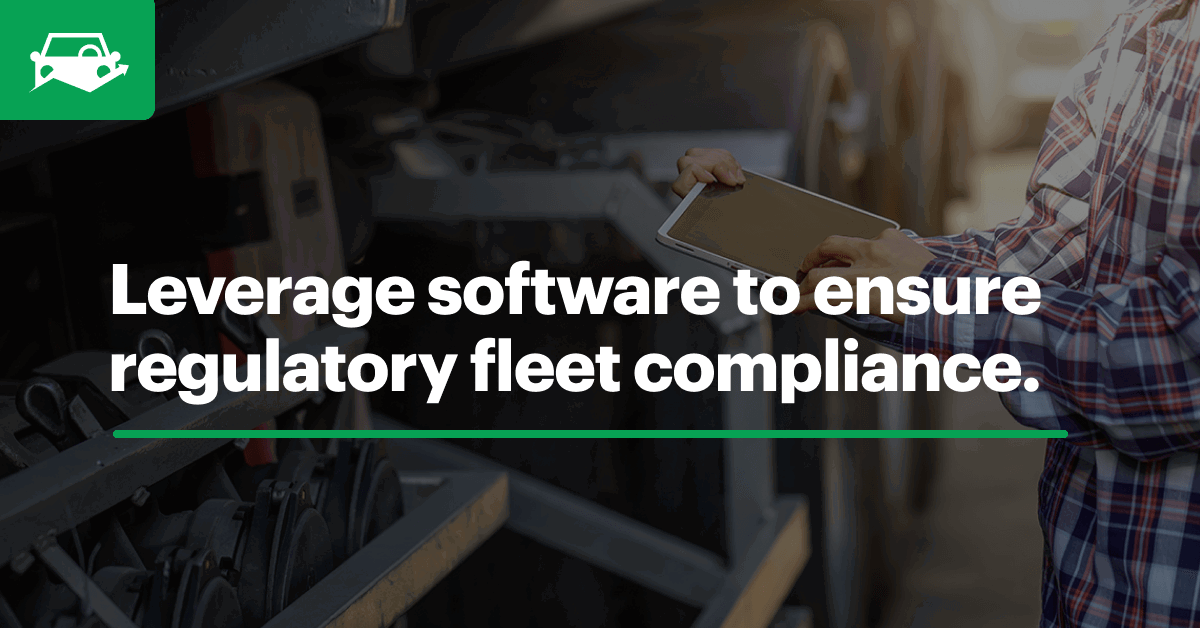 Most commercial fleet managers understand the importance of maintaining fleet compliance. Ensuring compliance keeps your drivers and assets safe while helping you avoid violations and fines.
What is fleet compliance?
True fleet compliance is when a fleet effectively meets or surpasses all of the standards and regulations set forth by the Federal Motor Carrier Safety Administration (FMCSA) and the Department of Transportation (DOT). Compliance should always be the end goal of any fleet, because it not only keeps fleets from being audited and fined, but also keeps vehicles and drivers safe.
Which businesses are subject to DOT and FMCSA standards?
Any company that operates commercial vehicles that transport passengers or cargo in interstate commerce are required to have FMCSA registration and a USDOT Number.
Fleet compliance regulations
While there is a lot to consider in the breadth of regulations that FMCSA and DOT outline, there are a few points within those regulations that fleet managers should prioritize to best set themselves up for success in fleet compliance, namely when it comes to inspections, repair and maintenance.
Required Records
All documentation should be maintained and current for a year, and for six months after a vehicle is sold or retired from the fleet.
Vehicle identification including company number, make, serial number, year, tire size, and ownership
A way to indicate inspections and maintenance history
A full record of inspection, repairs, and maintenance showing the date and what was done
A record of tests conducted on pushout windows, emergency doors, and emergency door marking lights (for buses or passenger vehicles)
Inspection Requirements
Reports must be completed and signed by the driver for any vehicle they operate, and it should identify the vehicle and any defects or deficiencies found in the inspection process. Any corrective action or repair should be noted on the inspection containing the issue and certified by the operator. Inspections should report on the following:
Service brakes including trailer brake connections;
Parking brake;
Steering mechanism;
Lighting devices and reflectors;
Tires;
Horn;
Windshield wipers;
Rear vision mirrors;
Coupling devices;
Wheels and rims;
Emergency equipment
Fleet compliance management best practices
Fleet compliance might seem like a pretty wide scale of concerns to cover, but there are a few key actions you can take with your fleet to ensure that you're checking all of the regulatory boxes and maintaining FMCSA and DOT fleet compliance.
Conduct Electronic Driver Vehicle Inspection Reports
Under FMCSA regulation 396.11, commercial motor carriers must complete and maintain records of Driver Vehicle Inspection Reports (DVIR). While completing daily DVIRs keeps you compliant, routine inspections also provide vital insight into vehicle conditions.
To maintain a complete record of fleet compliance and leverage inspection results for maintenance, many fleet managers take advantage of electronic DVIRs (eDVIRs) with driver inspection apps. Drivers can complete simple, thorough eDVIRs in a mobile fleet app, which means that Instead of trying to sort through messy paperwork in the cab for roadside checks and DOT audits, drivers have an easily accessible, complete history of inspection data on their mobile devices to prove fleet compliance.
Leverage Inspection Results to Initiate Maintenance Workflows
Conducting routine vehicle inspections allows your drivers to uncover any issues that could cause downtime or accidents. When issues arise, it's important to act quickly and begin scheduling maintenance to minimize any potential downtime or compounding issues.
Resolving maintenance issues quickly keeps your vehicles safe and helps your drivers avoid violations and fines. Even minor issues like broken tail lights can result in tickets, causing unnecessary paperwork and fees.
Set Fleet Safety Standards
The ultimate goal of fleet compliance is to ensure the safety of your drivers, your assets and the public. Implementing safety procedures is the best way to promote fleet safety and ensure your drivers and vehicles stay compliant. Consider setting safety standards that fit your fleet's needs. In addition to trucks and other vehicles, your drivers may also be operating dangerous equipment or heavy-duty vehicles.
Stick to Preventive Maintenance Schedules
Taking a proactive approach to maintenance ensures your vehicles are safe and road-ready. Creating preventive maintenance schedules and a fleet maintenance checklist for your vehicles ensures they are receiving routine service to ensure safety and maximize lifespan.
Adhering to a preventive maintenance program ensures your fleet meets warranty standards, stays compliant and is in safe operating condition. Instead of waiting for vehicle issues to arise, taking proactive maintenance measures keeps your fleet running smoothly.
Monitor Driver Behavior and Correct Unsafe Driving
Your drivers play a huge role in your fleet's safety. Having procedures in place for driver management, like encouraging safe driving behavior and vehicle monitoring, is a great way to ensure they stay safe and productive.
Out of the 29,921 CMVs inspected in 2020, 10,736 were issued warnings and citations. The most common violations were speeding and not wearing a seat belt. Stressing to your drivers the importance of safe driving and tracking driver behavior will help you maintain fleet compliance and avoid citations. GPS and telematics devices are great for tracking drivers on their routes and can even pinpoint unsafe driving habits, like harsh braking or speeding.
Benefits of using fleet management software to maintain compliance
Documentation is the best way to guard your fleet against breaks in compliance, and having a centralized location for all that documentation that you and your operators can easily access can mean the difference between smooth audits and hefty fines.
Fleet management software not only allows you to digitize your inspections process, but also keeps all of your inspection data stored in the app so you can find it whenever you need it. You can also sync your GPS and telematics devices so that you have access to diagnostic trouble code (DTC) notifications and other vehicle status information, as well as driver behavior.
Along with having complete data available, an integrated fleet management system allows you greater visibility into your whole fleet to create a more compliance-proof maintenance process. When issues arise in inspections or on the road, an FMS can help you get vehicles in and out of the shop faster with automatically generated digital work orders, streamlined approvals and better communication with technicians. You can also automate your preventive maintenance schedules, so that potential problems are caught well before they become a compliance issue.
---
Keep your fleet safe and compliant with Fleetio! Start your free trial or request a demo today.