Inspections can be one of the most important day-to-day pieces of the fleet management puzzle, as well as one of the most frustrating. Here's a brief rundown of inspections, why they're important, and how you can be doing them better.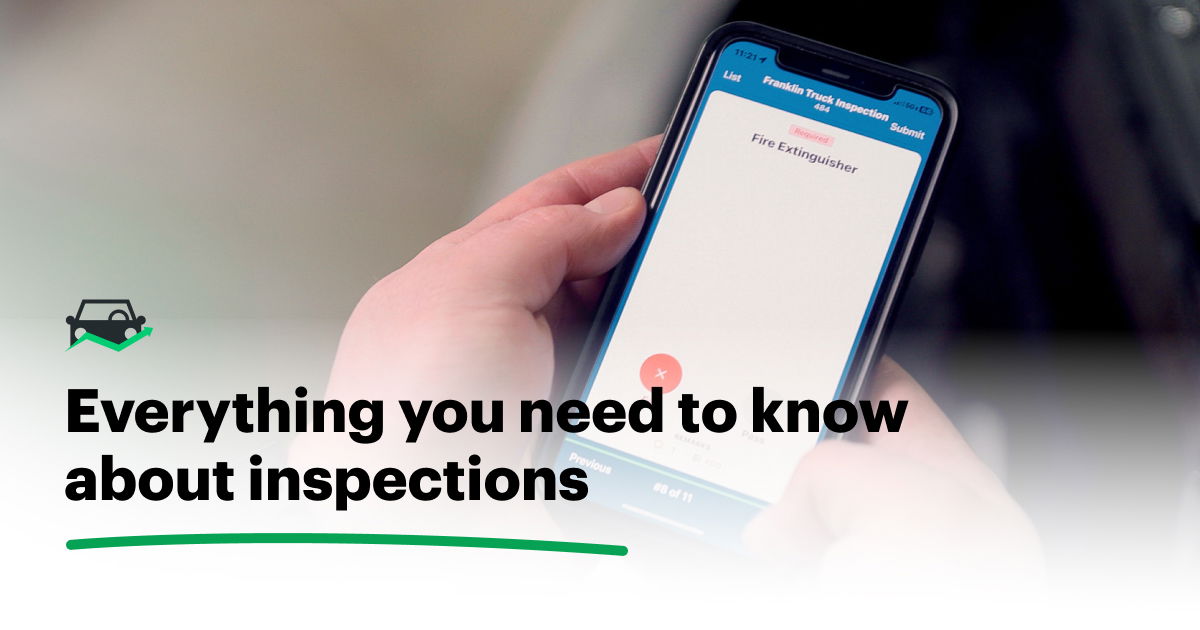 Importance of proper fleet inspection
Improves fleet safety – Using inspections as a means to ensure the continuous operating conditions of your vehicle means it's less likely to experience any major problems on the road, which in turn keeps your drivers and other motorists safe.
Reduces costs – Inspections let you keep tabs on a vehicle's day-to-day condition, so when things start to go wrong, you can intervene before it results in a roadside breakdown, saving you money and downtime.
Extends vehicle lifespans – Along with a good preventive maintenance program, inspections are one of the best tools for detecting early issues with an asset before they result in a greater problem that can retire a vehicle sooner than intended.
Maintains compliance – Daily driver vehicle inspection reports, or DVIRs, are required for most fleets in order to keep in line with state and federal regulations. Failure to do so can result in hefty fines and compulsory downtime, which can significantly impact your projects and operations.
Avoid unplanned downtime – When you keep up with regular inspections, it's unlikely that an issue with a vehicle will take you totally by surprise.
Who is responsible for fleet inspections?
It might be tempting to pit inspections solely on drivers, but while it is their responsibility to ensure that they're completed, it falls on the whole fleet organization to ensure that inspections are valued and maintained. When you create a culture that prioritizes the inspections process, it can improve driver outlook on inspections and encourage thorough adherence to inspection policies.
Realistically, a great deal of responsibility falls on fleet managers to make sure that inspections are being carried out on a daily basis. It's a fleet manager's responsibility to:
Set the standard for inspection completion and enforce that standard
Choose what goes into an inspection checklist and how it's presented
Maintain a log of inspections
Create a system for logging issues from inspections and generating work orders
Run a fleet maintenance program that can quickly follow up on failed inspection items
Much of what fleet managers dictate in their inspections process can set their fleet up for success – or it can create a ton of hurdles that encourage pencil whipping and lack of action on what could become costly issues with vehicles.
In addition to daily DVIRs, regularly scheduled inspections should be conducted throughout the vehicle's lifespan by technicians or maintenance crews, especially for heavy machinery.
How often should fleet inspections be conducted?
There are different levels of inspections that you can conduct, based on how often you do them and how in-depth you go. Here are our recommendations for inspection timelines:
Pre- and post-trip inspection
A daily inspection should be conducted by drivers for each day of a vehicle's operation, before it hits the road and after it comes back to the lot. These inspections should include checks for:
Visible damage to the body
Proper function of lights, steering, mirrors and brakes
Tire condition
Attachment of any hoses and caps
Fluid leaks
Damage to the interior of the cab
Monthly inspection
Once a month, vehicles should be checked by someone other than the drivers for:
Proper function of lights, steering, mirrors, and brakes
Problems reported throughout the month by drivers
Apparent issues like leaks or undue wear and tear
Issues that require immediate attention or scheduled repair
Quarterly inspection
Once every three months, vehicles should be inspected as they are on a monthly basis, with the addition of looking at components for replacement or repair like:
Hoses
Brackets
Filters
Brakes
Greases and lubricants
Any other issues reported in daily or monthly reports
Semi-annual
Every six months, vehicles should be assessed closely and all previously reported issues addressed. This is a great opportunity to gauge the overall state of your fleet assets and consider vehicle replacement timelines.
Pro Tip: Document Everything.
Inspections aren't just important for compliance purposes – keeping a well-maintained record of inspections and services that result from them can be an important data point for fleet managers in their daily functions.
Along with other important fleet management metrics, inspections are a trackable indicator of how your fleet is doing, and an important piece of historical information when issues arise. If a vehicle breaks down suddenly, inspections can often fill in the gaps for what may have happened, based on what a driver did or didn't indicate.
The role of fleet management software in inspections
When you use an inspection software like Fleetio to conduct and keep track of your inspections, you can make the process a lot simpler for your drivers, technicians, and yourself.
Paperless approach – Software enables drivers to ditch the clipboards and complete inspections right from a phone or tablet in a vehicle inspection app. Those inspections are then uploaded straight into your software and can be accessed from anywhere – no file cabinet required.
Customizable checklists – Set your criteria for inspections based on what your fleet needs and choose which fields are required.
Automated work orders – Send an issue straight to your shop as soon as an inspection item is failed, with no intermediary paperwork needed.


Start your free trial in Fleetio or request a demo today.