As the need for real-time collaboration has grown across industries, more organizations are seeing the benefits of fleet management software. Leveraging a mobile solution to track vehicle maintenance and expenses is the best way to increase fleet efficiency.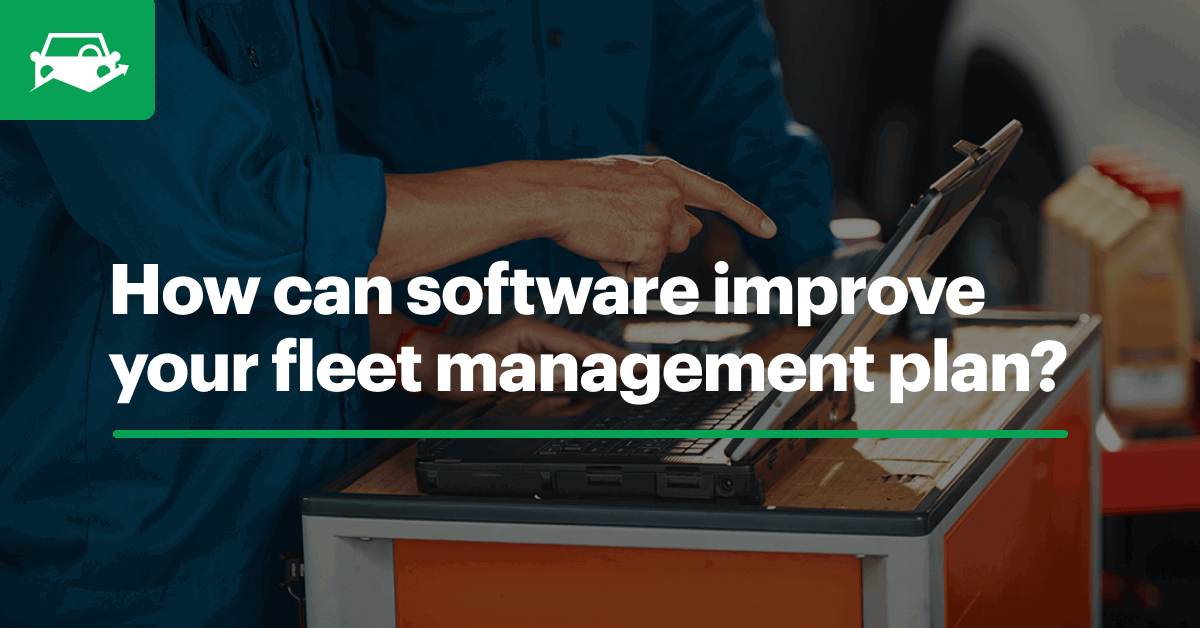 8 Benefits of a fleet management system
While there are many benefits of fleet management software, the overall value boils down to maximizing efficiency by having complete visibility into your operations. Leveraging software enables managers to track operations in real time and collaborate with their team to quickly resolve issues. Having a complete view of your fleet's data allows you to measure efficiency and make adjustments that will guarantee success. Here are a few key benefits that come when you leverage a fleet management system.
1. Remote fleet management
When working with spreadsheets or paper documents, it can be next to impossible for fleet managers to effectively manage their operations without physically being on-site. But thanks to the real-time visibility provided by fleet management software, remote fleet management is not just possible, but highly effective. Automatic notifications and customizable dashboards keep fleet managers in the know at all times. On top of that, mobile apps enable fleet managers to access important information at any time and from anywhere.
2. Increased vehicle lifespan
While every fleet vehicle must eventually be replaced, consistent preventive maintenance (PM) can keep aging vehicles operational (and cost-effective) for well into their golden years. Fleet management software helps organizations more effectively address their vehicles' service needs so that minor defects don't snowball into debilitating breakdowns. Anytime access to service histories helps technicians diagnose problems faster and can be used by fleet managers to set PM schedules. Additionally, automatic maintenance work reminders ensure important service tasks don't end up forgotten.
Improve your fleet management processes
Discover how our powerful software can help you take control of your fleet management operations.
Learn more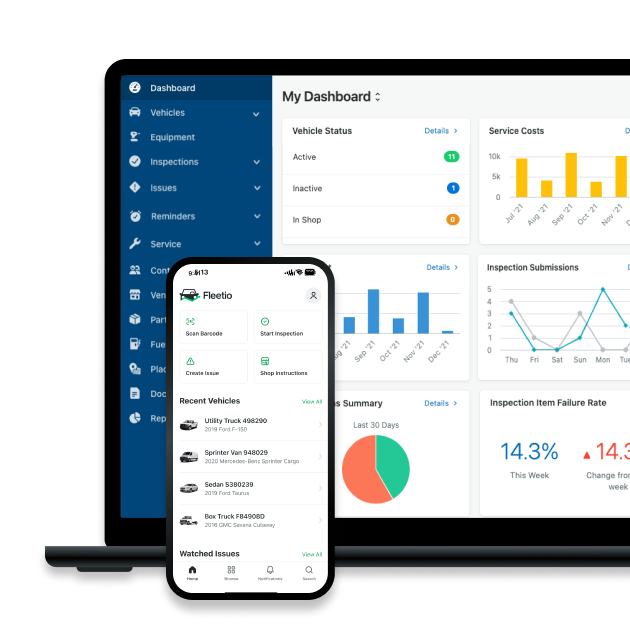 3. Increased safety
By connecting their telematics data into their fleet management system (FMS), fleet managers can monitor how their drivers behave behind the wheel. When speeding and other reckless driving is detected, FMSs can automatically notify fleet managers via SMS or text. From there, fleet managers can enact whatever training or disciplinary measures they deem necessary.
4. Improved driver performance
In addition to improving safety, FMSs can also be used in conjunction with telematics to improve inefficient driving behavior. For instance, telematics devices are capable of detecting vehicle idling, overly harsh braking and other practices that result in needless fuel consumption. By notifying fleet managers that such behavior is occurring, FMSs enable fleets to curb such inefficiencies.
5. Greater customer satisfaction
When fleet vehicles break down on the way to a job, customers are negatively impacted as well. By reducing unplanned downtime and providing more accurate ETAs, FMSs can also lead to better customer experiences and, in turn, greater customer satisfaction overall.
6. Improved document storage
Fleet management software provides organizations with a far more effective means of storing important documents. Instead of having to grapple with paper documents that can be easily lost or damaged, accessing important files is as simple as a few clicks with an FMS. This is especially beneficial when it comes to keeping warranty documentation instantly accessible.
7. Theft and misuse prevention
Telematics and FMSs can also be used to detect misuse of fleet assets. When an asset enters an unauthorized location or is operated after hours, FMSs can instantly notify fleet managers so they can take immediate action. Paired with the GPS capabilities offered by telematics, FMSs can also expedite the recovery of stolen vehicles.
8. Reduced overtime
Without software, it's easy for fleet managers to lose track of their drivers' hours of service (HoS) and end up requiring overtime to complete jobs. But with the help of fleet management software, abiding by HoS guidelines and developing more effective driver schedules is much easier.
See why Fleetio is the right fleet management software for your fleet
How Does Fleet Management Software Maximize Efficiency?
As a fleet manager, you understand the importance of time management. Your fleet's success hinges on asset uptime. A fleet management system keeps your fleet efficient by enabling communication, eliminating time-consuming data entry and automating workflows.
Encouraging Collaboration
Communicating with your team in the field can be challenging and result in inaccuracies that can halt productivity.
Instead of playing phone tag with your team or sending them off with paper to-do lists, fleet management software is a central hub for collaboration. Fleet managers can bridge the gap between field and office to stay informed of issues and efficiently manage maintenance tasks.
Your team can comment on inspections, work orders, vehicles and more to keep stakeholders informed. Eliminating communication gaps with the help of software allows fleet managers to connect with their team to efficiently resolve issues.
Streamlining Maintenance Workflows
One of the benefits of fleet management technology is the ability to improve your maintenance process. By tracking fleet maintenance electronically, you can track technician productivity, asset health and repair expenses in a single system.
To avoid downtime and maintain efficiency, fleet managers can set service reminders for preventive maintenance schedules, ensuring assets are routinely serviced to ensure good operating condition.
Fleet managers can also save valuable time with work order software. When issues are identified, managers can create and assign work orders to begin the repair process. Mobile work orders keep your team in sync and help avoid miscommunications that can set back repairs and increase downtime.
Improve your fleet's maintenance compliance, try Fleetio for free
Conducting Electronic Inspections
Paper vehicle inspections have long been the norm for fleets to identify issues and maintain compliance. Unfortunately, paper inspection forms are often damaged, misplaced or not delivered for weeks at a time. This can slow down your maintenance process, as well as result in downtime.
Electronic vehicle inspections are a key benefit of fleet management software. Drivers can conduct thorough inspections on a mobile app and upload results instantly into a centralized database.
When an inspection item fails, fleet managers are instantly alerted to begin troubleshooting. Staying informed of issues allows you to proactively manage maintenance and increase fleet efficiency.
How Does Fleet Management Software Enhance Visibility?
With your fleet constantly on the move, you must have a way to view assets in real time. This can be nearly impossible without technology.
A major benefit of a fleet management system is the comprehensive view of asset health and expenses on a single platform. Monitoring fleet performance in real time allows you to make informed management decisions to ensure your fleet's success.
Analyzing Fleet Metrics
Surfacing and analyzing data can be challenging with outdated systems. Sifting through spreadsheets and crunching numbers on a calculator is mentally taxing and often doesn't produce valuable results.
Instead of spending hours on manual data entry with no payoff, software automatically aggregates your maintenance, utilization and expense data in real time. Fleet managers can create and share configurable reports on virtually any fleet metric to monitor success.
Integrating With Other Business Systems
You may already be leveraging another resource, like telematics devices or fuel cards, to track fleet data. These solutions can provide excellent insight, but connecting that data with other areas of your fleet can be challenging.
Integrating other tools with fleet management software provides a complete view of fleet health and performance in real time. All information is automatically imported into your fleet management system, allowing you to leverage this data throughout your fleet management process, from maintenance reports to fleet cost analysis.
Successfully adopt your new fleet management system
The implementation period of a new fleet management system is the most important. Learn which steps to take to get the most out of your new fleet management software.
Download now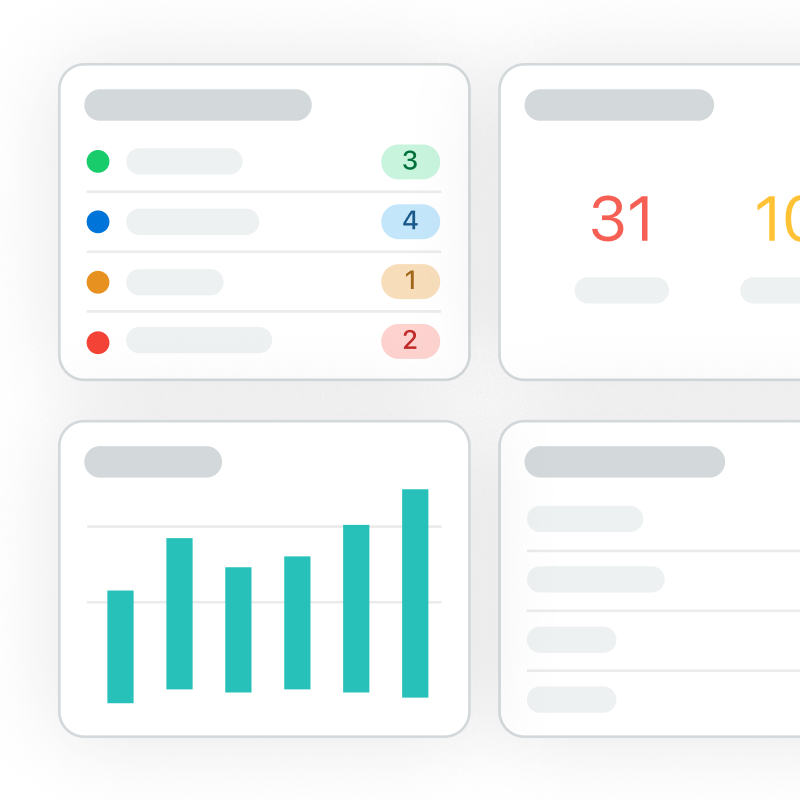 Controlling Expenses
Many fleet managers struggle with maintaining an accurate view of expenses to control their bottom line. Tracking real time fleet costs is nearly impossible if you're manually entering data from receipts and invoices into a spreadsheet.
Fleet management technology eliminates manual data entry and provides a complete view of fleet operating costs. By tracking expenses in real time, fleet managers can easily track budgets and get an accurate calculation of their total cost of ownership (TCO).
Analyzing expense reports for areas like fuel and maintenance can help identify overspending. With comprehensive expense insight, you can better allocate funds to control your fleet's bottom line.
Making Data-Driven Utilization Decisions
We've talked a lot about how fleet management software provides complete visibility into your operations. Having actionable data enables you to make a fleet management plan that maximizes efficiency and profitability.
Tracking asset utilization and performance is the best way to gauge the efficiency of your vehicles and equipment. Leveraging data like cost-per-mile and maintenance expenses can help you monitor how your assets perform and whether their operating costs are negatively impacting your bottom line.
---
See the benefits of Fleetio's total fleet management system for yourself. Start your free trial of Fleetio or request a demo today!
FAQs
What is the purpose of a fleet management system?

By providing complete visibility of their vehicles and associated expenses, fleet management systems enable organizations to control their costs and monitor their operations more effectively. Streamlined inspections and tools that facilitate collaboration enable fleet personnel to perform work more productively. And for fleet managers, dashboards and robust reporting tools enable them to identify and address areas of inefficiency.
What features should you look for in a fleet management tool?

There are a wide variety of fleet management tools on the market, each aiming to address different pain points through different [features](/solutions/fleet-management-software). Because of this, when exploring different fleet management software options, you should look for solutions that best suit your organization's workflows and challenges. That being said, a good baseline of features for most fleet management tools include the ability to administer driver schedules, view vehicle service histories, track costs and run a variety of reports.
What industries rely on fleet management software?

If an industry involves vehicles in any way, it has organizations that rely on fleet management software. From agriculture to airlines and every industry in-between, the need to keep track of vehicles and their associated costs is ubiquitous, which means dozens of disparate industries all rely on fleet management software.