Going with your gut doesn't always make the most business sense. That's why you should be using fleet metrics to guide business decisions and optimize daily operations. But your fleet generates tens to hundreds of metrics per day, so how do you successfully record, monitor and analyze all these data points?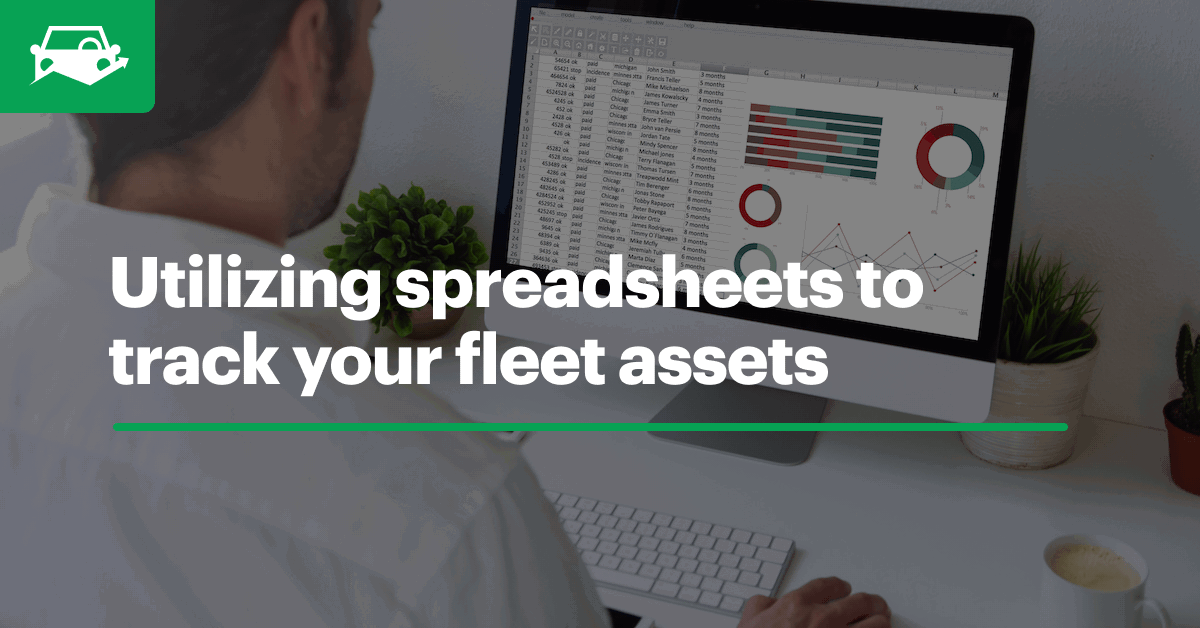 In this first post of a two-part series , we will address how to track fleet data using spreadsheets.
Business worldwide is becoming more data-centric. Data helps your fleet increase safety, streamline maintenance, improve fuel monitoring and more, but setting up effective data processes using spreadsheets can be difficult.
We've already done the heavy lifting. Download our free fleet maintenance spreadsheet template to get a head start on tracking your fleet data.
It is easy to get overwhelmed as the number of data points increase and data entry falls through the cracks. Below, we have outlined five steps to creating an effective data process that you can stick to:
1. Identify your key fleet metrics
First thing's first—determine useful metrics you want to track. You could have one million data points in your spreadsheet, but if they tell you information about your fleet that you already know or can't act on, those data points are useless. Quality over quantity.
Some of the top fleet metrics you should consider measuring include:
Cost/meter - Identify which vehicles cost the most to operate per mile or kilometer

Fuel economy - Compare expected vehicle MPG with recorded MPG

Issue tracking

Monitor service schedules to determine if the maintenance team is keeping up with preventive maintenance
Record vehicle issues and frequency over time to create vehicle repair history

Lifecycle cost or Total Cost of Ownership (TCO) - Track vehicle operating costs to pinpoint vehicles for remarketing

Accident frequency and cost - Maintain a record of accidents to track fleet costs and identify potential root causes

Asset utilization - Identify vehicles that may be underutilized

Parts and labor costs - Track expenses and determine whether you're balancing parts with labor costs
2. Create data collection processes that work for your team
Data collection must be a part of daily fleet operations for everyone touching the fleet—drivers, maintenance techs, fleet managers, etc.
This step is probably the most difficult to execute because it depends on consistent, accurate participation from multiple or all fleet team members. For example, a Class 8 truck has an average tank size of 215 gallons and consumes 12,889 GGE annually. A driver would need to record gas refueling data five times per month or 60 times per year to maintain vehicle fuel information. And when you multiply that number by the total number of drivers in your fleet, the number of data points you're relying on drivers to accurately record adds up quickly—that would be 600 annual fuel entries for just ten fleet drivers.
Data points continue to rack up as you record more and more fleet metrics. On average, Fleetio users each generate 1,584 fleet data points annually from fuel entries, issues and service entries. That would be a lot of data to record, log and analyze manually!
3. Log data in a simple spreadsheet
As data points are recorded, log and organize everything into one spreadsheet (with as many tabs as needed) daily or at least weekly. Keep only a few people responsible for this task to maintain accountability, organization and to avoid confusion.
Our free spreadsheet template is built in Google Sheets – allowing multiple users to access and update your data simultaneously – but can be exported for use in Excel or other spreadsheet programs as well.
No matter which tool you use, remember that the most common source of data inaccuracy is logging data into a system, so log data carefully and ideally double check your entries.
4. Analyze your data
Once you've been accumulating data points, start analyzing. Set aside time at least every month to review your data. This step is crucial. Spend valuable time here crunching the numbers, and it will pay off.
Use spreadsheet formulas to streamline any necessary calculations for your analysis. Google your way to victory. If you aren't sure how to calculate a certain data point or perform a certain function in your spreadsheet, odds are someone else has had a similar question. You can check out blog posts, forums, etc to see if you can find anything useful.
5. Act on data
With these data processes in place, you now have a baseline for your fleet performance. The next step is to start experimenting with tweaks to daily operations. For example:
If you discover that drivers are spending too much time on pre- and post-trip vehicle inspections, does switching to electronic inspection forms make sense for your team?

If your drivers are getting into accidents frequently, how can you better track and score their habits and performance?
Become a data-centric fleet without the headache
Feeling dizzy yet? You've probably noticed that these steps are achievable but require significant time and effort daily from all fleet team members.
If you truly want to be a data-driven fleet, your best bet is to bypass spreadsheets and move to a cloud-based Fleet Management Software (FMS) . Benefits of a FMS in regards to data include:
Data updated in real-time—no more data entry

At-a-glance dashboard including monthly fuel and service costs, cost per mile and number of overdue inspections and item failure rate

Reports generated including fuel summary, failures report and asset utilization summary

Fuel information and odometer readings uploaded automatically with fuel card integrations

Manual data entry mistakes like odometer readings flagged

Vehicle specs automatically uploaded with VIN Decoding

Trip location and driver behavior scores over time
Editor's note: This blog post was originally posted in March 2017 and has been updated for accuracy and relevancy.
---
Schedule a demo of Fleetio or start a free trial today to get deeper insights into your fleet data!
Check out part two of this blog series where we outline how to interpret your fleet metrics.