When you have dozens or hundreds of vehicles in your fleet, it can be difficult to keep up with maintenance needs for each of those vehicles. Creating auto service reminders allows your fleet to take a proactive stance on maintenance, boost technician productivity and limit downtime.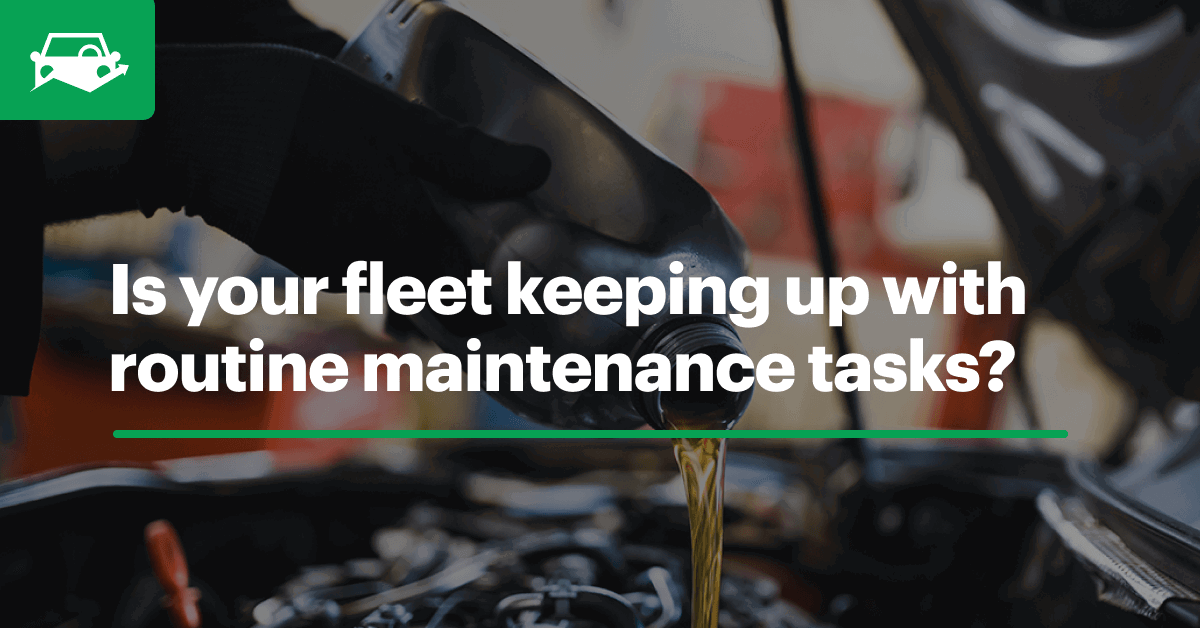 The Benefits of Auto Service Reminders
Fleet managers know the importance of routine vehicle maintenance, but many fleets have difficulty maintaining a system for auto service reminders. Tracking all of your vehicle's maintenance needs can be a challenge without efficient management solutions.
Many fleets still use whiteboards and messy calendars to track upcoming vehicle or equipment service. While these methods may sound useful enough, they often create confusion and inefficiencies. Aside from a lack of organization, your team is often dispersed, causing you to waste valuable time playing phone tag to get drivers into the shop on time.
Leveraging a collaborative fleet management software provides your entire team a complete view of service schedules to eliminate communication gaps and streamline maintenance. Fleet managers can create auto service reminders based on odometer readings and hour intervals to ensure all service is completed on time.
Instead of tracking down drivers to get them into the shop, due soon reminders are visible to drivers in a fleet management app no matter where they are. Even with your team spread out across the map, auto service reminders ensure your vehicles receive routine service to avoid unnecessary downtime and expenses.
Sustaining Preventive Maintenance Schedules
Creating preventive maintenance schedules for your fleet not only maximizes uptime, but it also helps lengthen the lifespan of your assets. Modeling your preventive maintenance schedule on each vehicle's OEM guidelines allows you to get the most out of your assets and gain the best return on investment (ROI).
Utilizing fleet management software allows you to automate vehicle service reminders to comply with OEM guidelines and keep up with routine repairs. Fleet managers can also bulk import VINs to retrieve OEM maintenance schedules and 90+ vehicle specs. This saves you hours of tedious data entry while also ensuring your preventive maintenance schedule is designed to succeed.
Once a schedule is set, fleet management software can automatically send vehicle service reminders based on hour intervals or odometer readings. Drivers can make updates in a mobile app, or fleets can further automate this process by leveraging telematics integrations to receive instant odometer updates in their fleet management software.
While creating a preventive maintenance schedule enables you to automate tasks, your fleet is constantly evolving. It's important to consistently measure the performance of your fleet maintenance plan to determine if there's room for further improvement.
Fleet management software stores a comprehensive record of all service history to help you analyze productivity, expenses and other fleet metrics. Fleet managers can take advantage of standardized service reporting, which provides actionable insights to refine your maintenance schedule and improve service quality.
Leveraging Telematics Tools for DTC Alerts
We discussed using telematics devices to upload real-time odometer readings and trigger auto service reminders, but telematics tools are also useful for alerting you to other issues. Even with a strong preventive maintenance schedule, vehicles are likely to experience issues on occasion. While most issues are uncovered during vehicle inspections or routine maintenance, certain issues may go unnoticed.
Integrating your telematics system with fleet management software immediately alerts you to diagnostic trouble codes (DTC) and engine fault alerts. These notifications allow you to uncover issues quickly and instantly start the maintenance process.
Fleet managers can link DTC alerts to initiate electronic work orders, providing clarity to maintenance technicians. Fleet management software also maintains a record of all DTCs to help you spot maintenance trends across your fleet and take proactive steps to manage them.
Tracking Recall Alerts
In addition to usual preventive maintenance reminders, fleet management software provides comprehensive auto service reminders to alert you to any necessary maintenance needs. Fleetio integrates with the National Highway Traffic Safety Administration (NHTSA) to alert you to all reported safety recalls on your fleet vehicles.
Fleet managers can receive immediate email alerts and view detailed recall reports. All recalls are added to vehicle records, ensuring these issues don't go unnoticed.
Instead of waiting for a manufacturer's notification in the mail, you're able to receive instant notification and act quickly. Managers can create issues based on safety recalls and schedule maintenance with the dealer before others to avoid increased downtime and delays in the shop.
Automating Inspection Failure Workflow
Regularly monitoring asset conditions through vehicle inspections is a key aspect of successful fleet management. Inspections can often uncover issues to be addressed during repairs.
To eliminate communication bottlenecks and receive inspection results instantly, fleets can employ the use of a mobile app to conduct vehicle inspections like electronic DVIR (eDVIR). Drivers can conduct thorough inspections and communicate issues immediately.
When an inspection item fails, fleet managers are notified via email and can create issues and work orders based on inspection failures. This empowers you and your team to take a proactive approach to maintenance, manage repairs quickly and maximize vehicle uptime.
[![service-reminder-cta](https://marketing-cdn.fleetio.com/images/blog/service-reminder-cta.png)](/pricing)
Consolidating Reminders With Service Programs
You may manage multiple types of vehicles in your fleet. While auto service reminders are an integral part to proactive fleet maintenance, creating a service schedule for each of your vehicles can be time-consuming.
To save time and consolidate service reminders, fleet managers can standardize service intervals with Fleetio's Service Programs. Instead of managing vehicles one by one, managers can apply a set of preventive maintenance tasks to multiple vehicles at one time. By managing vehicle maintenance with Service Programs, you organize and assign service tasks in bulk to eliminate hours of data entry.
Auto service reminders and preventive maintenance schedules take the guesswork out of fleet maintenance and ensures service is completed on time. This proactive approach reduces unnecessary maintenance expenses and helps lengthen asset lifespan to maximize your ROI.
---
Fleetio automates service reminders to improve your maintenance schedules! Start your free trial or request a demo today!