Routine maintenance is essential to keeping your fleet running. But how do you determine when is the best time for maintenance? Consider relying on your original equipment manufacturer's (OEM) recommendations and fleet management software.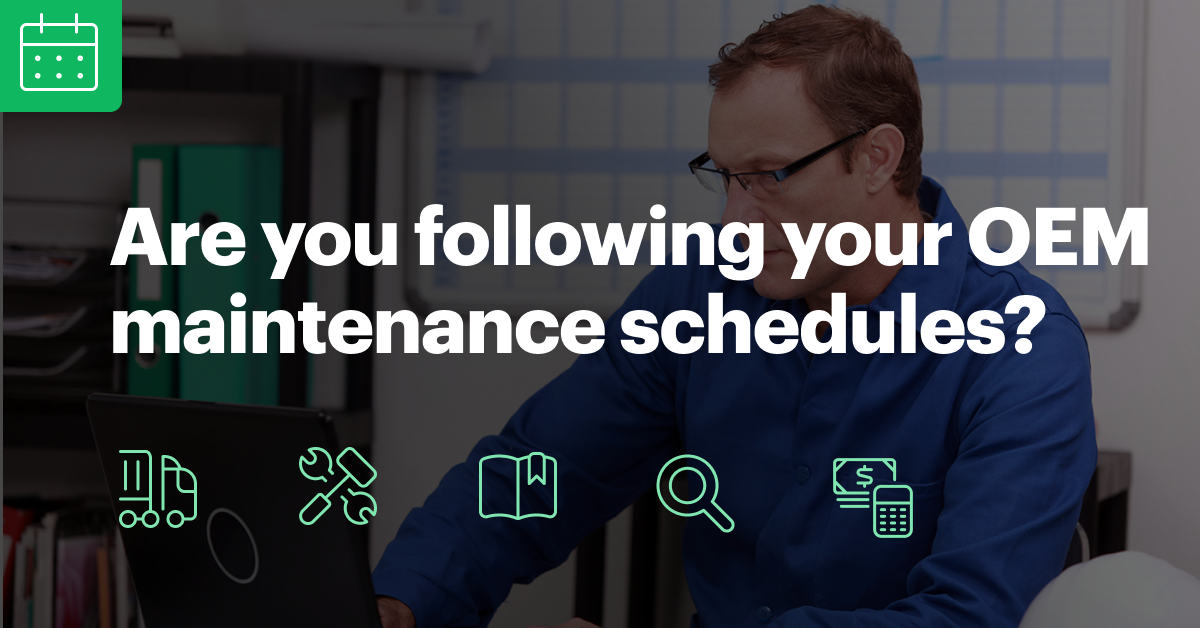 Understanding OEM Recommendations for Fleet Maintenance
We've all heard the expression mother knows best. Valuable experiences and wisdom are collected and passed down as guidance. The same is true with your fleet and equipment manufacturers. OEMs design the parts that comprise a mobile asset and enable its functionality. So when it comes to your fleet vehicles and maintenance schedules, OEMs usually know best.
Many have predisposed solutions for how often maintenance should occur. For years it was assumed that oil changes should be conducted every 3,000 miles. However, modern vehicle equipment has evolved and parts last longer.
Continuing to preach this is more of a savvy move by mechanics than the vehicle's actual need. Generally, a vehicle produced in the last decade can go 5,000 to 7,000 miles or more before replacing the engine oil. Of course, the type of engine oil you use and the vehicle will play a role in determining when the oil should be changed.
That said, you want to model your fleet's maintenance schedules off of your OEM recommendations rather than preconceptions. This will ensure you get the most out of your fleet vehicles and gain the best return on investment.
Where to Find OEM Maintenance Recommendations
You might ask yourself, where can I find my OEM maintenance recommendations? Most vehicle owner's manuals have a preventive maintenance schedules section. For fleet managers, finding the correct OEM preventive maintenance schedule is just the beginning of the workflow.
If you have a fleet with various mobile assets, it would be highly inefficient to manually record and manage all of the necessary schedule data. Plus, imagine how much time it would take to constantly check when service might be due for a vehicle.
Instead, you can use fleet management software to not only locate your specific vehicle's maintenance schedules but also expedite the servicing process. Fleet software allows you to automate necessary tasks so you can focus on more pressing duties.
Using Fleetio to Manage OEM Service Schedules
Trying to manage maintenance service schedules for your entire fleet is rather difficult without the right solution. Spreadsheets and outdated software rely heavily on manual data entry and don't have the proper tools to keep you informed.
You can ensure you're following your fleet vehicle's OEM recommendations and getting the most out of your mobile assets through fleet management software. With Fleetio's fleet management software, you can even use your vehicle's Vehicle Identification Number (VIN) to access the recommended manufacturer's service schedule.
This allows you to create preventive maintenance schedules and have notifications sent to your inbox when the recommended service is due. These schedules can be configured to fit the variety of mobile assets in your fleet and tied to work orders to ensure servicing is done promptly. It's visibility into critical data like this that enables you to take a proactive approach when managing your fleet.
Want to learn more about fleet maintenance? Check out our webinar about vehicle fluids and maintenance schedules hosted by Bridgestone and Illinois Tool Works.
[![oem-maintenance-schedules](https://marketing-cdn.fleetio.com/images/blog/oem-cta.gif)](/pricing)
Adhering to OEM Maintenance Recommendations
Maintenance is not only important to keep your fleet running, but it's also one of the largest ongoing costs you incur. While some fixed costs like insurance, taxes and registration are out of your control, maintenance costs can be mitigated.
Following your OEM's preventive maintenance schedule recommendations dramatically decreases your chances of incurring more significant repairs. You'll also avoid dreaded unplanned downtime which can have a much greater impact on your bottom line.
Another reason to follow your OEM maintenance schedules is to guarantee vehicle warranty coverage. Spending to replace parts or vehicle components is the last thing any OEM wants to do. However, there are steps to ensure your vehicles remain under factory warranty.
An OEM will honor warranty coverage as long as you follow their specific maintenance recommendations. This might include servicing only at certain locations such as dealerships or specific mileage milestones for maintenance.
To maintain your warranty coverage, you'll want to keep all of your maintenance records as proof. Fleet management software like Fleetio makes this easy to keep track of and access anytime.
---
See how Fleetio can help you take the necessary steps towards effective preventive maintenance. Start your free trial or request a demo with one of our fleet maintenance experts today!