Consolidate and standardize Service Reminders across your entire fleet.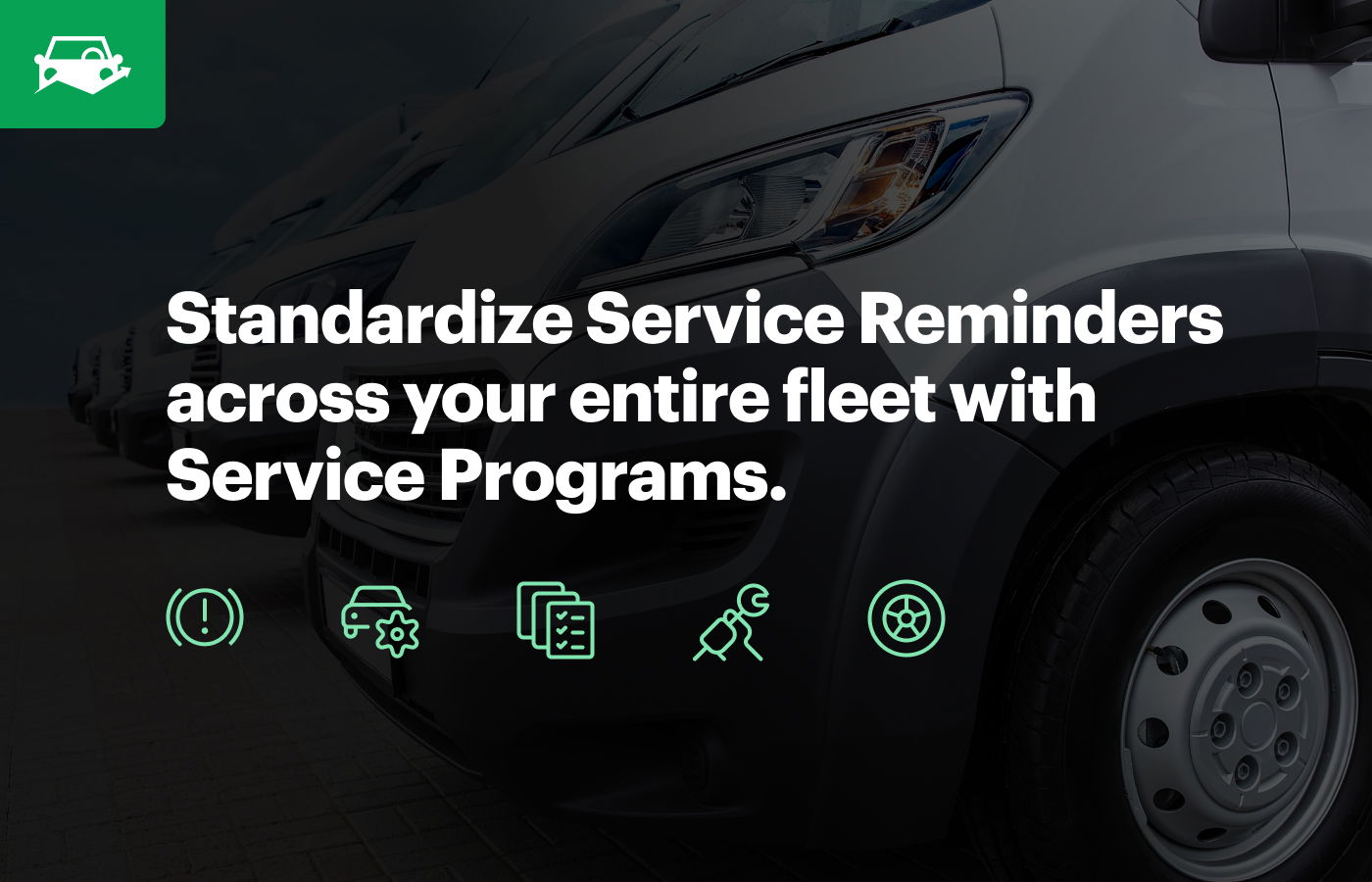 Manage Service Across Your Fleet Efficiently With Service Programs
This upcoming year, we've made it a goal to make our product easier to use than ever before and expand our preventive maintenance capabilities to help you reduce your breakdown events and overall maintenance costs. We've gathered feedback from our customers and, as always, we continue to enhance our product based on their feedback.
Many of our customers have a desire to increase their preventive maintenance compliance to reduce expensive unexpected breakdowns. They want to easily manage PM programs across their fleet and efficiently apply the proper program to each of their vehicles. Service Reminders are critical to your preventive maintenance program and ensure that your vehicles stay up-to-date with their OEM recommended maintenance schedules so that you can reduce breakdowns and ultimately, your total cost of ownership. Creating and applying service reminders to each individual vehicle is a common pain point that our customers spoke to, and we synced up as a team to determine a solution in which customers can save time, while still receiving service reminders on an accurate and timely basis.
Accordingly, we're excited to introduce Service Programs. Service Programs empower you to decrease downtime and maintenance costs by ensuring your vehicles are following a proper and accurate service schedule. The PM needs of your fleet vehicles likely vary between make, model and different asset types. With service programs, define when PM services need to be completed based on specific asset attributes to standardize service intervals for similar assets. Whenever a new vehicle is added to your fleet you'll be able to easily add it to a particular service program you have already set up.
Simplify the process of adding and managing service reminders across your fleet using Service Programs. Remove tedious tasks that can take hours to do by editing service reminders across your fleet and in bulk. Easily edit time and mile intervals and due-soon thresholds all within your service program. Adding, editing, and removing service reminders across your fleet can now be done in just a few clicks!
Managing service can be one of your most time-consuming tasks and it's crucial to have a flexible and organized way to track your assets when they are due for preventive maintenance. Fleetio's Service Programs feature not only helps you manage service, it helps you remain compliant and reduce your service costs.
---
Fleetio's software is a convenient and easy to use solution to manage your fleet records and operations. Start your free trial or request a demo with one of our experts today!