Asset usage is a metric that can heavily impact several other fleet data insights, including maintenance and fuel. And with the rise of connected vehicles, there are more ways than ever to collect usage data. Understanding how to collect asset usage data and from where, as well as its role in fleet reporting, can give you better control of asset maintenance and related spending while providing insights to extend asset lifespans and determine potential problem areas.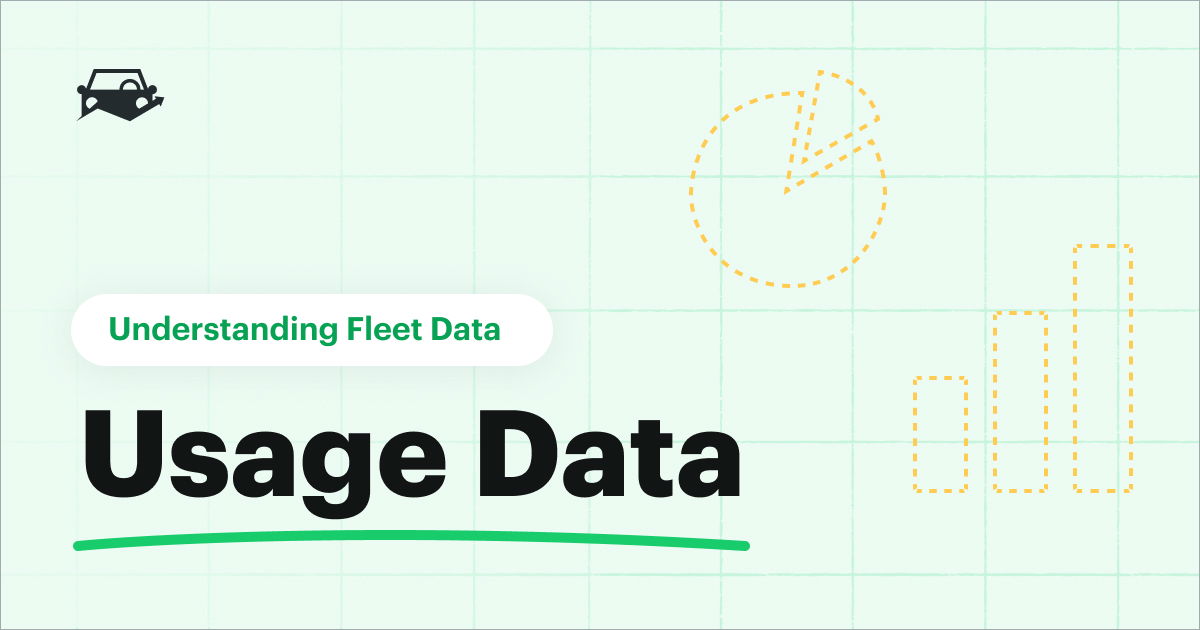 Fleet management software (FMS) and solutions work in conjunction to give users powerful insights into the health and operation of their fleet. As more software integrations become available — including finance, human resources and other organization-wide integrations — so does the potential to get bogged down in data. Understanding Fleet Data is a series where we break down the different types of fleet data you can glean from FMS and other solutions to give fleet managers a better understanding of:
What data is collected from what source
How collected data interacts to provide in-depth insights for proactive actions
How to apply insights practically to improve fleet operations
In this post, we'll be focusing on asset usage data, including why it's a metric worth tracking and how it affects other aspects of fleet.
Leveraging Spreadsheet Data
What is fleet data? When you think about that question, does asset usage top the list? Is it even in your top five metrics? A lot of time, asset usage plays second fiddle to other metrics, but it's something that impacts your whole fleet and really helps hone in on overall fleet utilization.
Asset usage tracking has become more prevalent now that easier methods of tracking are available, and fleets are beginning to see the value in it. If you're still using paper and/or spreadsheets to track fleet data, you can still track asset usage by:
Pulling odometer/hours readings from vehicles and equipment or pulling that information from daily inspections for those assets
Pulling asset assignment logs and cross-referencing against asset check-in/outs
Pulling fuel logs to cross-reference fuel consumption against hours logged, odometer readings and asset assignments
While this method of information gathering is adequate, it's not very precise nor does it really afford data-driven fleet management. The better usage data you get, the better you can strengthen preventive maintenance (PM) schedules, cut down unnecessary fuel spend, improve asset utilization — which is doubly beneficial when trying to right-size your fleet — understand optimal replacement windows for your assets and realize your fleet's total cost of ownership (TCO).
Let's take a look at a few automated methods for usage tracking, as well as how you can use that data to improve fleet operations.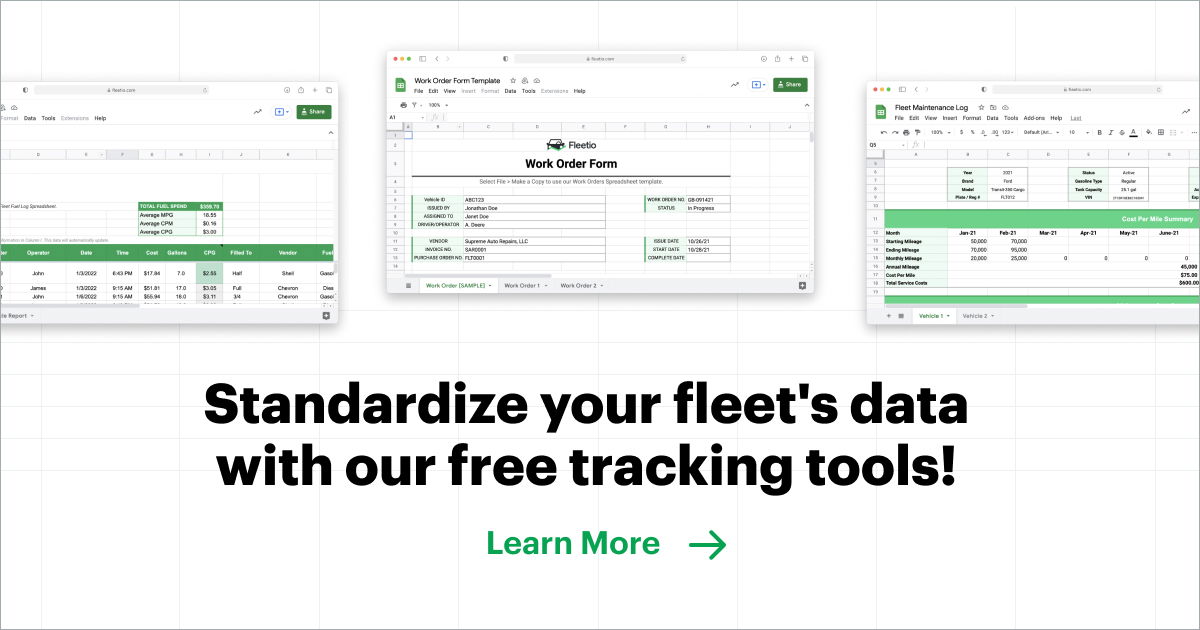 Leveraging Telematics Usage Data
Telematics is a great way to track equipment and vehicle usage data in real time through on-board diagnostics. Telematics tracks such usage-related data as ignition start and cutoff, plus hours run in between, including true and operational idle time, as well as distance traveled. While tracking equipment usage might look a little different than tracking vehicle usage, the gathered data leads to the same end result: increased efficiency. Let's look at a few asset-specific data points and how tracking those can benefit your fleet:
Engine run hours/odometer readings: For vehicles and equipment, odometer or hour meter readings are probably the most popular and easiest metric to track regarding asset usage. While this information can be gathered manually or recorded through asset inspections, telematics automatically pulls mileage/hours straight from the assets for more reliable, real-time data. This data typically comes from the telematics device monitoring ignition on/off.
True and operational idle time: Unnecessary idling can age a vehicle faster, reduce its performance and tank its resale value. Tracking vehicle idle time and discerning between true and operational idle time can help you determine where unnecessary idling can be cut down, whether through route optimization, driver coaching or using proper on-site tools and equipment. Monitoring operational idle time additionally helps you track which assets may be over or under used, allowing you to adjust to maximize asset lifespan and asset utilization.
PTO hours: There are several benefits to tracking power take-off (PTO) usage. Not only is this data point helpful with navigating true and operational idle time, but it also gives you the usage data (hours run) of the equipment it powers.
Fuel consumption: Fuel consumption is the metric that keeps on giving. In addition to helping pinpoint driver behavior issues and maintenance concerns, monitoring fuel consumption helps with asset usage tracking. If you're looking at your hour meter or odometer reading reports and the associated fuel consumption for the asset in question is too high or too low, there may be an issue. Having a baseline for fuel consumption for each asset to compare against — whether by job, by route or by hours in use — and using that historical fuel data can help you really dive into asset usage.
Integrating telematics with FMS provides data consolidation of key fleet management metrics. FMS aggregates raw data from various sources — whether manually input or automatically gathered through integrations or application programming interfaces (APIs) — to generate robust reports you wouldn't be able to get if your data was siloed. Integrating fleet technologies with FMS offers the added benefits of automating easy-to-read reports and providing a customizable dashboard so you can ensure all the information you need is right at your fingertips.
Leveraging Connected Vehicle APIs
Usage data can come from another source that is likely to become more prevalent in the future, which is connected vehicle APIs. While telematics devices communicate with or retrieve data from a vehicle's ECM by way of the OBD port, some newer vehicles don't have these ports — this is especially the case with EVs. As the drive to go electric strengthens, this is going to become a problem for fleets relying on OBD-II dependent hardware. Connected vehicle APIs will allow fleets to remotely access vehicle data directly from the vehicle, without the use of third-party devices. This mode of monitoring can offer vehicle tracking, fuel, remote diagnostics, driver safety and usage data.
While nearly 80 percent of vehicles on the road in the U.S. today are connected vehicles, that doesn't mean APIs are an option for all fleets. Many OEMs are still working to make their vehicle APIs more robust and accessible with faster response times. The technology may still be in the early stages, but it's important to note that connected vehicle APIs may be the path of the future, as the data collected is set to match the scope of telematics — including usage data.
"All our utilization reports for all our fleet are conducted through [FMS and telematics], so within absolutely no time at all, we now have the visibility of any spare fleet within the business that's not actually getting utilized; we track that by kilometers and hours on our machinery. So when you start talking mobilizing contracts, now we have the ability to [...] within minutes, find out what is available within the business units."
Bryan Abbott
Fleet Manager, Asplundh Australia
Leveraging Asset Usage Data in FMS
FMS is kind of uniquely positioned to both collect and disseminate usage data. On top of data collected from integrated solutions (or manually input data), FMS collects asset usage-related data such as:
Assets assignments
Asset check-in/out logs
Back-up/unassigned assets
Asset status, including length of time in or out of operation
Vehicle performance against benchmark, including vehicle age and mileage
FMS takes the data points discussed throughout this post and consolidates them into easy-to-read reports that you can act on. Quickly discern if assets are being over or under utilized so you can address the issue accordingly. Asset usage is also a significant data point when looking at overall fleet utilization. Fleet utilization is an important KPI when speaking with stakeholders about needed resources for fleet, whether those are mechanical assets or labor-related.
Have a topic about which you'd like us to break down the data? Let us know in the form below!
Previous Series Posts
---
Find out how Fleetio makes asset usage easy to track. Start your free trial or request a demo today!