Power take-off (PTO) management covers more than proper spec'ing; tracking PTO use can improve preventive maintenance cycles, billing and scheduling accuracy and more.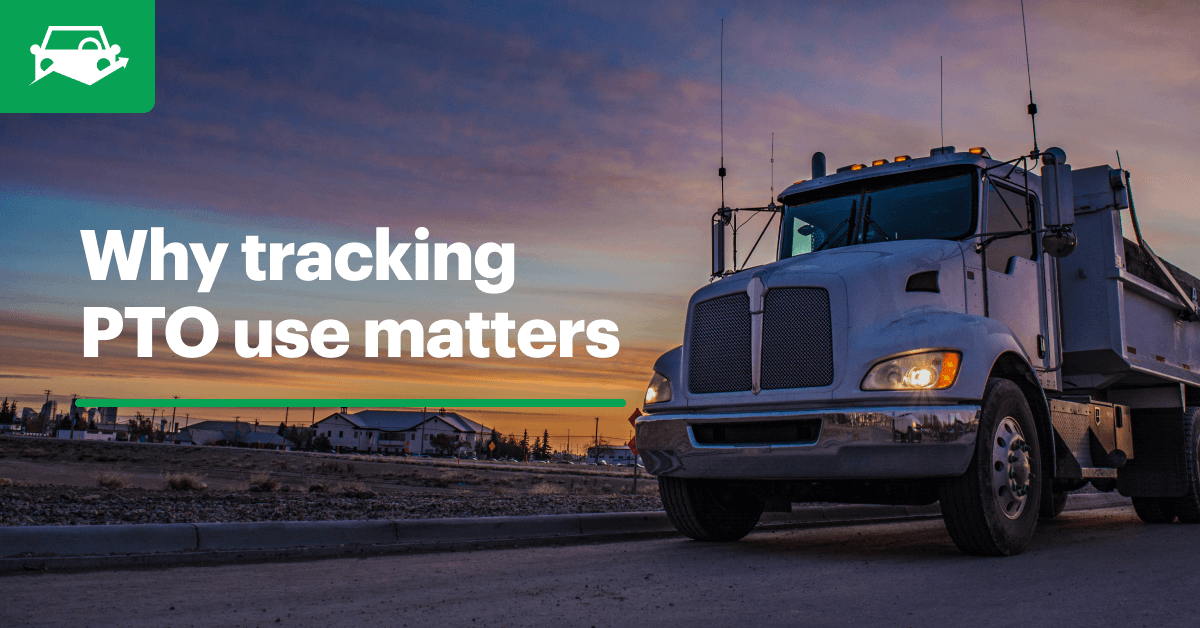 PTO Uses and Spec'ing
A PTO is a device that transfers power from the engine of a vehicle, tractor or other large piece of motorized equipment to an auxiliary piece of motorized equipment. PTOs are used in multiple industries, from marine and agriculture to commercial. Examples of equipment PTOs are used to power include, but are not limited to:
Blowers
Air compressors
Dump truck beds (raising/lowering)
Winches (operation)
Fire engines
Garbage truck compactors
When spec'ing a PTO, there are multiple considerations to take into account, including:
Number of mounting bolts, housing type and mount position
PTO torque rating and duty cycle (continuous or intermittent)
Type of equipment driven by PTO
Driven equipment shaft rotation
PTO output needed
Improper PTO mounting and/or spec'ing can lead to transmission damage, as well as damage to the PTO and the auxiliary equipment. Parker Chelsea has a thorough and easy-to-use PTO application guide that allows you to plug in the OEM specs of your vehicle and auxiliary equipment to help take the guesswork out of PTO spec'ing.
On the vehicle side, you can reduce the cost of PTO installation by:
Purchasing used trucks with PTO provisions (if you purchase used trucks)[1]
Adding a PTO provision to new truck builds when it comes time for vehicle replacements in your fleet[1]
Understanding PTO needs before chassis purchase for seamless integration with new builds[2]
Tracking PTO Use for Increased Profitability
Monitoring PTO use offers another depth of insight into your fleet. Not only does it provide valuable information on the PTO itself, but also on the auxiliary equipment it powers, giving you an added layer to equipment management. PTO tracking works by pulling information from a vehicle's engine control module (ECM). Many of our GPS and telematics partners offer PTO tracking, which can be integrated into fleet management software to centralize all your data and reporting.
Idle Time Categorization for Maximizing Returns
Finding ways to cut engine idle time is typically a priority for fleets, but the caveat here is cutting unnecessary idle time. For vehicles running PTOs, engine idling is not only common, it's expected. Differentiating working idle time from true idle time can be difficult and imprecise without pulling the information straight from the ECM, though, and the distinction can make a huge difference for fleets. For example, our partner, Verizon Connect was able to save one of their customers thousands of dollars via the off-highway fuel use tax credit. Without having detailed reporting regarding working idle time, providing proof for such a credit would be difficult—if not impossible.
For more on working idle time vs. true idle time, check out Getting to the Bottom of True Idle Time with Vehicle Tracking from our partner, GPSInsight.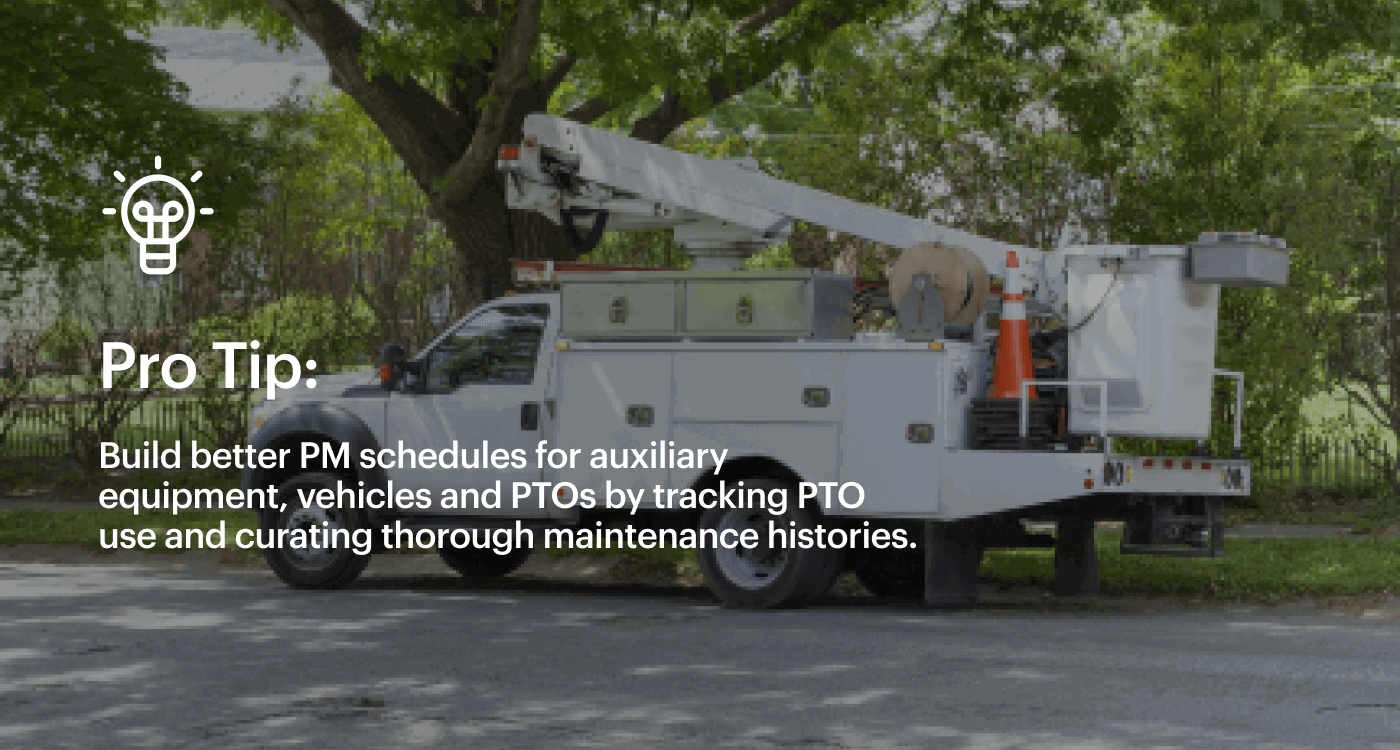 Equipment Use Hours for Scheduling and Billing
An added benefit of PTO tracking is that it lets you know when and for how long PTO-powered equipment is used. Equipment use reporting can work in your favor when it comes to billing (or bids) and scheduling. The more history you build up over time on like jobs, the more precise your billing and scheduling can be, leading to bigger savings in the long run. Additionally, by knowing how long a job should take, you can spot mismanaged time and equipment.
You can learn more about PTO tracking for billing and scheduling from our partner, ClearPathGPS.
Asset Use Hours for Optimizing Preventive Maintenance
Yet another benefit of tracking PTO use is that you can get better insight for maintenance management for auxiliary equipment and for the PTO itself. Because tracking PTO use allows you to see when PTO-driven equipment is being powered vs. simply being in the field, you can log actual hours of use vs. estimated hours of use, making your data more precise. This allows for better preventive maintenance (PM) cycles leading to less downtime.
Poor PTO maintenance can cause critical transmission damage, so tracking PTO use for maintenance can extend both the life of the PTO and the life of the asset it's mounted to. Because PTO use varies widely—both from industry to industry and from job to job—there isn't really a standard for PM schedules apart from:
Inspect the PTO within one week of installation/first use to ensure proper installation
Perform a weekly visual inspection of the PTO to check for leaks, loose wires, etc.
Perform PTO service with the rest of its system components as applicable (i.e. transmission, driveshaft)
Professionals and original equipment manufacturers (OEMs) alike recommend PTOs used for severe-duty applications be serviced every 100 hours, which can then be adjusted based on accumulated maintenance histories. Being able to cross reference vehicle maintenance with PTO use can help you build an effective PTO PM schedule.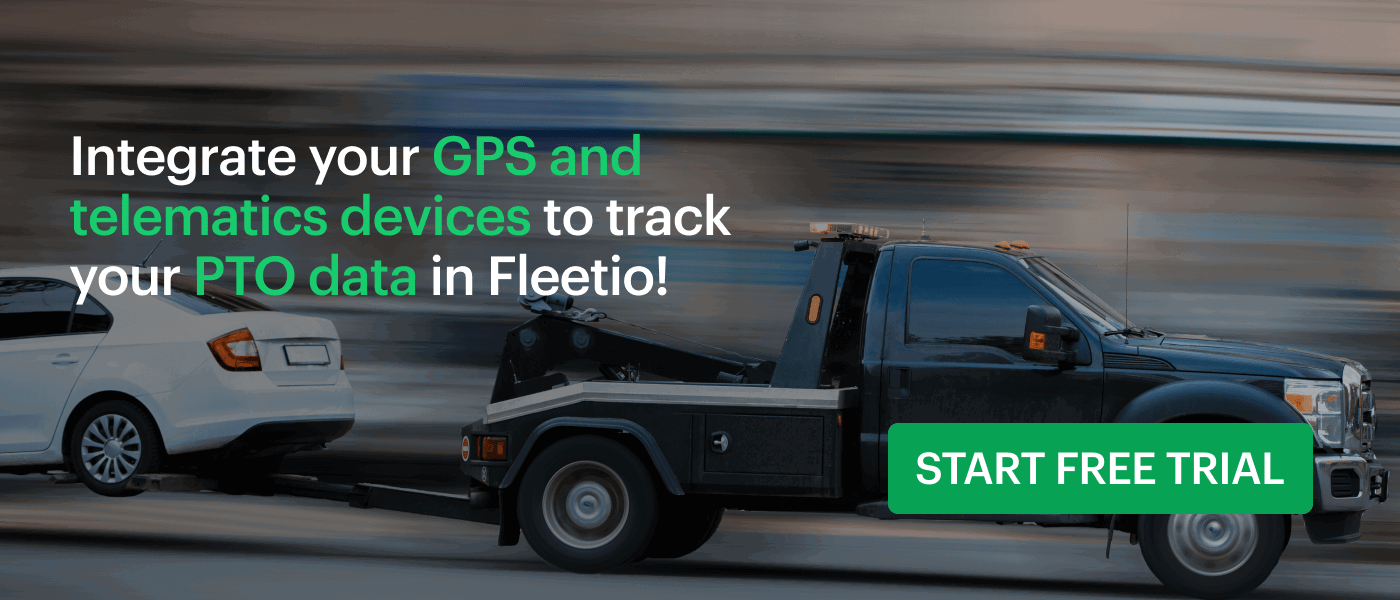 Centralize Fleet Data Through Fleetio's Telematics Integrations
For any fleet using PTOs, PTO tracking is a huge added value—especially in industries like construction where you have to bid on contracts. Knowing exactly where you can be financially flexible due to precision scheduling and billing insights backed by robust historical data can give you a leg up over the competition.
Integrating your PTO tracking with fleet management software centralizes all your fleet data in one location for easier total fleet reporting and analysis. With Fleetio's open application programing interface (API) and GPS tracking and telematics partner integrations, centralizing your fleet data just got a whole lot easier!
---
Find out how Fleetio can help track your PTO through our API and certain partner integrations. Start your free trial or request a demo of Fleetio today!
Sources
1 Spec'ing Light- and Medium-Duty Trucks to Maximize Resale Values
2 The Secrets To Spec'ing Your Next Vocational Truck Chassis