While they do contribute to your fleet's overall maintenance data, work orders also provide productivity and parts inventory insights. Understanding what work order data to collect and from where, as well as its role in fleet reporting, can give you better control of inventory while surfacing technician and shop workflow inefficiencies.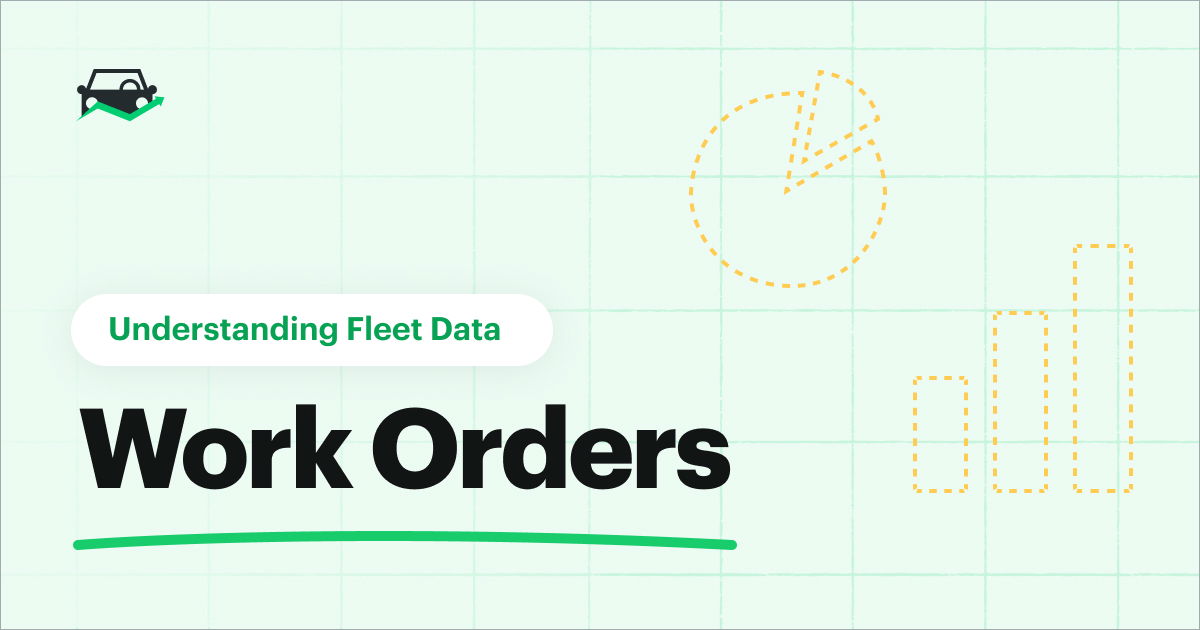 Fleet management software (FMS) and solutions work in conjunction to give users powerful insights into the health and operation of their fleet. As more software integrations become available — including finance, human resources and other organization-wide integrations — so does the potential to get bogged down in data. Understanding Fleet Data is a series where we break down the different types of fleet data you can glean from FMS and other solutions to get a better understanding of:
What data is collected from what source
How collected data interacts to provide in-depth insights for proactive actions
How to apply insights practically to improve fleet operations
In this post, we'll be talking about the wealth of data work orders (or repair orders) provide and how to use those insights to improve fleet productivity.
What to Include in Work Orders
The impact work order data can have varies depending on what information is collected, as well as the reliability of that information. Most work order forms have your basic line items, vehicle information, service completed, date of service and all associated costs. Let's take a look at a few line items and pertinent data points you can add to work orders to ensure you're getting all the data you need to surface and source costly issues.
Repair Priority Class
Repair priority class helps fleets more accurately understand their service spend. Categorizing service as scheduled, non-scheduled or emergency allows fleets to easily break down where a majority of service spend is being used. If preventive maintenance (PM) — typically categorized as scheduled service — makes up the lowest percentage of service spend, it may be time to reevaluate and strengthen your fleet's PM practices.
Service Duration and Active Job Time
Service duration is the amount of time an asset spends in the shop from drop off to pick up. Tracking service duration and comparing it against active time technicians spend on a job helps surface process issues that could be costing your fleet time and money. If an asset sits in the shop for two days waiting on an oil change, it could indicate an issue.
Technician Assignment
Technician assignment provides increased accountability and is helpful in determining technician productivity. Tracking technician productivity allows fleets to get a better idea of how well distributed the workload is to reduce chances of frustration and employee disengagement in the shop. Additionally, assignments make it easier to follow up with a technician about an asset they've worked on to dig deeper into ongoing or repetitive mechanical issues.
Labels
Labels work as an internal way to further organize service work based on criteria of your choosing. You can use labels to break down fleet maintenance and repairs by asset type, acquisition year and/or by location for fleets with multiple shop locations. You can also use labels to establish reasons for service delays, such as waiting on parts or waiting on open technician.
Parts Used
If you stock parts in house, adding a parts used line item to work orders can help with both inventory tracking and identifying appropriate stock quantities for improved inventory management. Proper inventory management can help decrease downtime related to parts acquisitions delays.
While fleets using paper forms and spreadsheets can track the above data points, consolidating the data for analysis is a bit time consuming and can lead to erroneous data input. Work order software, or solutions with features like digital work orders or a work order app, automatically track and consolidate work order data to minimize error and improve reporting.
Leveraging Maintenance Software Data
Fleet maintenance software, including integrated FMS, streamlines work order tracking for better insights into a fleet's shop processes and automates data collection for more uniform reporting. In addition to the data points mentioned above, digital work orders also track work order statuses in real time — that is, whether a work order is open, pending, completed, needs approval or approved.
Without a digital work order system, tracking work order status can be a bit tricky, however this data point can help fleets better manage workloads and determine where inefficiencies lie. Let's go back to the example of an asset waiting in the shop for two days for an oil change. If the status of that work order is pending and has been labeled waiting on parts, you can surmise there could be an issue around in-house parts stocking. If the work order has a waiting on open technician label, then the issue could be improper staffing or scheduling. Because labels in digital work orders are customizable, you can go as in-depth as you want and stack labels for more precise insights. Service reports are automatically generated in FMS, and because reports are filterable, you can quickly see how many assets spent unnecessary downtime in the shop and why.
Digital work orders also allow technicians to clock in and out of jobs right from their smartphone or tablet so managers can get a better idea of how long a job takes versus its service duration. When techs add a part to the work order, FMS automatically updates your parts inventory, and you can set low-stock thresholds to ensure you're reordering before your stock is depleted.
Be sure to check out the next installment of Understanding Fleet Data, where we'll dive into inventory-related data and discuss how to use that data to improve daily processes!
Previous Series Posts
---
Interested in seeing how digital work orders in Fleetio can help streamline your operation? Start your free trial or request a demo today!