Maintenance-related data makes up a huge portion of a fleet's overall operating data. Understanding how to collect maintenance data and from where, as well as its role in fleet reporting, can help you determine how your fleet assets are performing, where improvements in health and performance can be made and how to optimize procurement and replacement strategies.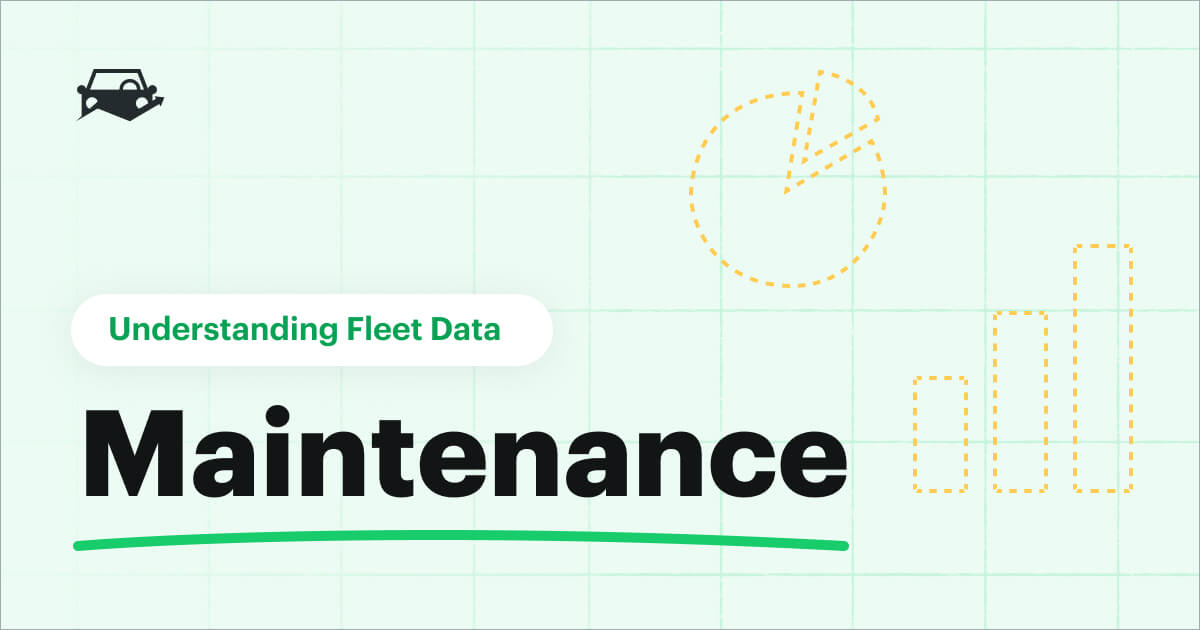 Fleet management software (FMS) and solutions work in conjunction to give users powerful insights into the health and operation of their fleet. As more software integrations become available — including finance, human resources and other organization-wide integrations — so does the potential to get bogged down in data. Understanding Fleet Data is a series where we break down the different types of fleet data you can glean from FMS and other solutions to give fleet managers a better understanding of:
What data is collected from what source
How collected data interacts to provide in-depth insights for proactive actions
How to apply insights practically to improve fleet operations
In this post, we'll be focusing on maintenance-related data and how to affect positive change based on those insights.
Categorizing Maintenance Data
As with fuel and driver behavior data, maintenance-related data for your fleet assets comes from multiple places. Because so much data can be considered maintenance-related, we'll classify sources under one of two categories: direct and indirect.
Direct maintenance data: Direct maintenance data comes from such sources as work orders, invoices, preventive maintenance (PM) schedules and service histories, and gives you a detailed look at what's actively going on with your fleet assets. If you're only tracking this type of maintenance data, you can still get incredible insight into the health of your fleet. By cross-referencing PM schedules against service histories, you can determine if PM needs to be increased or decreased, as well as whether services need to be added to the PM schedule based on non-PM services performed around the same time.
Indirect maintenance data: Indirect maintenance data comes from sources like inspections and fuel usage data and acts as a supplemental tool for proactive maintenance. When considered apart from direct maintenance data, indirect data provides a good indication of how well your assets are operating during daily processes. When paired with direct maintenance data, indirect data can point to ongoing issues you may miss when looking at direct data alone, including increased fuel consumption, increased oil consumption and/or wear and tear to brakes and other common wear items.
While you can record the aforementioned types of maintenance data on paper forms and spreadsheets, it can be difficult to analyze it fully. Additionally, those documentation methods don't offer some of the more in-depth maintenance insights of telematics or customizable reporting afforded by FMS. Let's take a look at the automated methods of data collection and what kind of actions you can take based on data gathered.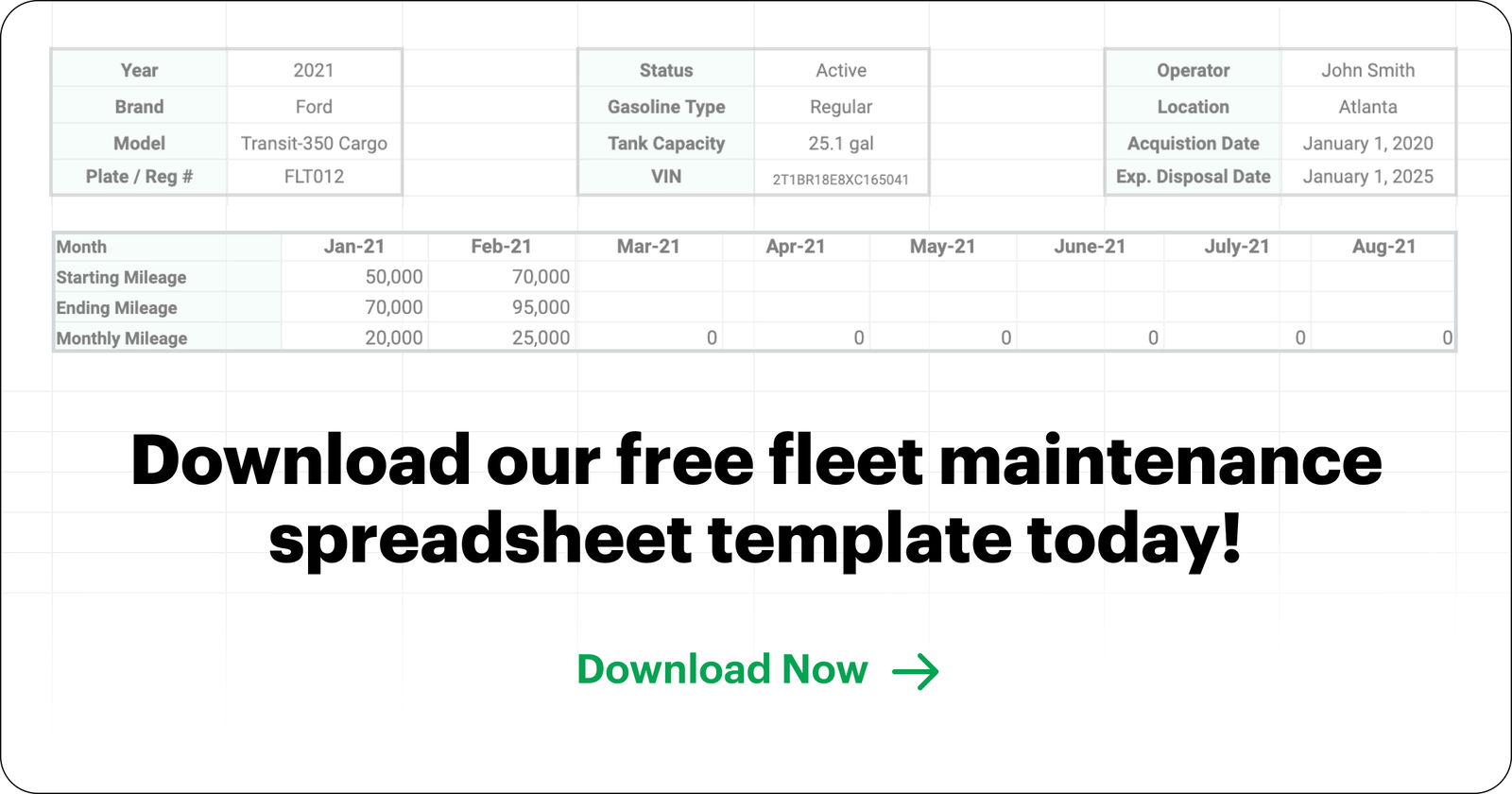 Leveraging Telematics Data
With GPS tracking and on-board diagnostic reading capabilities, telematics systems are great for monitoring the health of your fleet assets, especially during operation. Telematics has the ability to track accurate indirect maintenance data in real time, including usage hours, true vs. working idle time, fuel consumption and diagnostic trouble codes (DTCs). DTC alerts are a great source of supplemental information to go along with daily inspections, as they represent internal issues drivers and operators may not be able to see during inspections.
The additional data telematics pulls, including usage, idle hours and fuel consumption, all speak to how much, or how long, and how well an asset is operating. Cross-referencing this data with a fleet asset's baseline — that is, its expected performance based on where it is in its lifecycle — can help you determine if the asset is showing signs of mechanical issues, as well as whether the asset is holding up as expected over the course of daily operations. You can also fine tune PM schedules based on usage hours and working idle time to ensure heavy-duty performers get the PM they need on time.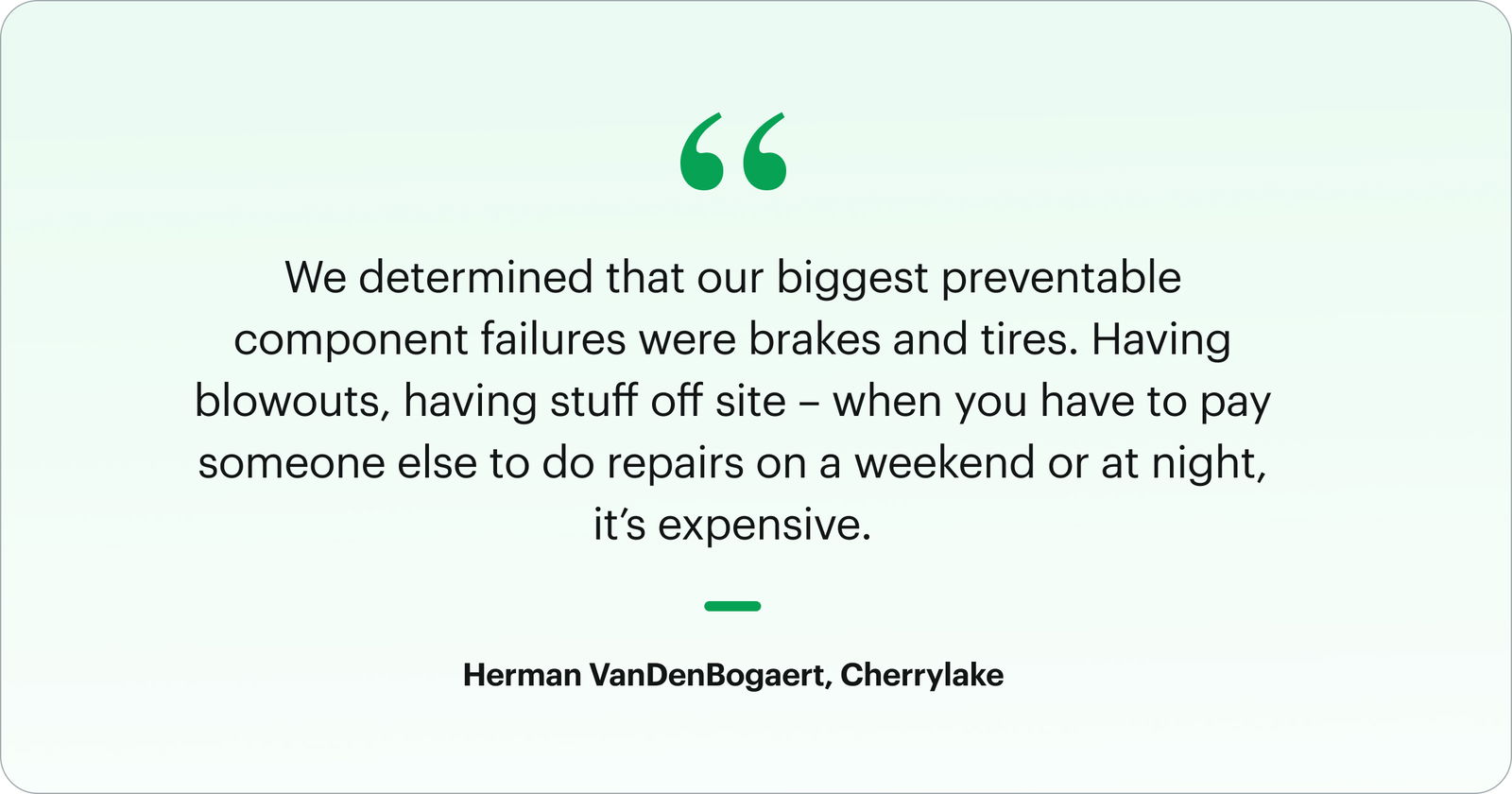 Leveraging FMS Data
We've talked about a lot of different data points from which you can gather maintenance-related data so far. Cross-referencing all those data points probably sounds tedious, time consuming and just plain unappealing. Yet tracking and analyzing both direct and indirect maintenance data can give you enough insights into your fleet's health to cut maintenance costs by 48 percent. This is where FMS comes in. FMS consolidates all your fleet's data onto a single platform and breaks it down into customizable reports. Because FMS keeps your fleet data up-to-date in real time, you can quickly see any issue that pops up, including abnormal fuel use or vehicle part failure.
Additionally, FMS cuts down the amount of time it takes to track all this data by manually importing it from your telematics system, fuel cards and any other fleet or business solution you wish to integrate it with. This also cuts down on potentially incorrect data inputs associated with manual data tracking. In short: Let FMS do the work so you can see those sweet, sweet savings.
Have a topic about which you'd like us to break down the data? Let us know in the form below!
Previous Series Posts
---
Want to see how Fleetio can help you control maintenance costs and improve fleet health? Start your free trial or request a demo today!