PM Schedule Template
By performing regular maintenance on your vehicles, you can prevent costly repairs and keep your vehicles on the road. Our free PM Schedule template provides you with a spreadsheet to track common service items across your fleet, plan for upcoming service needs, and easily print out a report for each vehicle.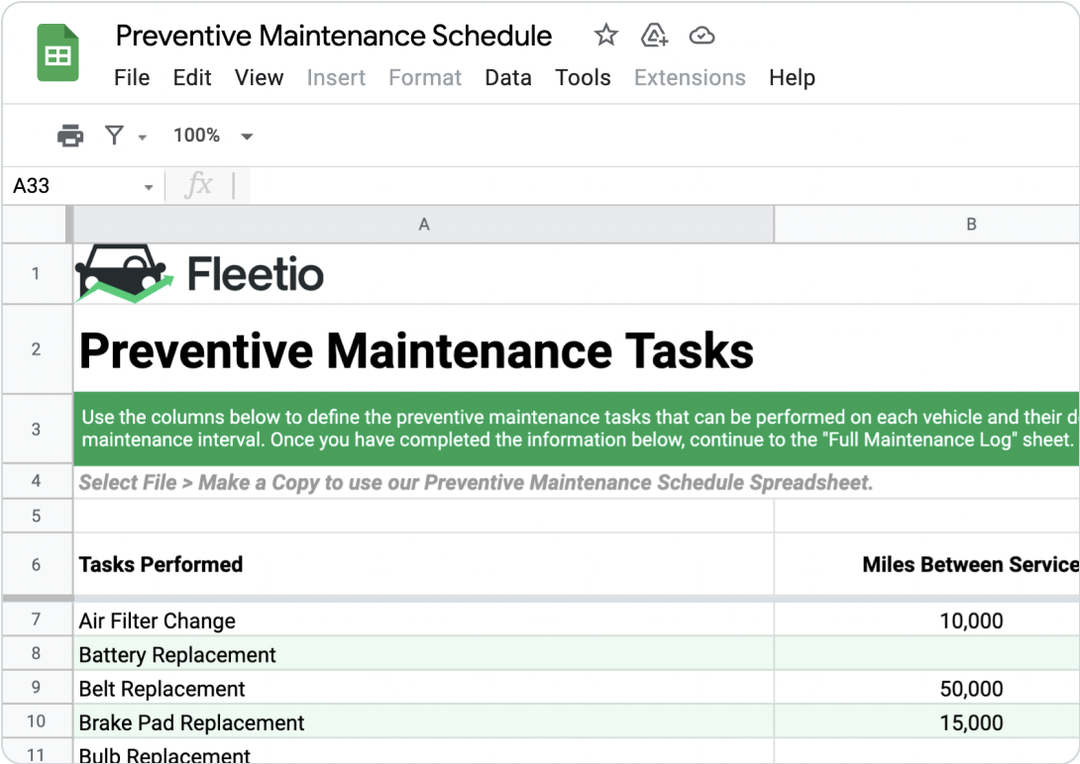 How do I make a PM schedule?
---
In order to properly maintain your vehicles and keep them on the road longer, you need to identify the proper intervals for common maintenance tasks. After creating your preventive maintenance checklist, we recommend consulting your OEM-specific recommendations for mileage or time-based intervals and scheduling maintenance accordingly.
How do I track preventive maintenance?
---
Traditionally, maintenance has been tracked using paper forms or spreadsheets. However, many fleets now track their preventive maintenance with maintenance software to easily access historical data and set notifications for future maintenance needs.
How to use Fleetio's free PM schedule template
This PM schedule template was designed to help you customize a preventive maintenance calendar and begin tracking common service items.
Our preventive maintenance template is built using Google Sheets, a free online alternative to Excel. To create your own editable version of this template, you simply need to select "File" and then "Make a copy" once you open the template link.
Log and track information
With this free preventive maintenance schedule template, you will be able to improve your preventive maintenance compliance with:
Checklist of common maintenance tasks
List out the common maintenance tasks in your fleet to create a checklist for future maintenance.
Customized service intervals
Customize your service intervals, based on mileage or duration, to plan future maintenance needs.
Log of all performed maintenance
With a simple maintenance log, you always have access to historical maintenance performed.
Simple breakdown of maintenance by vehicle
Run reports instantly on individual fleet assets to get a snapshot of the maintenance history and needs.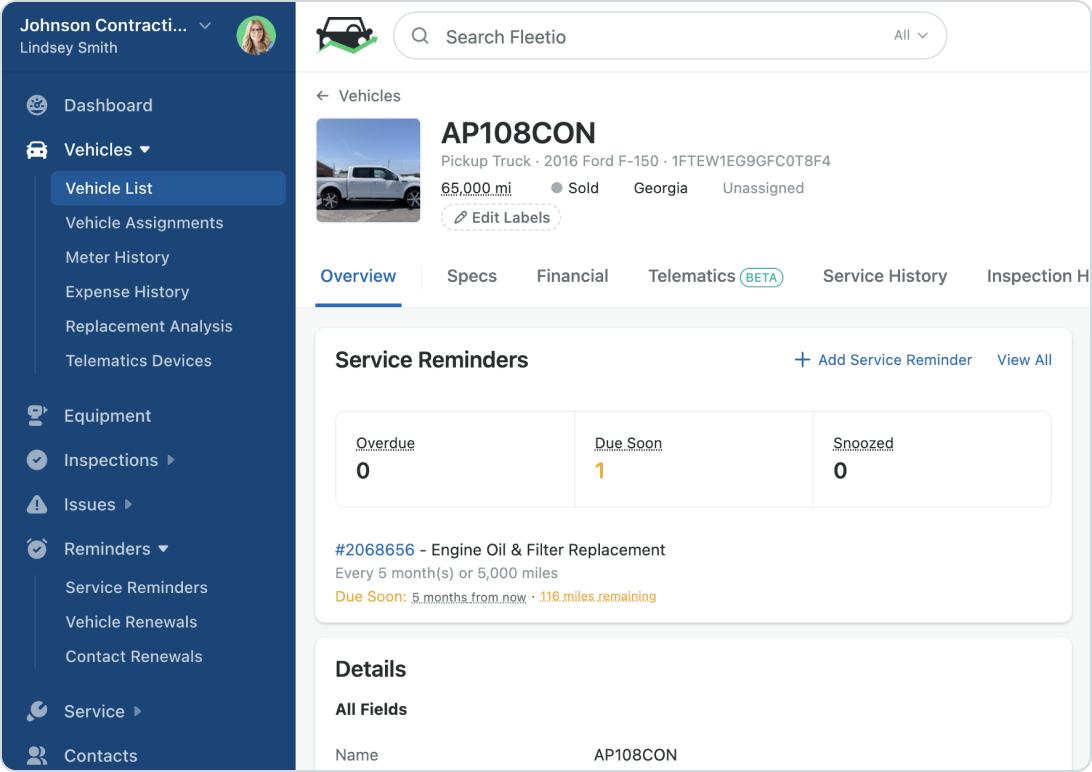 Manage preventive maintenance in Fleetio
If you're tired of the spreadsheets and paper forms, it's time to automate your fleet's preventive maintenance program with software. Fleetio's maintenance scheduling software alerts you of upcoming maintenance needs so you can instantly begin the maintenance process and reduce the financial impact of downtime on your fleet. Plus, every vehicle's service history, including the associated expenses, is just a click away so you can determine whether an asset is costing your fleet more money than it's worth.
What customers are saying
"I find this app saves me about 1.5 hours per day in the evening when I sit down to catch up all my files. If you use it as intended, it will be a huge benefit!"

Mark D.
Mark Dominey Trucking
"Fleetio is user friendly; I'm not the most technologically savvy individual but the training sessions provided were more than enough to help me feel comfortable using the software myself"

"Bringing in a tool that brings all the data into one centralized location to make informed decisions and help guide our business was critical."

"We like being able to to add our landscaping assets as well as our vehicles to Fleetio."

Robert S.
Cape Fear Landscaping
Ready to get started?
Join thousands of satisfied customers using Fleetio
Questions? Call us at 1-800-975-5304