Fuel Log Template
While you can't control the costs of purchasing fuel, you can reduce the impact of fuel costs on your fleet by monitoring for high-consumption vehicles and spotting outliers – and possible fuel theft – within your fleet. Our customizable fuel log spreadsheet provides a simple solution to start logging and tracking fuel usage across your fleet.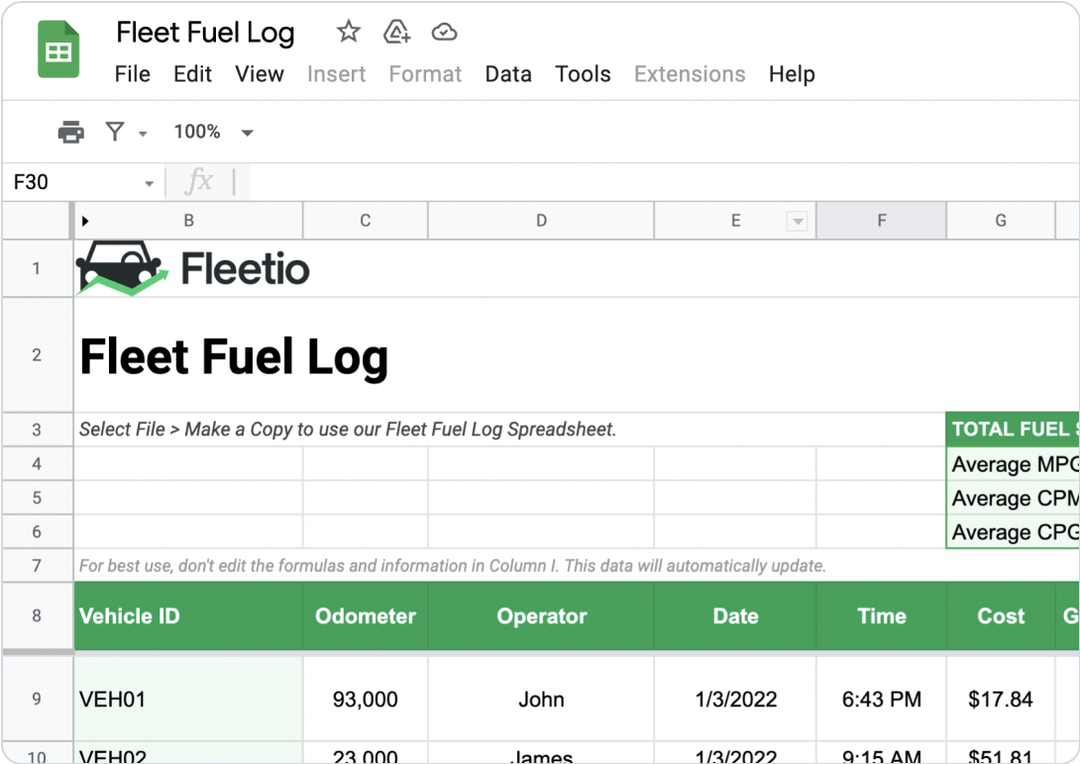 How do I keep track of fuel expenses?
---
There are a variety of ways to track and capture your fuel data, including paper forms, receipt trails, spreadsheets and software. A fuel log spreadsheet or fuel management software is the easiest way for people to track their fuel usage, as they allow you to quickly surface historical data and compare your usage across various vehicles in your fleet to identify trends and cost savings opportunities.
How do I calculate fuel usage?
---
The easiest way to calculate fuel usage for a single vehicle is to divide the distance traveled by the gallons of fuel needed to fill up your vehicle. If you'd like to look into further fuel usage trends, you can then divide the cost of fueling up by the number of miles driven to calculate your cost per mile (CPM) and then compare the cost per mile driven against other vehicles in your fleet.
How to use Fleetio's free fuel log template
This fuel log spreadsheet was designed to help you quickly compare the following individual vehicle metrics against your fleet averages: Miles per Gallon (or km/L), Cost per Mile (or Kilometre), and Cost per Gallon (or Litre).
Our fuel log template is built using Google Sheets, a free online alternative to Excel. To create your own editable version of this template, you simply need to select "File" and then "Make a copy" once you open the template link.
Log and track information
With this free fuel log template, you will be able to better track your fleet's fuel usage and expenses, with features such as:
Complete vehicle fuel purchase history
Easily log individual fuel purchases along with standard fuel purchase information: date, time, fuel card number, vendor, and vehicle operator
Individual vehicle usage report
Run instant reports on individual vehicles within your fleet to calculate total fuel consumption and costs
Fleet-wide averages and trends
Compare fuel costs and usage across your entire fleet to make informed decisions about vehicle procurement and disposal
Fuel purchase exception alerts
When a fuel purchase is abnormal or the amount of fuel purchased exceeds the standard vehicle capacity, cells are highlighted to capture your attention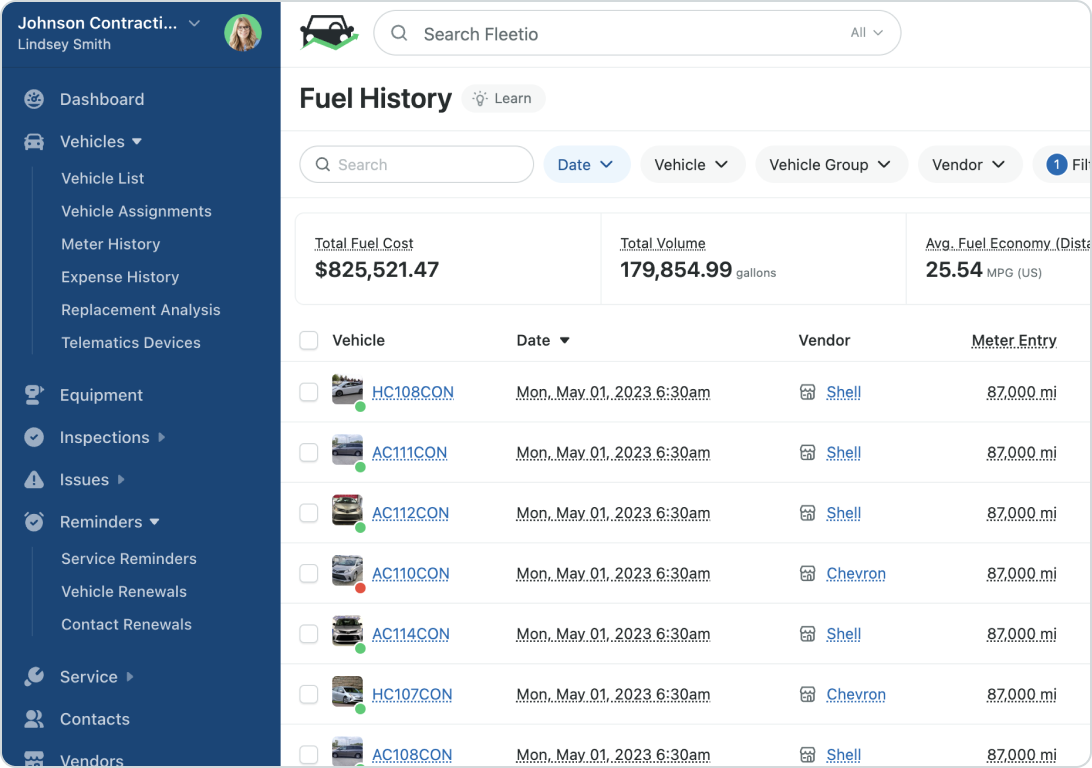 Manage fuel tracking in Fleetio
If you're tired of the spreadsheets and paper forms, it's time to track your fleet's fuel usage in Fleetio. Fleetio's fleet fuel management system simplifies your fuel data collection, allowing you to automatically import fuel transactions from fuel card purchases or a mobile fleet app that drivers can fill out at the pump. Improve your fleet's fuel management with Fleetio to identify cost-savings opportunities and surface potential theft.
What customers are saying
I find this app saves me about 1.5 hours per day in the evening when I sit down to catch up all my files. If you use it as intended, it will be a huge benefit!

Mark D.
Mark Dominey Trucking
Fleetio is user friendly; I'm not the most technologically savvy individual but the training sessions provided were more than enough to help me feel comfortable using the software myself

Bringing in a tool that brings all the data into one centralized location to make informed decisions and help guide our business was critical.

We like being able to to add our landscaping assets as well as our vehicles to Fleetio.

Robert S.
Cape Fear Landscaping