Leveraging Fleetio to manage your inspections allows you to set specific guidelines on when inspections should be completed and how often, giving you complete control of the entire inspections process.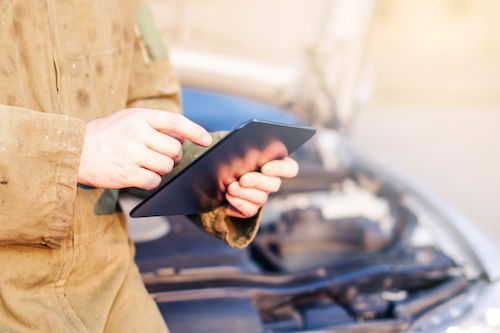 Keeping Up With Inspection Compliance is Tough
Managing paper-based inspections to comply with inspection regulations is a difficult task and takes a significant amount of time. Fleet managers often aim to set specific schedules for their vehicle inspections, some standard and some specific, but often cannot enforce their drivers to stay up-to-date with those schedules. Failure to have your vehicles routinely inspected costs you dollars and operator safety.
With this in mind, having the ability to set configurable schedules for your inspections to be completed will save you tremendous maintenance costs down the road and allow you to comply with FMCSA-based regulations.
Streamline Vehicle Inspections With Schedules
Setting awell-defined inspection schedule, and doing so with a solution like Fleetio will remove you from a cumbersome, manual process. Automatically set a time-tracked inspection schedule to ensure inspections are submitted based on configurable rules that you set.
Determine how often a schedule should repeat, whether an inspection should be submitted on a specific day of the week or at any time and set a delayed start for when an inspection schedule begins. This schedule will include a "Next Due Date" and once the inspection is submitted, it will automatically reset so your operators can continue to follow that protocol.
Your configured schedule is displayed in a summary and as a preview of what your inspection schedule looks like based on your custom rules so you can review and ensure that it is appropriate for that specific inspection.
[![vehicle-inspection-visual](https://marketing-cdn.fleetio.com/images/blog/inspection-schedules.png)](/)
You can also set early inspection submissions, which allow operators to submit inspections early by a designated number of days and still satisfy the required due date. Having this flexibility allows you to manage your fleet in any way you'd like and gives you the opportunity to place heavier inspection protocols on specific vehicles across your fleet.
Gain Insight Into Your Inspection Schedules With Reporting
Without a centralized fleet management system, it can be difficult to identify which of your vehicles are actually scheduled to receive inspections. With the Inspection Schedules Report in Fleetio, you can identify which vehicles have or have not been inspected and whether they are on a particular inspection schedule.
You'll also know the operator(s) for specific vehicles, when the due date for the inspection was and whether they are overdue. Set powerful filter options to control the data displayed, then export results and share with key stakeholders.
This is particularly helpful for focusing on overdue inspections to quickly address and prevent additional costs. View which operators are compliant with organizational protocols and filter by Group to gain deeper insight into which operators are submitting overdue inspections.
---
Leverage Inspection Schedules with Fleetio! Start your free trial or request a demo today.