We're excited about the release of the new Fleetio Dashboard screen we've been working on based on your user feedback. The new facelift gives you a better overview of your fleet's key performance indicators (KPI) in an easy-to-understand approach.
Meet the new Reminders Dashboard
The Service and Renewal Reminders sections now give you a clear-cut indication of how many reminders are overdue or due soon. If there aren't any reminders for a certain category, you get a nice green goose egg letting you things are OK.

If there are some overdue or due soon reminders, clicking the number will bring up a dialog window showing you the reminders. Reminders are sorted to show you the "most overdue" or "next coming due" reminders first, as those are likely the ones needing top attention.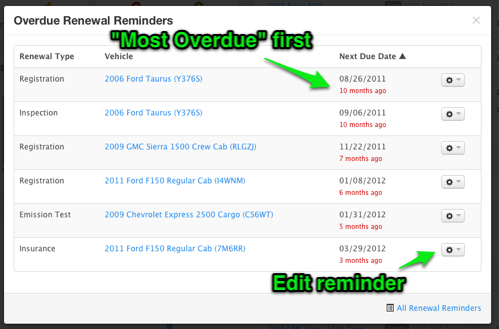 You can edit a Renewal Reminder or Service Reminder directly from the list. Service Reminders also provide an action to "Enter Service" and log that a particular maintenance has been performed just like before.

We added a little warning icon if any vehicles exist in the fleet that don't have service and/or renewal reminders setup. Clicking the icon will show you those vehicles.
The total number of Service & Renewal Reminders is also display as a link. Clicking the link will take you directly to the corresponding report for deeper analysis.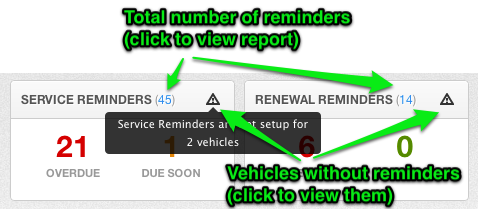 Our goal is to make managing a fleet easier, and give you the right information to stay on top of fleet maintenance. The Dashboard screen plays a key role in making sure things don't slip through the cracks.
The new Dashboard updates are immediately available, so log in to check it out and let us know what you think. We hope you agree it makes it easier to track your fleet at a glance.