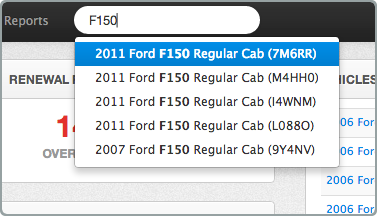 We want to make it as easy as possible for our customers to navigate our fleet management software. Since all of your data logging (services, maintenance, fuel entries, etc.) begins with vehicles, it only makes sense that we have an efficient way to move around in your fleet.
If you want to find a vehicle quickly, just utilize our search window at the top of any page in Fleetio. You can type any part of the vehicle name and it will automatically begin filtering your results. You can select from the drop down or simply press enter to choose the highlighted vehicle.
It's that easy! Want to learn more? Check out our Help Section.