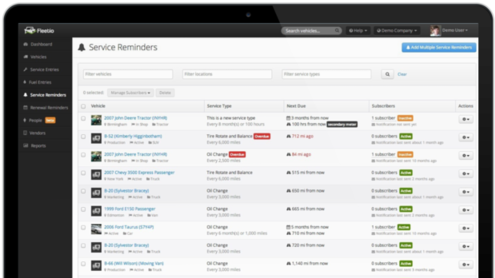 The latest update in Fleetio is all about giving you a better view and more control when it comes to your fleet. Our account-wide features now make it easy to see, filter and update the Reminders, Service Entries and Fuel Entries for all your vehicles. We've also added a new Report that allows you to find vehicles that have not received service. So yeah, we've been pretty busy.
Service Entries Tab
As with all of these new features, the Service Entries tab is located in the black sidebar on the left of your Fleetio account and is accessible from any page. Simply click on the Service Entries tab to get started. From the new page you can quickly see all Services performed over the life of your account. Use our filters to select a given time range, specific services, vehicles or vendors.
Fuel Entries Tab
The new Fuel Entries page works much like the Service Entries page and gives you a complete list of fuel records. This is a great way to quickly identify any invalid meter entries and update them to the correct reading.
Service & Renewal Reminder Tabs
You'll like this: with our new Reminder tabs, you can filter, update and manage subscribers in bulk. You might also notice the new "Add Multiple Reminders" button in the top right of the page. This handy new tool is going to revolutionize the way you setup new Reminders. Just select the Service (or Renewal) Type, choose an interval, and then you can include as many vehicles and users as you want. Time officially saved!
Vehicles Without Service Report
If you want to find vehicles that haven't had particular services, then we have a great new tool for you. On the reporting screen, you'll now see the Vehicles Without Service Report. The list will default to vehicles that haven't had any services performed, but you can select a time frame and/or a service type to see what hasn't been done.
Visit our Help Center (which is now new and improved!) for more information on these features. If you have a question or simply want to see how our features work, the information in our Help Centery is seconds away.
-The Fleetio Team