This is a series of blog posts where we highlight web-based tools we think are interesting and can help your small business.
Today's finding: Evernote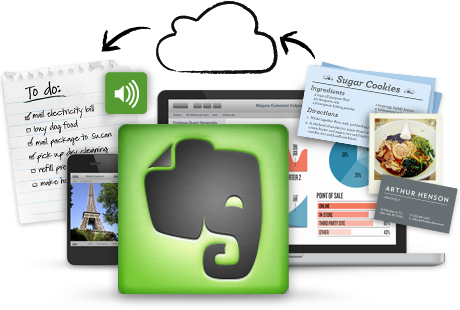 Keeping up with stuff in today's digital age can be tricky. There are some great file management & syncing tools available today such as Dropbox, Box and Google Drive that help you organize and share important documents and spreadsheets.
But what about keeping up with simple notes, receipts, important tidbits you find on the web, and all the seemingly small but important things you need to remember later? We humans are pretty bad at remembering things in our short-term memory.
Remember everything with Evernote.
Evernote is one the best productivity tools we've ever found. Whether you use it personally, for business, or a little of both, the benefits are huge.
The Evernote website does a great job of explaining all its capabilities, so here's a list of some of the ways we actually use Evernote to make our lives easier:
Setup a default notebook called "Inbox" to serve as your dumping ground for content. You can go back and organize things later.
Install the Evernote Clipper for Google Chrome, or whatever browser you use (why are you not using Chrome?). Clip website pages, sections of a page, images, etc. with the click of a button. Learn to use the arrow keys to hone in on what exactly you want to save. Bonus: Evernote automatically saves the URL if you clip a section of a web page, so you can get back to full source if need be down the road.
Use the Fujitsu ScanSnap to scan documents into Evernote automatically as searchable PDF files.
Still like handwriting notes from time-to-time? It's ok, we do too. Use something like an index card when jotting down notes, then scan them into Evernote and they become searchable! Wow.
Save your hidden "Email to Evernote" email address in your address book. Forward emails you want to remember for later.
Did you figure out the Next Big Thing during a brainstorming session but all the notes are on a whiteboard in the meeting room? Use the iPhone or Android app to snap a pic of the whiteboard and the notes will be on your computer, searchable, before you even get back to your desk.
Write notes. A lot of notes. Create a notebook called "Daily" and just keep a log of the random things you did that might be important later. Evernote's searching ability is pretty incredible and the joy of having something documented that you need a year from now - and being able to find it quickly - well that's when productivity feels really, really good.