We launched an integration with Geotab, one of the leading GPS/telematics solutions for fleets. This is a game-changer for companies using both Fleetio and Geotab.
Fleetio's [Geotab integration](/partners/geotab) includes automatic odometer updates, diagnostic trouble code (DTC) alerts and fuel location exception reporting, along with the ability to see a vehicle's current location within Fleetio and seamless navigation between systems. More on each below.
Automatic Odometer Updates
Every day at midnight in your account's timezone, Fleetio will automatically update the current odometer reading for each vehicle mapped to a Geotab device. This is a HUGE timesaver for getting meter updates.
One of our customers with about 200 vehicles who has been testing the integration now has several hours freed up every Friday! He used to spend that time getting odometer readings from drivers and loading them into Fleetio, but now everything is up-to-date every day.
Oh, you can also manually trigger an odometer update anytime you want from the vehicle profile screen in Fleetio.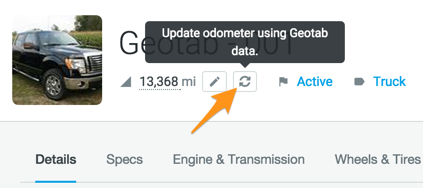 Fuel Location Exceptions
Ever been suspicious that a driver was stealing fuel using a company fuel card? Now with our Geotab integration, Fleetio automatically checks the vehicle's GPS location every time we process a fuel card transaction.
If the vehicle wasn't actually near the fuel vendor, Fleetio sends an email to admins watching the vehicle and flags the Fuel Entry.

Diagnostic Trouble Code (DTC) Alerts
You shouldn't rely on drivers to tell you if the "check engine" light is on in their vehicle. If a Geotab device detects an engine fault code with the MIL (malfunction indicator lamp) on, a DTC Alert will appear in Fleetio.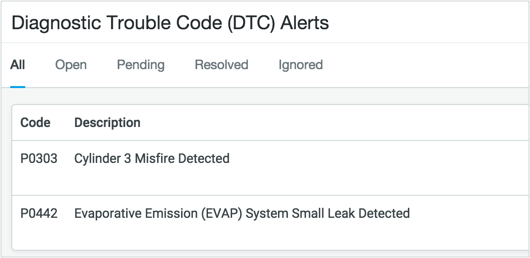 New DTC Alerts trigger an email notification to admins. Then, it's super easy to take action on each DTC. You can create an Issue from the DTC Alert, or you can just choose to ignore it (skipping future email notifications).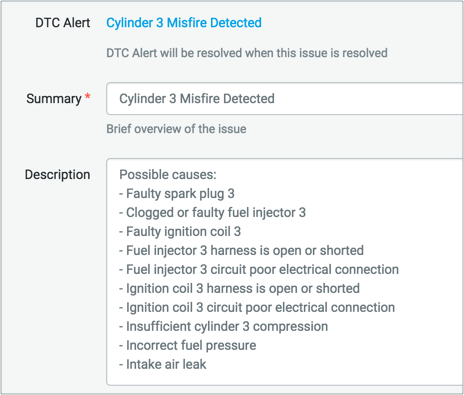 Once an Issue is created from a DTC Alert, just follow your normal workflow of adding it to a Work Order or using a Service Entry to resolve it. The DTC will automatically be marked as "resolved" as well!
Current Vehicle Location and User Navigation Links
Working in Fleetio and need to know the current location of a vehicle? Just pull a vehicle's profile and the current location, driving status and more is right there in the Fleetio user interface!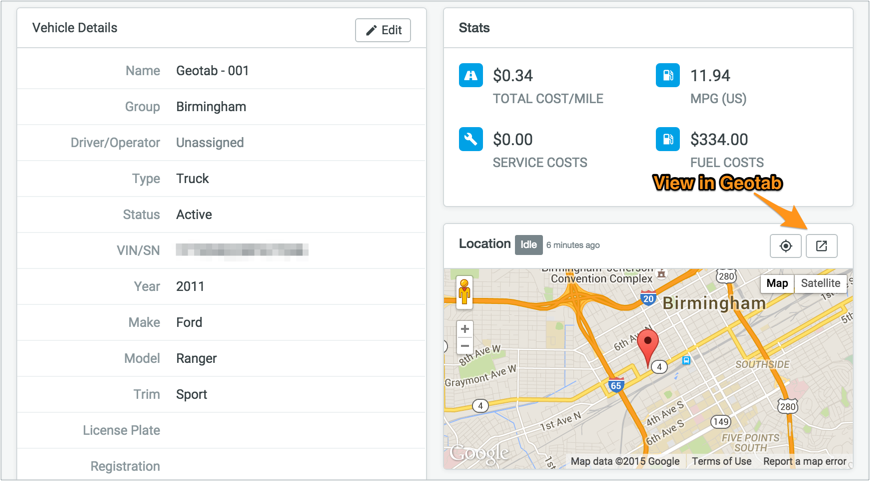 Navigating back and forth between Fleetio and Geotab is a snap. You can navigate directly to the map view or device view for particular vehicle directly from Fleetio. On top of that, we created a simple Geotab "Addin" that adds a button in Geotab to view a vehicle in Fleetio!
---