Simple service reminders can be based on multiple meters and trigger on whichever threshold is crossed first.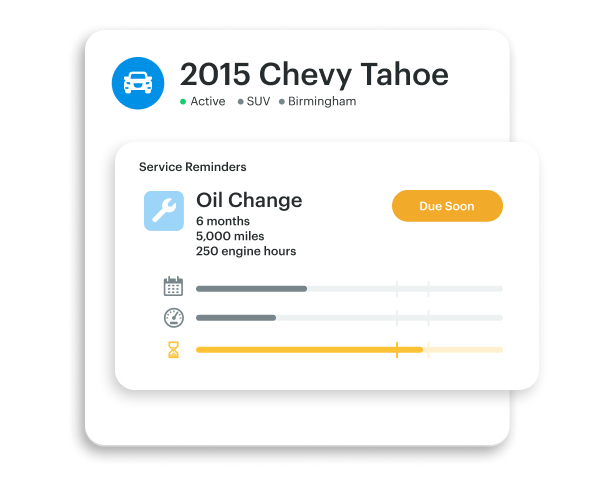 Remaining compliant with Preventive Maintenance (PM) is one of the most important tasks to minimize service costs and keep fleet vehicles on the road. With Fleetio, you can now schedule PM Service Reminders based on time, mileage and/or engine hour intervals so your vehicles receive the proper maintenance whether they're constantly on the move or running in place.
Schedule service reminders based on calendar date, mileage, and/or engine hour intervals
Fleetio enables you to schedule service to occur after your vehicle drives a certain distance, runs for a set number of hours, and/or goes a specific amount of time since its last service. If multiple criteria are on a single service reminder, it will trigger based on whichever threshold is crossed first.
Never miss important preventive maintenance again with custom Due Soon thresholds
Set multiple proximity thresholds on a single service reminder to customize when you'd like to be notified about upcoming maintenance. For example, "notify me 500 miles or 20 engine hours before my next scheduled oil change, whichever comes first".
See all service reminders on Fleetio Go
Due soon and overdue reminders are visible in Fleetio Go, our mobile app, helping you keep tabs on a vehicle's service needs from anywhere.
Questions? View our Help Center or reach out at help@fleetio.com. We're happy to help!
---
Have any feedback about Service Reminders?
Contact Us