We're kicking off 2012 with a bang by releasing a ton of Fleetio updates and new features out the wazoo. Register or log in to check out the awesomeness.
Here's a quick rundown of the major updates:
Custom make/model/year values
Assign a "type" to better organize your vehicles/equipment
Track vehicles by miles, kilometers, or engine hours
"Due Soon" threshold customization
Custom Year/Make/Models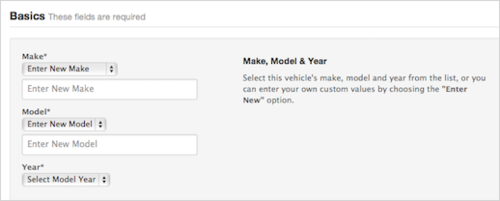 There's already a wealth of car, light and heavy duty truck options when adding a new vehicle in Fleetio (~ 30,000!), but now you can enter your own custom values too.
This makes it possible to use Fleetio for "vehicle-like" equipment for which you want to manage information & track maintenance. Tractors, boats, ATVs, generators….the possibilities are endless!
Organize Vehicles by Type

You can now assign a "type" to each vehicle which basically acts as a label and makes it easier to identify a particular piece of equipment. The "type" options are completely customizable and we even added a few to get you going.
We plan to make use of the vehicle "type" more and more in the near future, especially around reporting.
Track Usage by Miles, Kilometers, or Engine Hours

Now you can choose how you want to track the utilization of each vehicle.
Distance-based options include miles & kilometers, so now Fleetio can be used by those on the metric system. Hello internationalization!
You can also choose to track usage by engine hours. This makes it easier to track things like tractors, boats, golf carts, ATVs, generators, etc. when it doesn't really make sense to track distance.
Custom "Due Soon" Thresholds

What does "due soon" mean to you for a particular service reminder? Now you can customize what it means for each service reminder in Fleetio.
Say you want to be notified when "Vehicle A" is due for an oil change 250 miles beforehand, but you want to be notified when "Vehicle B" is due for a tire rotation only 50 miles ahead of time. Now it's totally possible in Fleetio!
2012 will be a big year for Fleetio , and this is only the beginning. Get on board today and start using Fleetio to manage your fleet, and track vehicle maintenance.