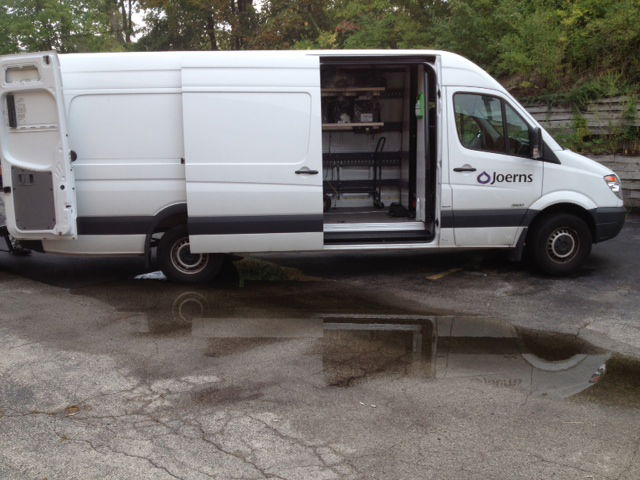 One of our Fleetio customers, Joerns, recently made the move from trucks to sprinter vans for their fleet of around 150 vehicles. We thought it was an interesting move, so we reached out to Mark Voltz, National Logistics Support Manager at Joerns, with a few questions.
What does Joerns do and how is the fleet used?
Joerns provides innovative medical solutions to patients throughout the country. We have over 60 locations nationwide and a network of Service Technicians which provide delivery, removal and service 24/7 for all equipment. We proudly serve our Veterans as we are one of the top service providers to VA Medical Facilities throughout the U.S.
Joerns recently moved from a fleet of trucks to sprinter vans. Why?
I would say the biggest "deciding factor" was focused around dependability and fuel savings. The Sprinter has proven itself in the market as a reliable and well-built vehicle.
When you look at MPG comparisons of our previous Fleet of vans/straight trucks, we are now averaging 20-22 mpg compared to the previous 10-14 mpg. Additionally, the Sprinter has been known to optimally run in excess of 350,000 miles when looking at the life expectancy of vehicles.
What kind of sprinters did you choose and why?
We chose the Mercedes Benz Sprinter 2500 Cargo (high roof /170" wheelbase/diesel). We've equipped each Sprinter with added safety features/appliances and this vehicle is really like a rolling warehouse; with plenty of storage and the ability to stand up & work inside the vehicle.
Any challenges during or after the transition to sprinters?
As is the case anytime you change the vehicle type over such broad scope, you must take the time to make sure your staff knows all of the features and is safely comfortable with their new vehicle.
If someone is considering making a similar change in their fleet, what advice would you give them?
Look at your true needs and do the due diligence to include potential savings in comparison to the overall purchase price. Know your business needs will most likely change and we've found the Sprinter ready and willing to make the changes we decide to continue to enhance our service to our customers.
About Mark Voltz
Mark has been with Joerns for 5 years (over 30 years spent in the field service/logistics sector) and is currently the National Logistics Support Manager. Safety & fleet/fuel are two of my primary roles for the entire field service organization.
Mark is centrally based in St. Louis, MO and often travels between Joerns' two corporate locations in Chatsworth, CA & Charlotte, NC.